Mobile Car Valeting London
✓ Mobile Service
✓ High-Powered Steam Machines
✓ Complete Coverage of All London Areas
✓ Experienced in Stain Removal
✓ Available Every Day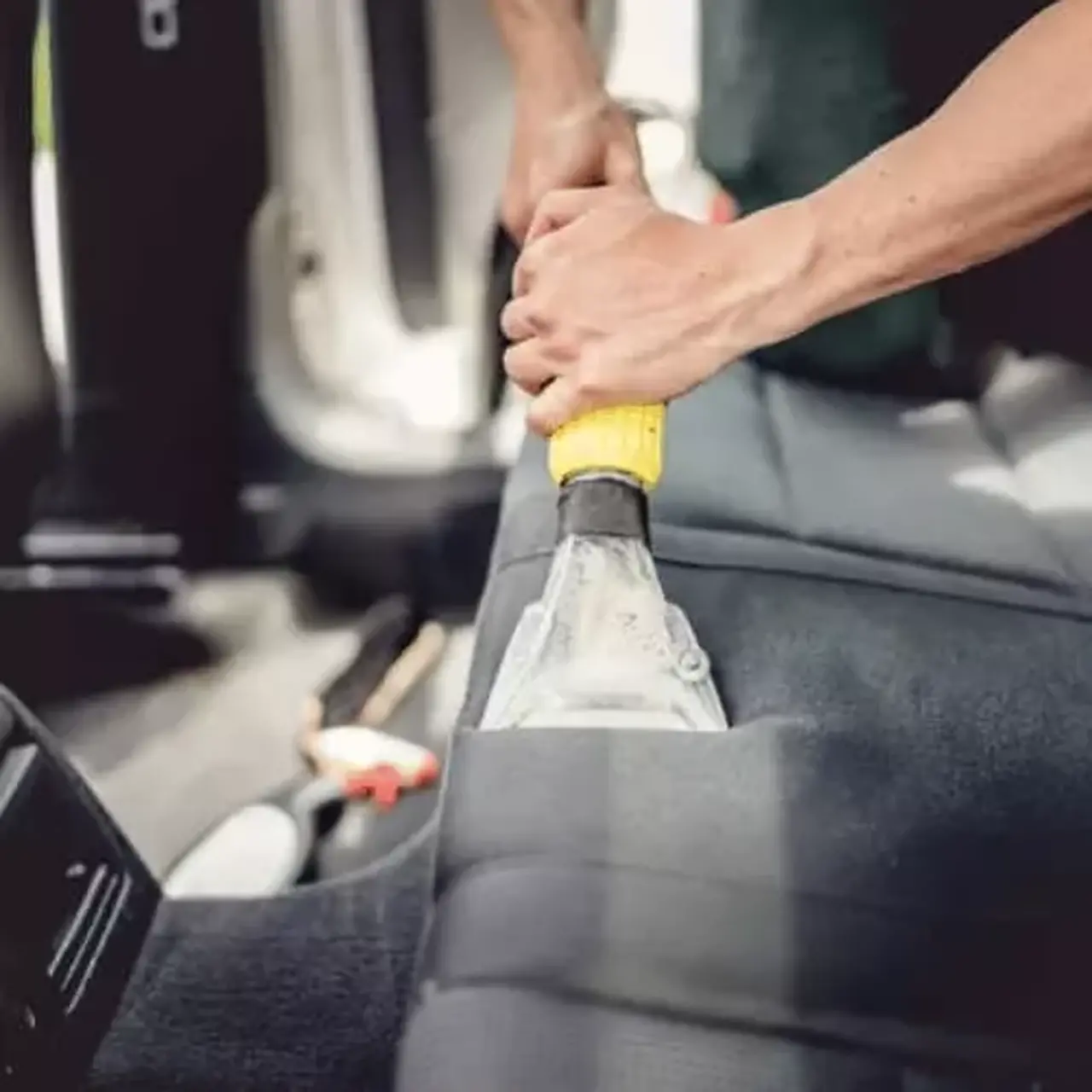 Do you need professional steam car valeting?
Caring for your car interior is as vital as having your carpets, sofas and mattresses deep cleaned - you simply have to do it every once in a while. It doesn't matter if you need stains and smells treated, or you simply want a refresh, ProLux is the right choice for you! We are expert mobile car interior detailers who are always up for a challenge.
By choosing us, you won't even have to bother driving your vehicle anywhere - we will come at a day and time most convenient for you. Regardless if it's your home or workplace, as long as you're situated in London and the vicinity, we can clean for you!
Our steam cleaning method is ideal for:
Stain removal
Dirt and dust build-up
Buying or selling a car
End of lease car
Pet-owners and parents of messy children
Quality Interior Detailing Near Me
We are ProLux - a company with 12+ years of experience in the car interior detailing industry. We will make your car look as good as new by paying special attention to every detail, applying quality products and the latest stain removal techniques.
What makes ProLux stand out from the rest of our competitors is that we treat your car as if it's our own. Why? Because it's our passion. We use only the best steam extraction machines, capable of removing dirt stuck deeply inside the upholstery, as well as stubborn stains and smells like vomit, milk and mildew.
For leather interiors, we provide with thorough treatment by hand with unique cleaning solutions and conditioners. Your leather seats will shine, become more durable and elastic overall.
Car Cleaning Packages for Any Budget
If you've opted for our Full Car Interior package, you can expect all hard surfaces to wiped and polished. This will provide with a more finished and complete clean of your lovely interior.
Additional services like Stain Protection and Vent Pro (air con cleaner) are included only in our Premium package. Stain Protection provides a security layer over the seats, which helps against future stain accumulation, while Vent Pro effectively removed 99% of all germs, bacteria and fungi stuck inside the air filtration system of the vehicle.
See Our Amazing Car Detailing Results
Removing stubborn stains and odours from your car seats
Do you have stains on your car seats, which have been bothering you for a while? Or perhaps you can't get rid of an unpleasant odour no matter how hard you try? ProLux can make all those problems go away! We are experienced steam interior detailers, capable of removing:
vomit stains and smells
cigarette smoke odour
greasy stains
watermarks
mould and mildew
spills from tea, coffee, milk, juice and other drinks
paint stains
pet hairs
Cleaning your car before selling it?
No one will be happy to pay the full price of something which is obviously well-used and badly stained. This is why it's essential to have your car cleaned if you want to get the most money out of the sale. We provide with deep interior cleaning, which will transform the look and feel of your car within just an hour or two. We will take our time and ensure you are happy with the outcome.
Available for same-day car cleaning services
If your child has just had a sick accident and you desperately need the stains and smell removed, fear not. ProLux will arrive at your home within the same day and solve the problem for you. We come fully equipped with the necessary gear and products, ready to remove any issue at hand. In terms of booking an appointment, it's as easy as picking up the phone and calling 020 3318 6387. You will be provided with a free, no obligation quote, and all your questions will be answered.
And if you still aren't convinced that this is the service you need, simply have a look at the below videos. We will be happy to make your interior look like new!
Luxury Auto Detailing at Competitive Prices: Book Now!
| Standard Car Interior from £79 | Full Car Interior from £120 | ✓ Opportunity to book an emergency same-day cleaning (even on weekends) |
| --- | --- | --- |
| ✓ Seats | ✓ Standard Option (Seats, the carpet areas, the mats, the boot) | ✓ Pre-hoovering |
| ✓ Carpeted areas | ✓ The door panels, the side rooms, the dashboard | ✓ The machine heats up the water to about 90 °C and with high-pressure sprays it deeply inside the fabric |
| ✓ Mats | ✓ The vinyl, the plastics, the front part of the air vents, the seatbelts | ✓ Stain treatments ✓ Antibacterial treatment |
| ✓ Boot | ✓ Basically every small and reachable part inside your vehicle, except for the ceiling | ✓ Deodorizing the interior on completion |
Frequently Asked Questions
We do not include the ceiling (roof lining) in our cleaning services, due to the fact that it is delicate fabric compared to the rest of the interior. It is normally glued directly to the metal chassis of the car, and not fixed by other means. In some cases, if the fabric is too delicate, our powerful machine might cause the ceiling upholstery to hang. For this reason, it isn't included into the Interior options we have available. However, we are happy to inspect the roof lining on site, and if it is suitable for the method, to include it for an extra fee.
The starting price to have your car upholstery (which includes the seats, mats, carpets and the boot carpet) deep cleaned is £59. The starting price for a full interior valet (which also adds a wipe down and polish of the reachable interior elements) is £100. The cost depends on the car make and model, and on the current condition of the upholstery. In case of any major issues, such as paint spilled, mould growth or pet hairs, our prices are subject to an increase.
Our basic service covers professional deep steam cleaning of the seats, carpets, mats and the boot carpet. It is the most affordable option, and the one you need when all you want is those areas to be cleaned, or particular stains to be treated.
We also have a Full Interior option, which covers wiping and polishing of all other physically reachable interior elements, apart from the ceiling (roof lining). Most of our customers prefer this option, as it leaves the interior fully disinfected and refreshed.
The third and final option is the Premium Interior, which includes everything in the Full, plus two after-care services to be applied by the technician. They will ensure your car is not only clean once we're done, but stays that way for a longer time.
1. Stain Protection (a product analogue to Scotchgard) is a spray that creates an invisible protective layer on your car seats, which makes new spillages easier to remove. The layer will react to the spills and prevent them from sinking in as deep, and they will also stay wet for longer.
2. Vent Pro Solution is an ozone cleaner for the car's air filtration system, and is meant to save you money on replacing the filters, which vehicle manufacturers recommend doing at least once a year. It will do so by cleaning them out of any germs, bacteria and mould spores which may be hiding inside, and greatly assist with removing unpleasant odours which have made their way there.
Bear in mind that you can ask for a price for Vent Pro or Stain Protection, and add them on to the other options if you wish - you don't have to order a Premium to take advantage of these helpful services. Call our customer service assistants and they'll be happy to advise, as well as inform you of our special offers.
Absolutely, as our mobile technicians come out to your home address to perform the car interior cleaning. If you're at work, that's no problem - we can clean it while you do better things with your time. The only points of access we require are a tap to fill a few buckets of water, and a normal socket to plug in our extension for power. Bear in mind, the extension is about 30 metres long, and must not cross a street to get to your vehicle.
If you live in a flat with an underground car park, and the vehicle needs to be cleaned there, that is also not an issue, provided there is ample light, as well as electricity and water access points in the car park. If there is no water access in the underground car park, we could manage if there are taps in communal areas or your flat, but electric and light are necessary for us to perform the work.
In order to keep your car interior fresh and stain-free, we recommend using professional car valeting services at least once every 3 to 4 months. This will prevent any stains from setting in, as well as any sand wearing out your carpets and mats. Additionally, the longer you leave any spillages unattended, the less the chances of removal, even by professionals. For this purpose, it is very important to have your vehicle deep cleaned regularly.
Neglecting to clean your car interior results in the build-up of dust, stains and possibly even mould issues. Dust is a breeding ground for dust mites, which are health hazards to many people, and dust allergies are very common on their own. Stains, if left too long, become very difficult to remove, even when a professional does the cleaning. And mould is something most people are allergic to, as the spores cause harm to your lungs and breathing system. To avoid encountering these issues, consider having your car interior deep cleaned on a regular basis.
In order to dry the upholstery, the car must be left with open windows for the given hours. The heating should also be switched on periodically to accelerate the process.
In the winter time, it takes around 10-12 hours for the upholstery to be completely dry.
During spring and autumn, it takes between 7 and 9 hours.
During summer, the drying time is about 4 to 6 hours.
All hours may vary based on ventilation and heating of the vehicle, the weather and the condition of the upholstery. Please do not fully close the vehicle's windows until it's completely dry inside. For additional advice, call our customer service centres.
The job duration always depends on the condition of the vehicle upholstery before we begin, as dirt and stains will require special attention. The average for a Standard Interior option is around an hour, and for a Full Interior, it takes roughly around an hour and a half. However, in cases of particular severe issues, such as paint or pet hairs, the job duration will likely be increased depending on the condition.
Contact Us on the Number Below for a Free Quotation:
Top Rated Mobile Car Valeting Services in London and the Surrounding Areas - Available 7 Days a Week for Your Convenience