✓ Don't let bed bugs bite - call us today!
✓ Always available for your convenience
✓ Say goodbye to stubborn mattress stains
✓ Fast drying for a comfortable sleep
Our professional cleaners are certified and accredited by: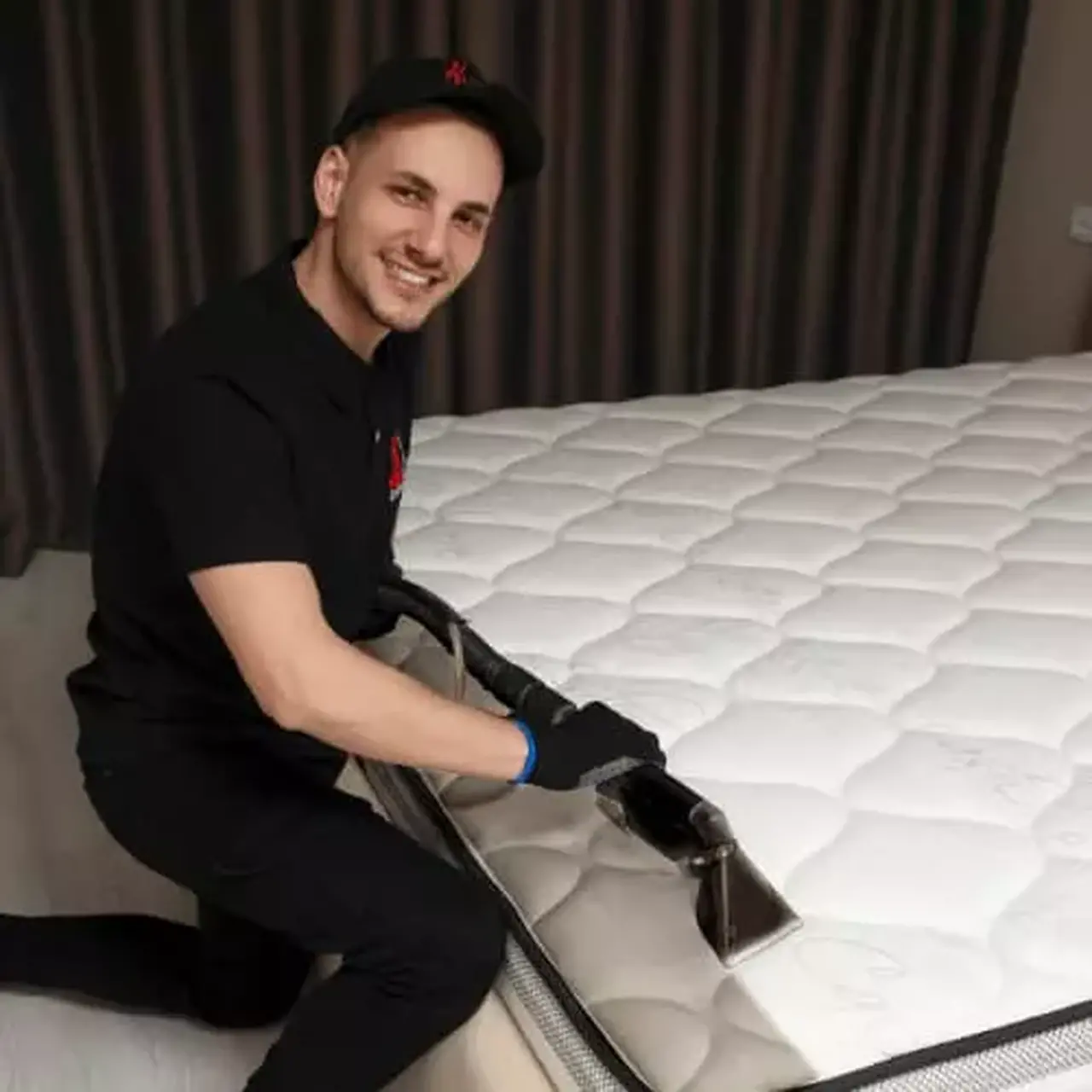 Need to have your mattress cleaned?
Expert mattress cleaning in London is what ProLux has been providing for over 15 years. We specialize in providing professional deep mattress cleaning services in London and the surrounding areas. As a company, we are used by numerous private and commercial customers like hotels, dormitories and hospitals.
Mattress cleaning London is a procedure you should use minimum once or twice a year. It is extremely important for protecting your mattress and extending its life. Another benefit of using mattress cleaning services is getting rid of dust mites, bacteria and bed bugs. Removing stains and smells from urine and sweat is included in our prices.
All our clients receive the following:
Same day mattress cleaning
Complete mattress disinfection from dust mites and germs;
Urine, blood and sweat stain removal of all physically removable stains;
Hot water extraction cleaning with a commercial machine;
Child and pet friendly cleaning solutions;
Cleaning by certified, insured and experienced professionals;
Same-day Mattress Stain Removal Services
One of the last things you wish to happen in the morning is to notice that your child has wet the bed. It can be annoying, frustrating and sometimes even revolting. But what if someone comes out within the hour and removes the urine stain and smell from the mattress in just a few minutes? Well, luckily you are in the right place - ProLux has numerous technicians within London and the vicinity, all of them expertly trained in stain removal services.
We guarantee to reach the best possible condition of your mattress with our deep steam cleaning method and sharp skill set acquired through years of experience professionally cleaning mattresses in London. And it's not just bodily fluids that we deal with - we remove stains from coffee, tea, food and many more.
You can book an emergency same-day cleaning, regardless of the day of the week or time of the day. We even work on weekends and bank holidays, with no extra fees. All you need to do now is to pick up the phone and get in touch with our competent customer service operators to receive your free quote. We can also be reached via email or chat - our response time is under 1 hour!
Professional mattress cleaning
For many years, ProLux professionals have been deep cleaning mattresses and fabric bed bases throughout London. Our technicians have undergone extensive training and know how to use their cleaning equipment to its full potential. They know how to remove stains and smells of any origins, when this is physically possible.
Mattresses need periodic professional cleaning services, no matter how well you care for your bedding. Using hot water extraction machines, ProLux specialists will rid your mattress of dust mites, dead skin and bed bugs. Our machine cleaning method is the best deep disinfection technique you can find on the cleaning market.
Steam extraction cleaning is highly recommended for being environmentally friendly. The power of heated water and harmless cleaning solutions means the use of harsh chemicals is unnecessary. We will fully sanitise your mattress, and if it's double-sided, we will clean the bottom side at no extra cost.
Mobile mattress cleaning
Professional mattress cleaning services have a number of advantages:
no need for the client to transport the mattress anywhere;
no risk of damaging or dirtying the product during transportation;
you can personally monitor the cleaning process at any time;
if we clean the mattress in the morning, you can use it in the evening*;
*In the colder periods of the year, the drying time may not allow for this. Please leave the windows open and use the heating until your mattress is fully dry before you sleep on it.
We will return your old mattress to its original, attractive appearance. It is guaranteed that your bed will please you with cleanliness and freshness for a long time after the cleaning.
The main activity of ProLux Cleaning is steam extraction services, such as carpet cleaning, upholstery cleaning and mattress cleaning. All of these are performed with industrial hot water extraction machines and harmless cleaning products. Our professional services are used by thousands of residential and commercial clients in London.
See Our Amazing Mattress Cleaning Results
The steam mattress cleaning process
Inspection of your mattress by our professional cleaner;
Hoovering the mattress to remove dust and hairs from the surface;
Pre-treatment with a special solution to dissolve stains;
A hot water extraction machine is used to spray water deep inside;
Stain residues and other dirt is sucked out via the steam machine, with about 90% of the water used;
The mattress is fully disinfected and refreshed, physically removable stains are extracted, and it is left to dry;
Optionally, the mattress can be Stain Protected;
Don't let stains ruin your mattress - get ProLux Stain Protection today!
Stain Protection is an after-care spray which can be applied to the mattress surface after the cleaning by our technician. The spray creates an invisible layer, which makes new stains much easier to remove. It also protects your mattress from being deformed by sunlight. To receive a free quote, call our customer service centres, who are open 7 days a week for your convenience.
How Much Does Mattress Cleaning Cost in London?
| | Regular price | Up to 10% OFF |
| --- | --- | --- |
| Single mattress | £35 | £30 |
| Double mattress | £40 | £35 |
| King size mattress | £50 | £45 |
| Super King size mattress | £55 | £50 |
| Queen size mattress | £60 | £55 |
Frequently Asked Questions
Our mattress cleaning prices start from £25, and depend on the size of the mattress, as per standard UK mattress size. We deeply clean your mattresses using the hot water extraction method, the same way we clean carpets and upholstery. Each service includes disinfection, allergen removal, odour and stain treatments.
If the mattress has two usable sides, both will be done, but bear in mind the price is the same for one-sided mattresses. In case of a mattress larger than a king-size, someone needs to be present to offer the technician assistance in flipping the mattress over once it is wet, as they get hefty during the cleaning.
The average is around 10 hours in the warmer parts of the year, and around 12 or more hours otherwise. Our industrial machines extract around 90% of the water used during the cleaning process. The remaining moisture needs to dry over time, which varies based on the weather and its condition before the job begins. Our advice is to turn on a heater or leave your windows open until the mattress is completely dry, and use a fan or dehumidifier if you have one, to make the drying as quick as it can be.
Deep steam cleaning services are your best chance to remove stains, as all physically removable stains will be extracted. However, if any stain remains too long on any type of fabric, it starts changing the colour, and may not be removable. Regardless, our specialist will do his very best on the stains, treating them as many times as the material will allow it.
You should know that the most difficult to remove stains are caused by red wine, tea, coffee, paint, ink, certain greasy foods, and bodily fluids. If you have any of these, or anything at all, react to it as quick as you can, or just call us so we can sort it for you!
The most common yellow stains on mattresses are caused by sweat, which typically leaves yellow marks. You need to know that this sweat builds up over time, and takes a few months to become visible on the mattress surface. By the time you see it, it's already somewhat ingrained into the fabric. This can cause visible staining, but an unpleasant odour as well. You should regularly have your mattress deep cleaned to prevent the build-up of sweat, which can also attract dust mites, a common source of allergies.
A different type of yellow stains on mattresses are urine accidents. They occur commonly when potty training your pets, or the children have just started outgrowing the nappies. The smell is far more noticeable in this case, and the stain goes in deeper than sweat would. It also contains enzymes which are hard to remove from the mattress fabric.
The best way to deal with them is with steam extraction cleaning, a service which we are specialised in. In case of urine, it will be cleaned with cold water instead of hot, as hot water would cause chemical reactions that set the stain in and make it almost impossible to remove. Our specialists have many years of experience in mattress cleaning, and will leave yours fully disinfected and refreshed.
Vacuuming your mattress on a weekly basis does indeed reduce the population of dust mites within the mattress itself. To have it fully disinfected and remove all dust mites and bed bugs, however, consider having your mattress deep steam cleaned. It is the most effective technique to clean and maintain your mattresses in great condition, and free of allergens. We recommend ordering professional mattress cleaning services at least once every 6 months.
Each mattress cleaning service takes approximately 20 to 30 minutes per mattress, depending on the condition of the mattress before we begin. This may also vary based on the mattress size, as the bigger ones take longer to clean, and whether the mattress is double sided (both sides are usable). If it is, the bottom side is included into the cost, and it will be lightly refreshed and disinfected to save time with the drying. If it is not both sides usable, we will clean the top and the other sides regardless.
Our Clients Say it Best
Every year we have our mattresses cleaned by ProLux, just to keep them fresh and they always do a good job. I would recommend Bobi and Tisho in particular who are very friendly and nice to have a chat with!
My friend and I had just moved into this property, but we didn't bring our own mattresses so we had to get the ones in the flat cleaned asap. A lovely gentleman managed to organize the cleaning for me in a short notice, and the guy sent was also excellent. Our mattresses are now smell fresh, way whiter than they were before and all that for a very fair price!
We used ProLux to clean our mattresses for the first time and will definitely be using them again! The mattresses were done in just under an hour, with nearly all stains removed as well as the unpleasant stale sweat smell. The cleaner was also on time and did a good job explaining the process.
Contact Us on the Number Below for a Free Quotation:
The Number 1 Mattress Cleaning Company in London and the Vicinity – Available 7 Days a Week for You!