Upholstery Cleaning London
✓ The sofa cleaning pros you can trus
✓ Expert handling of delicate and valuable fabrics
✓ Give your sofa the care and attention it deserves
✓ Removing stains and bacteria for good
Our professional cleaners are certified and accredited by: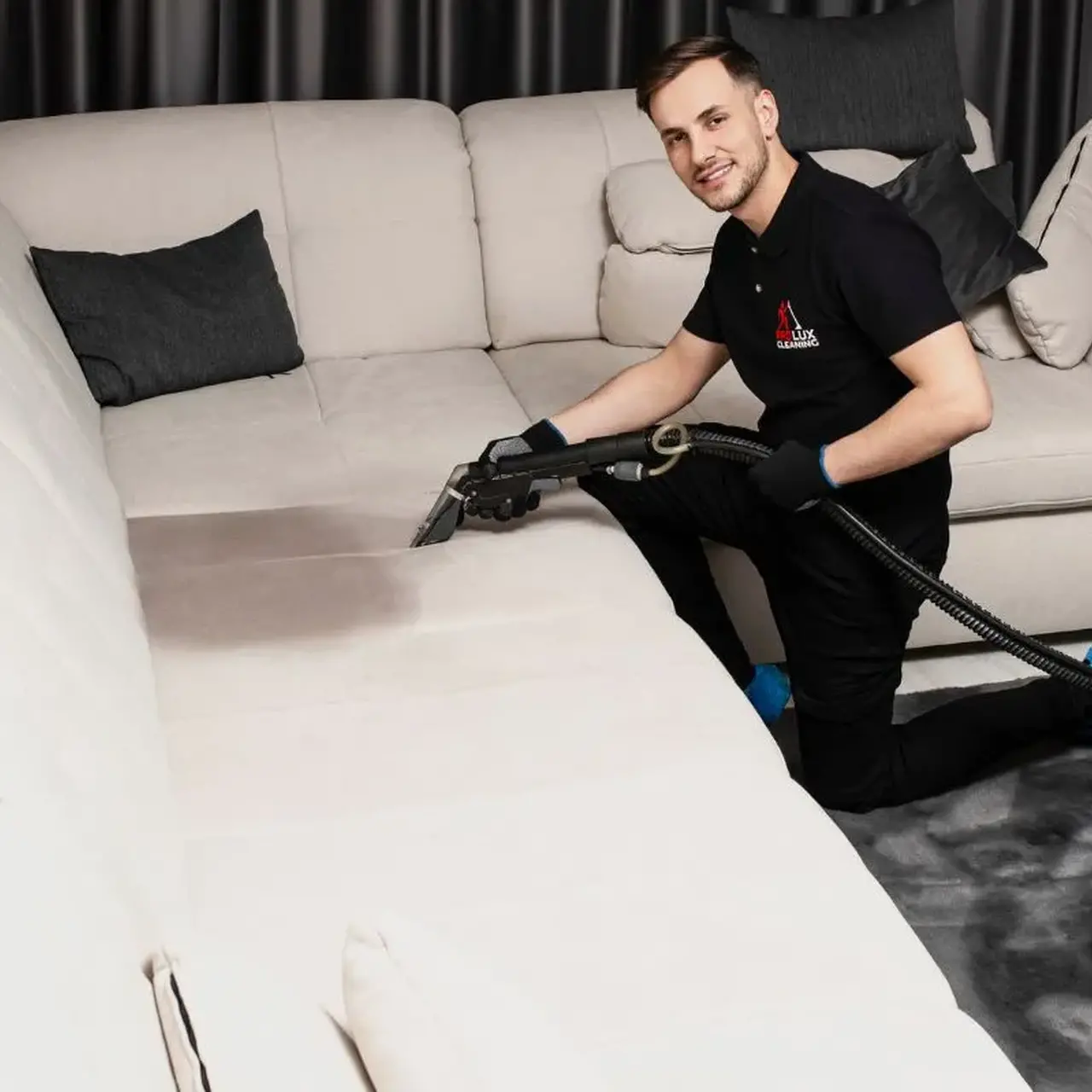 Looking for reliable and experienced sofa cleaners?
ProLux Cleaning provides professional upholstery cleaning London services, specialized in Deep Steam Cleaning with extraction method. Since 2006, we have assisted numerous citizens of London by deep cleaning their upholstered furniture.
We, in ProLux Cleaning, use only the best machinery and cleaning solutions (bacteria and stain removers)! This ensures the perfect results and customer satisfaction that our clients demand from an upholstery cleaning London service!
Leave your upholstery cleaning worries to us: Contact us for a free quote!
Not sure if our company is what you're looking for, or if we can efficiently clean and disinfect your upholstery? Have a specific type of fabric, such as alcantara, cotton, suede or fake leather? Rest assured, in all cases we are able to assist. Get in touch with one of our experienced office personnel and receive a free quote for our cleaning services in London.
Professional upholstery & sofa cleaning
Top results at reasonable prices
ProLux Cleaning gives you top results and reasonable upholstery cleaning prices. Whether you need commercial or domestic cleaning for your sofas, our company is here to revive the soft furnishings. We work 7 days a week, including weekends and bank holidays with no added fees.
WoolSafe certified and insured
All of our cleaners are WoolSafe certified and insured professionals. They have the needed experience and knowledge to deal with any type of problems. As they are equipped with powerful machines and eco-friendly cleaning products, your upholstery stains and smells will be removed.
Experts in synthetic and natural fibre care
We are specialized in the cleaning of all types of upholstery, such as sofas, chairs and footstools. No matter what type of material your upholstery is, all of our experts can deep clean them. Synthetic fabrics, such as polyester, nylon and acrylic, are all perfectly suitable for Deep Steam Cleaning and our safe cleaning products. We also clean the natural types - cotton, wool, silk and linen, on a daily basis.
See Our Amazing Steam Upholstery Cleaning Results
Professional upholstery cleaning services in London involve:
Top Quality
100% customer satisfaction – our main goal is not to match, but to exceed your expectations
Same-day cleaning appointments
Professional Stain Protection
Eco-Friendly Cleaning
Steam extraction method performed with industrial grade machines
Eco-friendly harmless cleaning products
Guaranteed Results
Certified and insured cleaning technicians
Smell and stain removal
Bacteria and germ extraction
We provide the care your sofa needs
If you love your sofa, but hate the way it looks, don't throw it away! Call ProLux and have it brought back to its original state with just one steam cleaning session! We are the cleaners ready to tackle any sofa stain, using the latest stain removal techniques and safe cleaning products.
Affordable luxury: Join the ranks of satisfied sofa owners!
The quality of our service is unmatched and our prices will suit any budget. And if this sounds too good to be true, we are here to tell you that it isn't! Our 15 000+ positive reviews online are the living proof. Don't just wait around now! Give us a call - your sofa will thank you later.
Expert upholstery steam cleaning & stain removal
ProLux hot water extraction upholstery cleaning is the same as carpet cleaning – all done by the same team of professionals. Firstly, a different extension is attached to the machine. Then, a specialized cleaning solution is mixed with water and sprayed deeply inside the item. Once the item dries after steam cleaning, you will be able to see the incredible results.
We promise to achieve the best possible results!
The fabric restoration method we utilize is worldwide renowned. It is truly efficient in sanitizing materials and bringing life back to all upholstered furniture (such as sofas, mattresses and curtains)!
Removal of all spots and stains that have not caused a permanent change in the colour of the material is guaranteed. We use the latest eco-friendly stain removers, all made by Prochem, our trusted detergent manufacturer of choice. Steam cleaning is environmental friendly, harmless to people, babies and pets.
How does steam upholstery cleaning work?
Inspection and product selection
Every procedure begins with an inspection of the piece of furniture that is going to be professionally cleaned. All visible issues are identified, and then the appropriate products for the cleaning are chosen.
Pre-treatment and hot water extraction
Pre-treatment spray is then applied to the item, and the actual steam cleaning process begins. Hot water under high pressure is sprayed deeply inside and immediately sucked out, completely removing all dirt and dust particles.
Spot treatment with eco-friendly products
The most stubborn stains and marks require further treatment, often by hand, to achieve the best possible results. We include allergen removal, and three types of treatments - stain, smell and bacteria treatment. All cleaning products used are completely eco-friendly and harmless.
Preventing stains before they happen with Stain Protection
An additional service we offer is Professional Stain Protection. The protective layer will keep the pristine condition of your furniture for the foreseeable future. It also strengthens the material, and prevents deformities from the sun.
Different types of fabric we can clean for you
At ProLux Cleaning, we always try to assist every single customers of ours as best we can. However, in order to be able to do our job properly, we also require some information from you.
Different materials have different cleaning instructions. All of our upholstery cleaning technicians are trained to treat any type of fabric. Every one of our sofa cleaners applies eco-friendly products during the cleaning service.
Synthetic
Synthetic fabrics are the choice of most homeowners due to their prices and durability. Luckily, they are all perfectly suitable for Deep Steam Cleaning. The most common ones are Polyester, Nylon and Acrylic.
Natural
Natural materials are delicate fabrics, and can mostly be steam cleaned (with rare exceptions). Based on the assessment of our trained and experienced cleaners, either lower water temperature or lower pressure will be used. Regardless of the settings, the upholstery will be refreshed, disinfected and deeply cleaned.
Some popular choices of natural fabric upholstery are Cotton, Wool, Linen and Silk.
Dry cleaning services
If your sofa is made of luxury fabric as rayon, velvet or hemp, it is too delicate to be steam cleaned. Instead, we offer one of the other upholstery cleaning methods, called dry cleaning. It is done with a minimal amount of water and the lowest pressure settings we can use.
Upholstery and Sofa Cleaning Prices



Regular price

Up to 10% OFF

2 seater sofa

£50

£45

3 seater sofa

from £65

from

£60

4 seater sofa

from

£80

from

£75

Armchair

£28

£23
Frequently Asked Questions
Yes, we offer this after-care service, which is very helpful against new stains and marks. You should be aware that Scotchgard is an umbrella term, but there are many brands of this product. Our Prochem version is eco-friendly and safe for you, your family, and the fabric itself.
When applied, it forms an invisible chemical layer that stops spills from going as deep and slows down their drying. This allows you more time to remove them yourself or hire professionals. It also increases your chances of stain removal.
In terms of drying, it doesn't take all that long, depending on the condition of your sofa before our specialist begins working, and on the weather that day. The drying time is always around several hours, which is greatly shortened by the machines' extraction property. About 90% of the water is sucked out during the cleaning process, which is part of using the hot water extraction method properly. As a result, the upholstery is left slightly damp, and all you have to do is leave windows open until the sofa is fully dry. In the colder parts of the year, you should use the heating as well. To speed up the drying no matter what time of year it is, you can never go wrong with fans or dehumidifiers.
Yes, we are one of the more branched out cleaning companies. We are specialised and highly experienced in providing carpet, upholstery, mattress, rug, car upholstery and curtain cleaning services. All of these are fully mobile and done in situ, and you can order the service any day, as we work 7 days a week including bank holidays. Our technicians perform each service with top-of-the-line Prochem cleaning products, and industrial hot water extraction machines.
Having your upholstered furniture professionally cleaned once or twice a year is a great way to deal with old and stubborn stains, built-in dust and stale smells. Regular disinfection is also very important, as sofas build up a solid amount of dust inside, which can lead to a dust mite infestation. In turn, if they have nothing to eat, they'll stop causing allergic reactions for you and your family. On a side note, cleaning your sofa is also cheaper and more environmentally friendly than having to buy a new sofa every other year.
The equipment we use to carry out upholstery cleaning services with are commercial hot water extraction machines. They have multiple power and heat settings, making them suitable for all kinds of sofa material. Our technicians have many years of experience in treating all of them, and you can be sure yours will be cleaned to the best of their ability, as many times as the fabric allows.
Even if you call us last minute, we can still arrange a cleaning for you on the same day. We have many technicians living throughout London's main areas, and each of them is flexible. They also work 7 days a week, to ensure we can always assist a customer who has an emergency.
Yes, all steam cleaning procedures are performed in situ. All that we require is access to electricity and water. We have a 30-metre-long extension for the power, which only needs a normal socket. And for water, we only need a normal sink to fill up a few buckets of water for the machine to heat on its own.
Let's make it happen! Get in touch today!