✓ Guaranteed satisfaction with every cleaning
✓ Certified and knowledgeable carpet cleaners
✓ Expert stain removal techniques
✓ Established in the industry for over 13 years
Our professional cleaners are certified and accredited by: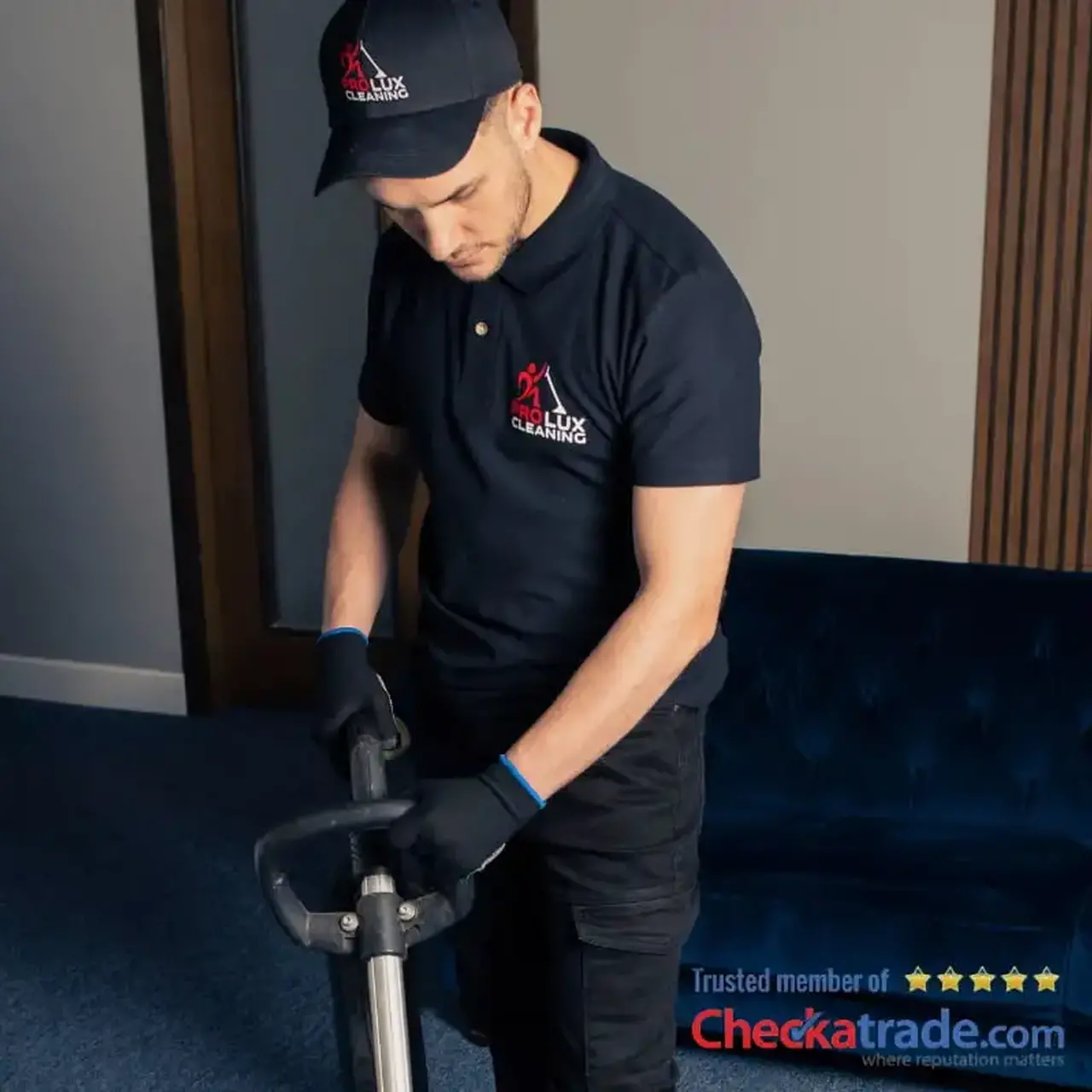 Looking for reliable carpet cleaning experts?
Carpet cleaning London is the forte of professional cleaning company ProLux. Based in London, we have more than 12 years of experience in the carpet cleaning industry. Our professional carpet cleaners have a client satisfaction rate of over 98%!
They are always ready to deal with any type of carpet cleaning service. The carpet is left perfectly clean, whether it's domestic or commercial. Our carpet technicians are capable of providing stain and smell removal, dirt extraction and disinfection.
Trust the experts: ProLux's fully trained and qualified professional carpet cleaners in London
The Carpet Cleaning London service by ProLux's fully trained and qualified professional deep steam carpet cleaners is top-notch. Our technicians are equipped with first-class cleaning machines and eco-friendly cleaning products. We offer affordable prices, special discounts and even emergency services! We are a company with high renown in the London area.
From Enfield to Twickenham: ProLux Cleaning covers all of London!
ProLux Cleaning covers all London areas and some partly outside. Some of our regular customers are in areas such as: Enfield, Ilford, Dagenham, Twickenham, Croydon, Bromley and many more. If you're in London and unsure if we cover your area, get in touch with us via phone or email.
Carpet cleaning services by ProLux include:
Top Quality
Free pre-treatment
Steam extraction, done with industrial machines, is the number 1 stain removal method
Hot water extraction cleaning
Competitive prices
Eco-Friendly Cleaning
Harmless, eco-friendly cleaning solutions
Allergen removal - pet fur, dust, etc
Bacteria removal - use of the most efficient sanitizers
Guaranteed Results
100% customer satisfaction guaranteed
Our carpet cleaners are certified, insured and highly trained
Flexible work time - 24/7 even on bank holidays
Our experienced cleaners are there to help you efficiently get rid of spots from your carpets and rugs. The eco-friendly cleaning agents and hot water extraction carpet cleaning method is the best way to clean any carpet fibres.
How do we clean carpets?
Steam extraction cleaning is the most efficient way to clean most office and home carpets. It's a water-based cleaning method, done with eco-friendly child-safe products. The method is the best at stain and smell removal and will leave your carpets completely disinfected. This deep cleaning procedure guarantees the carpet's new fresh look and feel that you have been looking for!
No matter if you live in Central London or Greater London, we will be able to assist you. Our steam carpet cleaning teams are always ready to deal with any kind of stains, such as wine, tea, coffee, etc.
Free quotes, easy to book
Call our customer service centres, open 7 days a week, and get a free quote from our office assistants. They will be more than happy to answer all your questions related to the hot water extraction cleaning method.
Our technicians clean all types of carpets, domestic or commercial. Contact us and you will get in touch with one of our experienced operators. They are more than capable of handling your order and answering your questions. All customer support members can inform you of everything you want to know!
Same day carpet cleaning services and stain removal
Do you need your carpet stains urgently removed, but you're running on a tight budget? Fear not - ProLux offers affordable same-day stain removal services available to all of London. We will come to you on a short notice and leave your carpets professionally cleaned to the highest standard.
With us, customer satisfaction is guaranteed thanks to our individual approach to every client. We treat your carpets as our own, so you will always be happy from our professional service! Trust ProLux - all your stains will be dealt with, and the pristine condition of your carpet will be restored.
Booking an appointment is very easy, thanks to our skilful customer service assistants, and it only takes 5 minutes. We can be contacted via phone, email, WhatsApp and through our live chat as well.
Why choose professionals for your carpets?
ProLux Cleaning is the most reliable carpet and rug cleaning company. We offer superb professional carpet cleaning services in London.
The method of cleaning carpets used by ProLux Cleaning London is called Professional Deep Steam Cleaning with an extraction! Each of our experts is equipped with first-class powerful machines and special cleaning products. They are suitable for all types of fabrics, carpets and upholstery alike.
Reputable Company
Building Trust, Delivering Quality
Quick and Easy Booking
Hassle-Free Service at Your Fingertips
Customer Satisfaction Oriented
Your Smile, Our Success
100% Stain Removal
Embrace the Power of Steam
Reviving carpets: the magic of ProLux's hot water extraction method
Almost every big carpet manufacturer agrees that the best carpet cleaning method is deep steam cleaning with extraction. This water-based cleaning technique is the complete opposite of dry cleaning. The cleaning works like this: hot water under high pressure is sprayed deeply inside, reaching the deepest dirt.
Then, the hot water is immediately extracted, sucking out all the grime that was stuck inside. About 10% of the water remains in the fibres, and the drying process lasts approximately between 1 and 3 hours. The exact drying time always depends on the type of carpet, the weather, and initial state. Once done, your carpet reaches its best condition, completely sanitised and spotless!
Deep steam cleaning removes 100% of all stains
With our powerful machines and eco-friendly cleaning solutions, we are prepared to treat all kinds of stains. For stains that have already caused a permanent change in the colour of the fabric, not much can be done. In most cases, however, we remove the majority of all issues. Due to this, Professional Deep Steam Cleaning with extraction is considered to be the best carpet cleaning method.
Stages of Professional Cleaning by ProLux
1. Inspection
Firstly, our cleaners examine your dirty carpet thoroughly and determine the best approach
2. Pre-hoovering
The whole carpet is hoovered with a vacuum cleaner, so no dust or loose dirt impede the steam cleaning process
3. Pre-treatment
Then, any stains are pre-sprayed with a special product to dissolve dirt and stains
4. Steam Cleaning
The actual Steam Cleaning Service takes place, using an industrial steam cleaner extraction machine
5. Stain Removal
Any stubborn stains are given special attention, in order to achieve the best condition possible
6. Scotchgard
If requested by the client, Scotchgard (stain protection) is applied
7. Drying process
After the cleaning, the average drying process lasts from 1 to 3 hours approximately
8. Checkout
Finally, our clients have the right to inspect the results, after which they sign a receipt
How much will it cost to get my carpets cleaned?
Carpet Cleaning Prices in London



Regular price

Up to 10% OFF

Double bedroom

from

£35

from

£30

Living room

from

£40

from

£35

Staircase

from

£40

from

£35

Hallway

from

£20

from

£15
Trust our certified experts
Kosta Panayotov
812 reviews
Number of cleans: 4590
Working with us for: 7 years
Expert in:
Stain Removal
Upholstery Cleaning
Carpet Cleaning
Rug Cleaning
NCCA Certified
Meet Kosta - an NCCA (National Carpet Cleaners Association) certified carpet cleaning technician. He is an expert in odour and stain removal, and is fully trained to clean natural and synthetic carpets alike. He will help bring your carpets to their original beauty.
George Georgiev
512 reviews
Number of cleans: 5423
Working with us for: 6 years
Expert in:
Carpet Cleaning
Steam Cleaning
Spot Removal
Rug Cleaning
IICRC Member
George is a certified cleaner by the IICRC (Institute of Inspection, Cleaning and Restoration Certification). Their training courses have helped George become one of the highest-rated ProLux carpet cleaners. He is your go-to technician for stubborn stains and heavily soiled carpets.
Number of cleans: 1457
Working with us for: 4 years
Expert in:
Stain Removal
Odour Removal
Carpet Cleaning
Rug Cleaning
Clean-Smart Certified
Meet Mitko, a professional cleaner at ProLux who has successfully completed the Professional Carpet Cleaning Technician Course by Clean-Smart. With his expertise, you can witness the removal of the most stubborn stains and persistent odors. He is the key to transforming your precious carpets and rugs.
Frequently Asked Questions
We have many years of experience in removing all kinds of stains. Stain removal is not 100% guaranteed, but we guarantee the specialist will do his very best.
The carpets take between 1 and 5 hours to dry out. Please air and heat the rooms after the cleaning.
We work 7 days a week, with no extra charges on weekends or bank holidays. We offer emergency same day carpet cleaning services in London.
Our technician can move small and light items, if it is safe for him to do so.
Contact Us on the Number Below for a Free Quotation:
Our Clients Say it Best
Fantastic work by Bobbi who came today to do the cleaning. He made my carpets look brand-new again!
Extremely professional service by Ivo today. He moved the furniture to clean the lounge carpet, and told me how he will treat the stains. After his hard work, it was spotless, I recommend this company!
Stan came on time and did a great job on my whole house carpets. I think the carpet was not this clean when we bought the property, thank you, Stan!