✓ Use of WoolSafe approved products
✓ Minimal drying time
✓ Restoration of your rug colours
✓ We clean Wool, Persian, Silk & Cotton rugs
Our professional cleaners are certified and accredited by: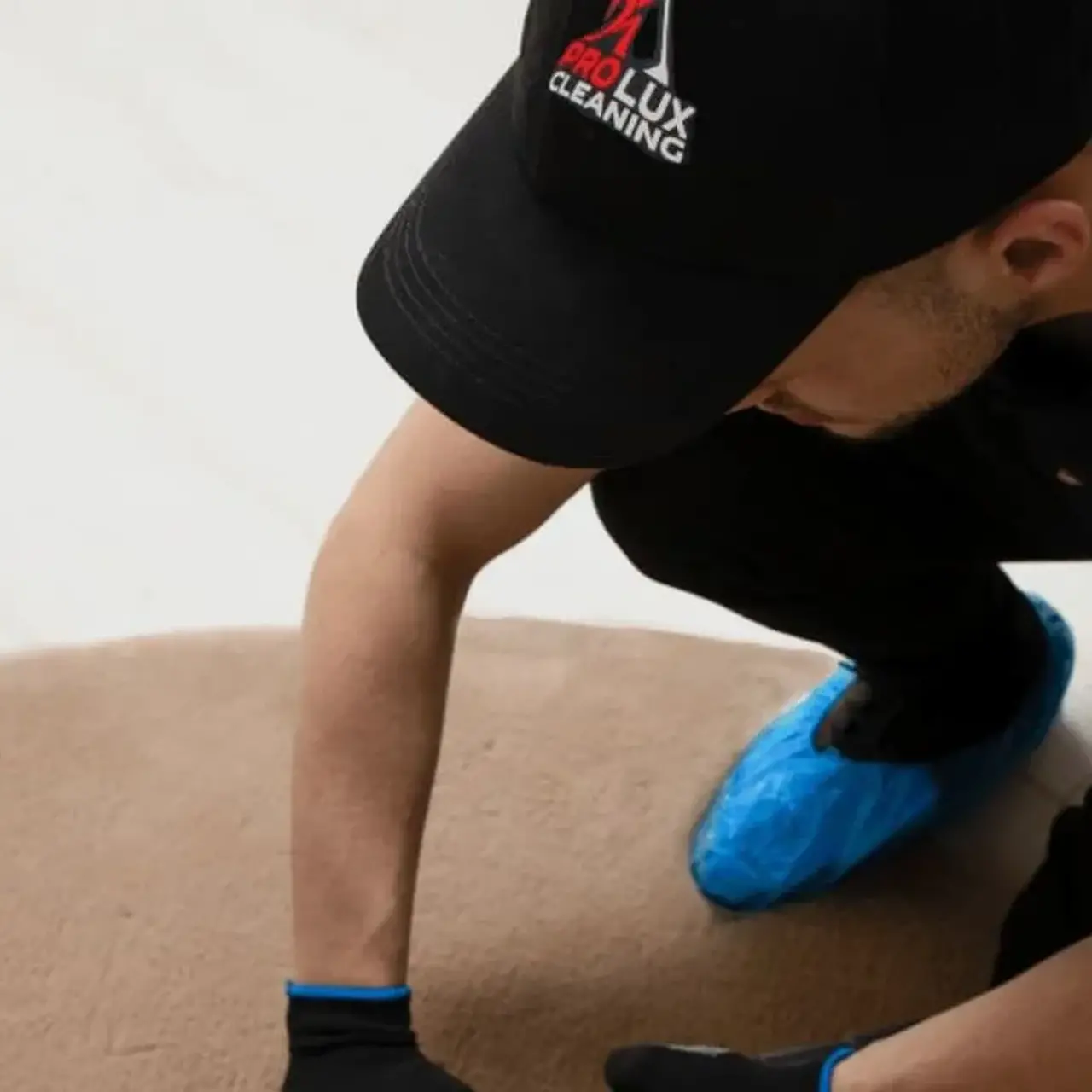 The Benefits of Hot Water Extraction for Professional Rug Cleaning in London
ProLux Cleaning is a professional rug cleaning London company with over 15 years of experience in the cleaning industry. Our expert rug cleaners use hot water extraction as their method to clean all types of rugs and carpets. With this commercial equipment, you can be sure that your Persian, hand-made or Oriental rugs will be professionally cleaned.
As a carpet and rug cleaning company, we use one of the best cleaning methods available. It is known as hot water extraction or deep steam cleaning, and it is popular throughout London for its disinfection capabilities. It is also unrivalled at stain removal, and all physically removable stains will be gone after a steam cleaning session.
Restoring the beauty of your rug with eco-friendly solutions
To bring back the bright colours of your rug and deal with the stains on it, then you should contact ProLux. Our well-trained, fully insured and certified experts will restore your luxurious floor decoration's original look. We know how to clean all types of rugs, including woven, tufted, needle felt and more.
All carpet, rug and upholstery cleaning services in London are performed with eco-friendly cleaning solutions. These products are made by Prochem, and certified 100% safe for children and pets. Your family can enjoy clean rugs without any side effects for their health.
Same-day Rug Stain Removal Services
We typically place rugs where the main foot traffic is or under the coffee table - all places where they can easily get soiled and stained. But what if the rug is light-coloured and you just spilled coffee or tea over it? You wouldn't want for the stain to become permanent, would you? We are here to tell you that it's not too late to remove the stain and make the rug like new again! ProLux has numerous technicians situated all over London and the areas in the vicinity, all ready to come within the same day and clean your rug, all for an affordable price.
Save time and money: Get in touch for a free quote today
Stain removal from rugs is our speciality and has been for over a decade - we are certified cleaning experts you can trust to achieve the highest possible cleaning standard. There is no need to go to the store and buy a cleaning product that will likely ruin your rug. Just save your time and money can call ProLux - our customer service members are always ready to take your call and book a same-day cleaning for you. Alternatively, you can always reach us via our live chat, by email or WhatsApp!
Professional Rug Cleaning at Your Doorstep with ProLux
ProLux Cleaning is highly specialized in the use of Professional Deep Steam Cleaning. The cleaning process is performed with our powerful hot water extraction machines, which spray heated water deeply inside the rug. Immediately after, the dirty water is extracted by the machine, also sucking out all the dirt that has been stuck inside. As the final result, your rug is 100% disinfected and looks like it's brand-new.
Professional rug cleaning is recommended by rug manufacturers to be used at least once every few months. Ideally, at least once every other season, you should order rug and carpet cleaning services. If you have children and pets, however, it is suggested to get your rugs and upholstery professionally cleaned more often.
Unlike most rug cleaning companies, ProLux offers you the opportunity to get the rugs cleaned at your residential or business property. You do not need to transport them anywhere, just call us today and we will be readily available. We even offer emergency same day rug cleaning services to our clients in London.
Steam-Powered Rug Cleaning: Our Thorough Approach
First, our professional cleaner inspects your rug for any issues and determines the best approach;
Secondly, the rug is hoovered, so the dust and loose dirt don't impede the cleaning process;
The rug is pre-treated with a special product on the most soiled areas to enable easier stain removal;
An industrial hot water extraction machine is used to deeply clean the rug, spraying hot water all the way through;
Around 90% of the water used is extracted during the cleaning, taking with it all dirt and stain residues;
Stubborn stains are given special treatment with specific stain removers and a brush;
The rug is left to completely dry, which should happen in a well ventilated and heated room;
If requested, Stain Protection can be applied to the rug, making it more resistant to new spillages and sun deformities.
See Our Amazing Rug Cleaning Results
Call us for a Free Estimate
The Number 1 Rug Cleaning Company in London
From Wool to Synthetic: A Deep Dive into Our Professional Rug Cleaning Services
Below is vital information on how we perform professional rug cleaning services for the three major rug types. For any further information or questions, our customer service team is at your disposal 24/7.
Wool rugs
Woollen rugs, while being very soft and comfortable, do not handle heat very well. This natural material starts shrinking when treated with water above 65° Celsius. ProLux experts treat woollen rugs and carpets using warm or even cold water in certain cases. This is to ensure the safest deep cleaning of your floor element.
Persian rugs
Much like woollen rugs, Persian rugs are usually cleaned with lower water temperature compared to synthetic rugs. As a result, stain removal is more difficult due to us not being able to use our machines at high settings. However, our professional rug cleaners have the necessary experience to remove all physically removable stains in all cases.
Oriental rugs
By far the most difficult to clean out of the three, Oriental rugs are cleaned with low water pressure and temperature. Sometimes, we even use a minimal amount of water, making the service closer to dry cleaning than steam cleaning. Due to this, the overall chances of successful stain removal are typically lower.
Cotton rugs
Cotton rugs are comfortable, budget-friendly alternatives to wool and silk rugs. They're typically easier to clean and perform stain removal on, but they wear out easily over time. Avoid placing them in high traffic areas and when a major spillage or an accident happens, contact professionals.
Synthetic rugs
These can be man-made fibres such as nylon, viscose and polyester. Their two main advantages are their price range and how easy they are to clean. Our experts tend to clean them with lukewarm to hot water, depending on the specific rug composition. They are also very durable and fade resistant.
Rug Cleaning Prices
| | Regular price | Up to 10% OFF |
| --- | --- | --- |
| Small rug (2 x 3m) | £30 | £25 |
| Medium rug (3 x 4m) | £35 | £30 |
| Large rug (4 x 5m) | £40 | £35 |
Frequently Asked Questions
To have an expert arrive and clean your rug on site will cost you £60, which may vary based on the number of rugs and the size of each of them. The cleaning service includes hoovering, pre-treatment, disinfection, odour and stain removal. If you only have one rug for cleaning, and no other items that need to be done, we can make you a special offer on the after-care service Stain Protection. Normally, that's an additional service with an additional fee, but if you have only one rug to clean, we can add it into the cost for the cleaning service. It assists you by making your rug easier to clean and look after for the future, because new stains will stay damp for a longer amount of time, and stay closer to the surface.
Absolutely. A regular hoover will help a lot, but it's not going to remove stains or particular issues. In order to deal with allergens (mites, dust) and staining, we recommend having your rug professionally cleaned once every 3 to 6 months. ProLux experts have the needed tools to revive your faded rug colours and remove stains from it. What is more, our service is fully mobile, meaning we can clean your rug at your property, while you do better things with your time.
The cheapest way to clean a rug is with a local cleaning company, such as ProLux Cleaning. You don't need to spend money on diesel to bring your rug to us, as one of our specialists will be sent to you to clean the rug in situ. The cleaning will be the deepest one money can buy, and leave the rug refreshed, sanitised and free of all removable stains and odours. We even provide special offers for repeat customers and regularly scheduled visits.
Our Clients Say it Best
I needed my rug cleaned on a short notice and ProLux were the first that I called, and I'm glad I did so. Very fair price, came out on time, quick and efficient! Will definitely be using them again.
I regularly use ProLux for my furniture shop at Barking, but I never knew they did rugs as well. I had them out to my home this time and they cleaned all 5 rugs in no time! Excellent service as always and will for sure continue using them.
ProLux were quick to remove a coffee spill from my old antique rug. The quote was very competitive and the job itself was excellent. Thank you to ProLux and their team!
Contact Us on the Number Below for a Free Quotation:
The Number 1 Rug Cleaning Company in London and the Vicinity – Available 7 Days a Week for You!