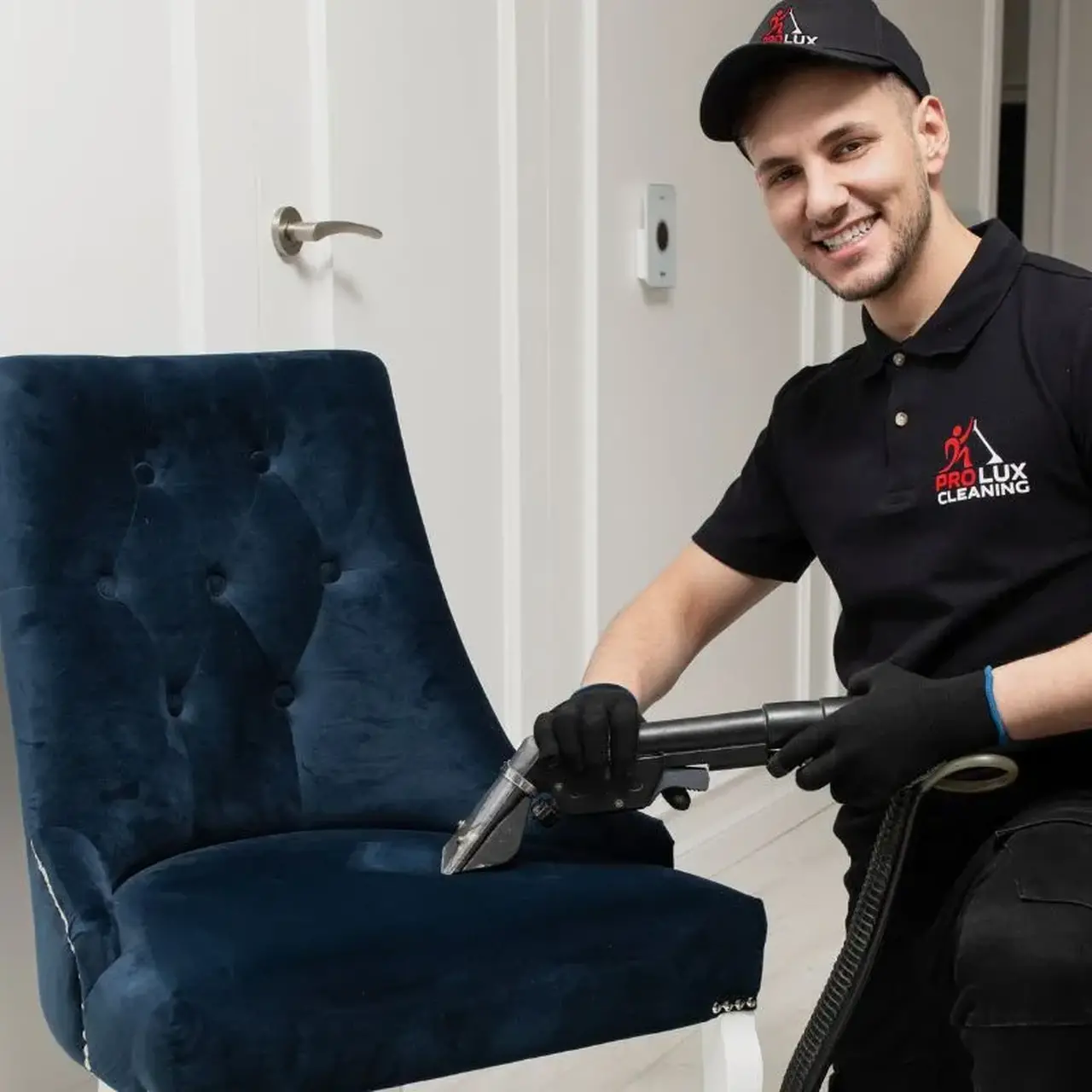 Do you need your sofas cleaned in Enfield?
ProLux has over 15 years of experience in professional upholstery cleaning services in Enfield. Our professional upholstery cleaners have certificates and insurance, as well as powerful cleaning equipment. They know how to provide expert cleaning care for your sofas, armchairs and footstools.
Our sofa cleaning method is known as hot water extraction, or deep steam cleaning. It is performed by our technician with an industrial steam extraction cleaning machine. This method is highly recommended for expert upholstery and carpet cleaning services.
Safe and eco-friendly cleaning for your peace of mind
ProLux cleaners in Enfield use eco-friendly cleaning solutions during the cleaning process. These products are completely safe for children and pets, and do not cause side effects. Prochem chemicals are certified 100% environmentally friendly and harmless to your family.
Four reasons to choose ProLux today
Fully insured, certified and experienced cleaners
High-powered steam extraction cleaning machines
Child and pet friendly cleaning products
Possibility to order same day sofa cleaning
100% customer satisfaction guaranteed
Call us for a free estimate
Professional sofa cleaning Enfield
Advanced training and powerful steam machines
Our cleaners have completed many training courses on how to effectively deep clean furniture. They know what each type of sofa fabric needs, and how to provide it with our powerful steam machines. Steam extraction method can be used on artificial, natural and luxury sofa covers by our cleaning experts.
Effective care for velvet, silk and cotton sofas
The equipment allows for cleaning with different settings of water pressure, temperature and amount. This lets us perform steam cleaning, cleaning with cold water and even a service similar to dry cleaning. With our machines and experience, your velvet, silk or cotton sofas are perfectly safe.
Personalized approach to every job
As a professional upholstery cleaning company, we offer an individual approach to every customer. We will clean your sofa in the best way its material allows and its condition demands. Your upholstery is in the safest of hands when you choose ProLux to handle it.
During the water-based cleaning method, only harmless cleaning products are used. The solutions are made by Prochem, the UK market leader, and have been tested for decades. They are completely safe for children, pets and the upholstery material.
Emergency Same Day Sofa Cleaning Enfield
Had a party last night and need some stains turned into nothing more than a bad memory? Call us today - we're there to help you right away! To suit your cleaning needs, we work 7 days a week, even on bank holidays. You can book a deep cleaning service for your sofas and carpets when it's convenient for you.
How is steam extraction cleaning performed?
The cleaning process always begins with an inspection of the upholstery by our technician. The one we send to your property will determine the best approach to the cleaning based on the inspection results.
After the inspection has concluded, our cleaner will know how to achieve the best possible results in your situation. He will then use a commercial vacuum to hoover the reachable areas of the sofa. All surface dust and debris will be removed from your furniture when possible. If there are hairs on the upholstery, our technician will use a special brush to lift the removable ones out.
Our technician begins using the steam machine to spray the heated water under high pressure deep into the furniture. Then, the bacteria and stains are treated with special germ and stain removal products.
Around 90% of the water used is extracted together with the dirt and chemical residues. The nature of our cleaning method does not allow anything which is physically removable to remain after the cleaning.
The furniture is left fully disinfected, completely refreshed and deeply cleaned. It needs to dry for several hours, which can vary in number based on a few factors.
Optionally, our cleaner can apply a Stain Protection spray onto the sofa. It is an after-care service which creates an invisible layer on the surface. The layer will make new stains easier to remove and also prevent sunlight deformities.
What are the major factors affecting the drying after the cleaning?
the weather conditions;
the humidity percentage of the air;
the sofa condition;
how well the room is aired and heated after the cleaning.
How to request a quote for Stain Protection?
To receive a free quote for Stain Protection, you can ask our customer service assistants. All our staff are friendly experts in the cleaning field, who are happy to answer your questions. They are available 24/7, so you can always consult them if needed.
Tenancy cleaning Enfield
If you are about to end your tenancy, you should look for a professional cleaning company. Most letting agencies or landlords require the property to be deep cleaned before you can move out. ProLux Cleaning offers emergency same day sofa and carpet cleaning services to our clients in Enfield.
We're also able to assist you if you live near Enfield, as we cover all North London areas. We are regularly called for residential and business cleaning in Potters Bar, Tottenham, Chingford, Barnet, Borehamwood, Finchley, Finsbury Park and more.
Let's make it happen! Get in touch today!