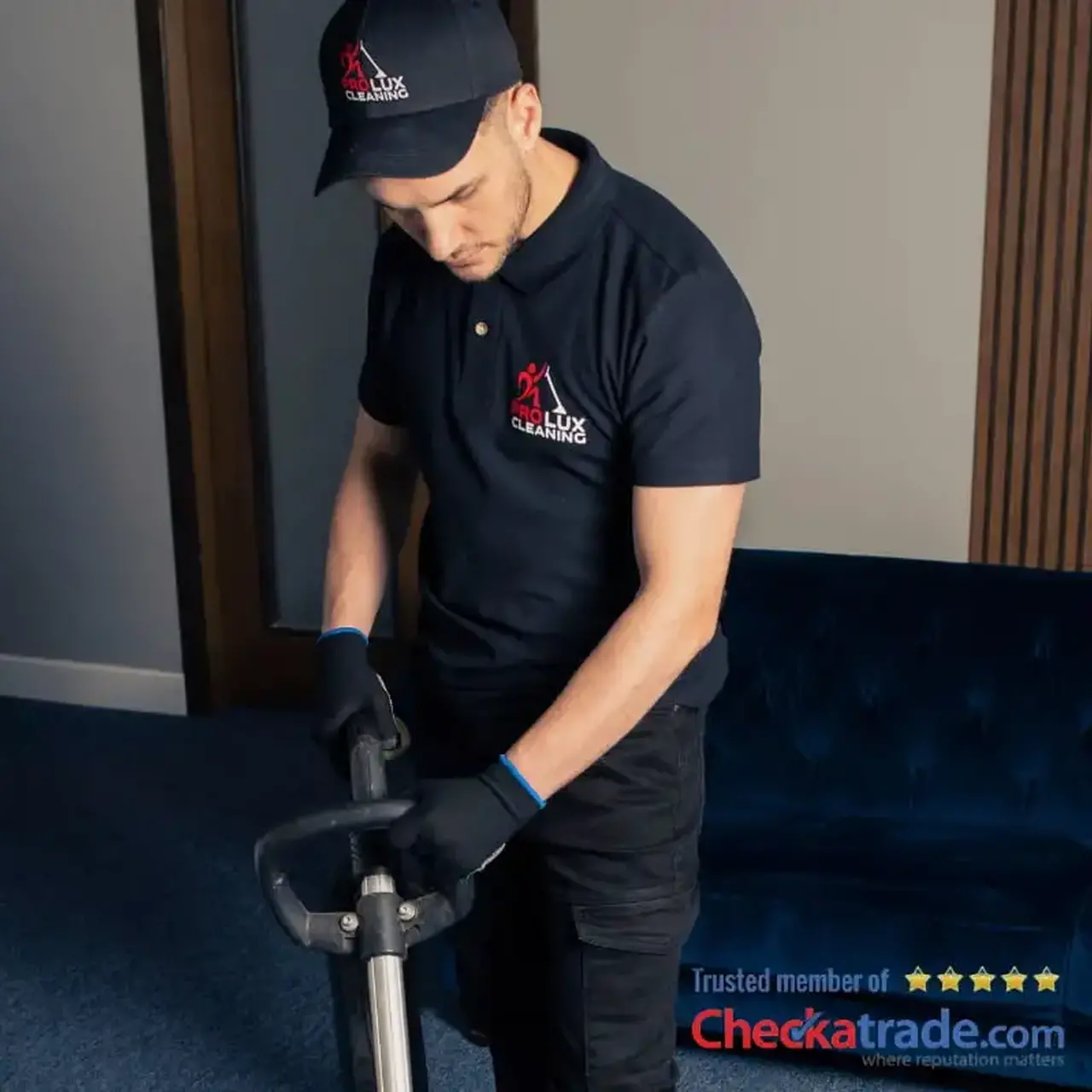 Expert hot water extraction cleaning services in Barking IG11
ProLux is a carpet cleaning company in Barking specialized in professional hot water extraction cleaning services. Our highly trained carpet cleaners in Barking IG11 are fully insured and equipped to provide deep cleaning of carpets. Our cleaning equipment involves powerful steam machines and harmless cleaning solutions.
Why choose us?
Safe, eco-friendly cleaning products
Available 7 days a week, including bank holidays
#1 Stain removal cleaning method
Top-quality steam extraction cleaning machines
Experienced, insured and certified professional cleaners
Affordable prices for carpet cleaning
Same day cleaning services for office and home carpets
Barking IG11 Carpet Cleaning: Trust Our Experts for Impeccable Results
All our professional carpet cleaners know how to remove stains of any origin from all carpet types. This is a result of their extensive training by our supervisors, and many years of experience. They also keep attending new courses when available, so as to further hone their skills.
Our carpet cleaners have gained extensive knowledge over the many years of working in Barking IG11. They are well versed in how to use the hot water extraction machines to provide other types of cleaning services. Call our customer service centres today to receive a free quote for rug cleaning, upholstery cleaning or mattress cleaning services. You can also take advantage of our top prices for carpet cleaning in Barking.
Hot water extraction: The ultimate carpet cleaning method
As a professional carpet cleaning company, we provide the best carpet and rug deep cleaning method available on the market. The dirt and germs in your carpet will be removed by our hot water extraction specialists, leaving your carpet perfectly clean. We use the best carpet cleaning machines that spray hot water under pressure in the carpet fibres. We will apply bacteria and stain removal products to your carpet rug or sofa.
Advanced cleaning technology for perfect carpet cleaning results
The machines used in our cleaning services in Barking have several settings for water pressure and temperature. They can penetrate to the core of the fibres and reach even the deepest embedded dirt. The high pressure equipment also has a dual water tank system, designed to simplify the cleaning process. One tank is for the clean water, whereas the dirt and used water goes into the dirty water tank.
Afterwards, the extraction sucks out all dirt and stain residues together with about 90% of the total water used. This greatly shortens the drying time, and it can be shortened further by using the heating and windows. It is worth noting that there are a few factors to the drying, such as the weather and carpet condition.
Eco-friendly carpet cleaning: Safe for your family, pets, and the environment
If you want incredible results, but nothing to do with toxic cleaning products, we are the company for you. Our cleaning solutions are eco-friendly, and completely safe for you and your children, pets and carpet fibres. We believe that the best solution for any carpet problem is the green solution.
Eco carpet cleaning has one major advantage, which is the lack of harmful chemicals. Green cleaning achieves the same remarkable results, but without the harmful vapours of harsh products. Your home will get the same shine and cleanliness without using aggressive products which cause allergic reactions.
ProLux: Your ultimate solution for safe and effective carpet cleaning
Over time, dirt and germs accumulate in your carpet and endanger the health of you and your family. The carpet cleaning specialists of ProLux can provide carpet care using professional steam extraction machines and eco-friendly cleaning products. Call us today and order the safest cleaning technique for your home and office carpets.
The results speak for themselves
How is steam carpet cleaning Barking performed?
ProLux specialists use professional carpet cleaning machines to perform all cleaning appointments. After site inspection, the type of the carpet and the best way to clean it are determined. Then, the necessary eco-friendly detergents and settings of the machine are selected. Before steam cleaning, we always hoover the surface of the carpet with a vacuum cleaner to remove debris.
From Inspection to Stain Protection: The Complete Carpet Cleaning Process
Inspection of the carpeted areas by our technician
Selection of cleaning solutions and machine settings
Hoovering of the carpet with a powerful vacuum cleaner
Pre-treatment of the high traffic areas and stains with a special solvent
Use of the steam extraction machine to spray heated water under high pressure into the fibres
Treatment of stains, germs and odours with special odour and stain removal products
Extraction of 90% of the water, together with stain and chemical residues
Optional application of Stain Protection*
*Stain Protection is an after-care service which can be applied to the carpet by the technician after the cleaning. It will strengthen the fibres against new stains by making them easier to remove. Its other benefit is making the carpet resistant to sunlight deformities.
How does ProLux's hot water extraction method ensure deep cleaning and disinfection?
Steam carpet cleaning is a method of thorough disinfection and extraction of dirt and hot water. The high temperature and safe cleaning solutions help to remove germs and reduce dust to a minimum. Experts highly recommend steam carpet cleaning for homes with children and pets. It is completely harmless to people and the carpet fibres, and kills up to 100% of germs.
For deep cleaning and disinfection, we apply the strength of 60-100° steam and harmless cleaning solutions. The hot water extraction method is suitable to clean carpets, sofas, mattresses, curtains and car upholstery. In all services, eco-friendly cleaning agents and powerful steam cleaning equipment is combined to full effect. We know how to turn every cleaning job into a great job, and make every client beam with satisfaction.
Dry carpet cleaning
Dry carpet cleaning is a specific procedure – it does not include liquids and water. The procedure is very suitable for sisal-weave carpets, which should only be dry cleaned.
The dry-cleaning machine works with special rotary brushes that rub the particles on the textile surface. When in contact with particles and pre-treatment, the machine performs a rapid cleaning action. The equipment is fitted with a container in which particles are collected and the dirt removed.
Carpet cleaning near Barking
We are based in Barking, but many customers in East London can use our professional steam extraction carpet cleaning services. Just to name a few examples of other areas we clean in: Ilford, Cranbrook, East Ham, Woolwich, Plaistow, Dagenham, etc. For a list of covered areas and a free quote, contact our customer service assistants on 020 3318 6387.
We additionally offer tenancy cleaning of carpets to tenants looking to move out soon. The service is also available 7 days a week, and you can rely on our emergency same day carpet cleaning services.
Connect with Our Trustworthy Local Specialists in Barking
Number of cleans: 4125
Working with us for: 5 years
Expert in:
Stain Removal
Upholstery Cleaning
Carpet Cleaning
Rug Cleaning
Recent customer feedback
"Chris worked wonders on my wool carpet! He flawlessly tackled the dirt in high-traffic areas on the staircase. Impressive cleaning skills!"
Scott - Barking
Number of cleans: 5423
Working with us for: 6 years
Expert in:
Stain Removal
Upholstery Cleaning
Carpet Cleaning
Rug Cleaning
Recent customer feedback
"Boby, the carpet cleaner, is exceptional! Successfully banished water stains. Impressive skills, reliable service. A true asset for pristine carpets!"
Isabella -
Number of cleans: 3665
Working with us for: 4 years
Expert in:
Stain Removal
Upholstery Cleaning
Carpet Cleaning
Rug Cleaning
Recent customer feedback
"Angel, the carpet cleaner, is phenomenal! Expertly eliminated dirt marks. Exceptional skills, reliable service. A true champion for spotless carpets!"
Mason -
Contact Us on the Number Below for a Free Quotation: