Carpet steam cleaning is a new alternative carpet cleaning method, which is now broadly available on the market. It involves a steam machine, which heats water on its own and sprays it inside the material. Steam cleaning is available to anyone, as there are both professional cleaning companies and machines for hire. The wet carpet deep cleaning method is suitable for most types of carpets and area rugs.
Steam cleaning services are effective for handling stubborn stains, and the dirt on high traffic areas. The carpet and rug cleaning process is usually not that long, with fantastic results achieved in almost all cases. This is an environmentally friendly method of carpet cleaning, which is important for your health and safety.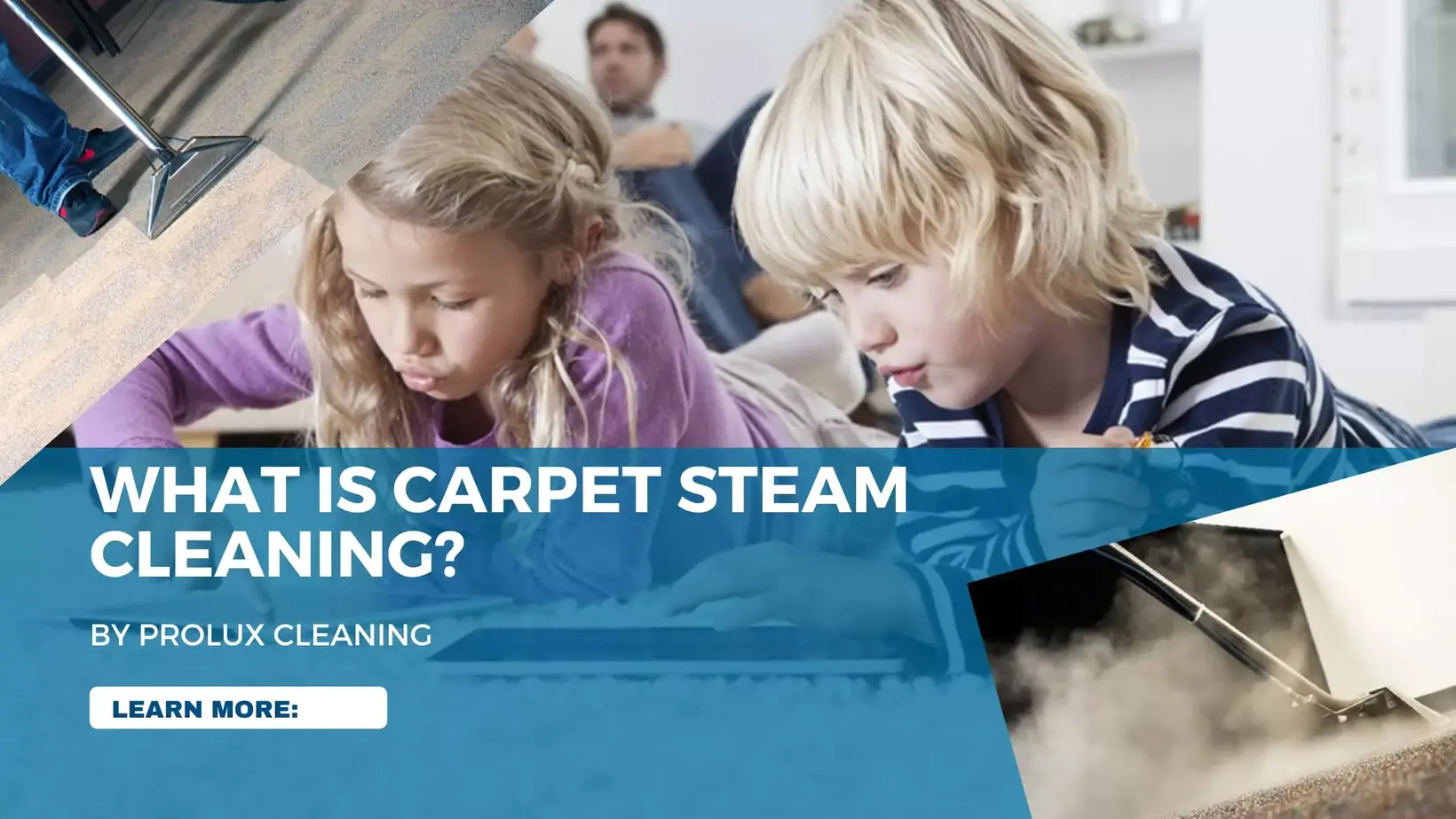 Is carpet steam cleaning the best cleaning method?
Carpet steam cleaning is the number one solution for many carpet related problems. Food stains, drink spillages and high foot traffic all cause issues to your textile flooring. It is crucial to regularly steam clean the carpet, either by yourself or by professional cleaners.
There are two distinct types of steam machines: the ones available for anyone to hire, and professional steam extractors. Below, we will detail the differences and features of each type of steam cleaning machine.
Rug Doctor is the common name for the many brands of portable steam machines. They are commonly portable and not sizable equipment, able to be carried in any home. The equipment is capable of achieving incredible results and is an excellent way to deal with most carpet stains.
However, it is not as powerful as a professional steam machine, and does not reach as deep into the carpet fibres. It also is unable to deal with major stains, such as red wine, sick, urine and blood. It may stand a chance to do so if the user has access to professional cleaning solutions, but this is unlikely.
Professional cleaning companies have a much larger arsenal of tools at their disposal to tackle carpet stains of any kind. Their steam machines often have different settings of water pressure, temperature and amount. This lets them clean carpets which would require special training and knowledge to be water cleaned.
Whether cleaning the carpet yourself or choosing a professional cleaning company, it is advised to use eco-friendly cleaning products. All cleaning solutions applied to your carpet should be harmless, as harsh products tend to do more harm than good. By selecting the green line chemicals, you ensure the safety and health of your carpet fibres and family members.
You may also like: How to clean tough carpet stains?
Can steam cleaning remove carpet stains and dirt?
Carpet steam cleaning is the most popular method for removing dirt and stains from carpeted flooring. With its help, you can remove the stain, as the hot water stream will push it out of the fibres. If you treat the carpet with a steam cleaner, then extract, you will be surprised at the efficiency of the cleaning.
A portable steam cleaner may also be used on hard surfaces. A nozzle with a round brush or sponge can clean joints, hard-to-reach surfaces, tiles and other hard floors.
A wider nozzle is convenient to clean large surfaces, for example a shower cabin or a tile. The kit includes micro fibre cloths. The surface is treated with steam, the dirt lags behind the surface and remains on the cloth.
A steam cleaner allows you to clean your home and your carpets much more efficiently. In addition, a steam cleaner can wash floors, and almost any type of flooring. The steam cleaner has a nozzle for cleaning the floor, and other suitable attachments or equipment. Of course, large dirt must first be collected by a vacuum cleaner or a broom.
Why do I need to use steam carpet cleaning?
Carpet steam cleaning is the most effective tool against pests. Elements of home interior, which are regularly used, are constantly exposed to dirt and germs. They need to be removed quickly from the fabric, because they can negatively affect it and your family's health.
Carpet steam cleaning is the best carpet cleaning solution for removing the dirt, stains and bacteria from it. High temperature helps destroy germs that can settle between the fibres of the material. Disinfection of carpets will necessarily take place at the highest level. High-tech equipment will certainly ensure the quality removal of unpleasant substances and bacteria from all kinds of surfaces.
What are the ups and downs of carpet steam cleaning?
One of the most common ways to clean carpets, used by professional carpet cleaners and ordinary housewives, is steam carpet cleaning. It involves a special cleaning machine, which has a heating mechanism for the water. Here we will take a closer look at the pros and cons of this carpet cleaning technique.
What are the benefits of carpet steam cleaning?
It is eco-friendly, since the main cleaning element is clean tap water, absolutely harmless to people and pets;
Steam refreshes and disinfects the carpet fibres;
The steam can be used with special stain remover cleaning agents;
Carpet steam cleaning is useful in combating dust mites and germs;
One of the greatest benefits of using carpet steam cleaning is its ability to kill dust mites. As you know, dust mites cause allergies, especially impactful to children. By destroying dust mites, we are protected from dust allergies, all too common in the UK.
If a person already has an allergy, cleaning the carpet with steam will improve his physical condition. Carpet steam cleaning will refresh the carpet fibers and air in your home. In addition, steam at high temperatures kills not only dust mites, but also most germs and allergens.
Are there downsides of carpet steam cleaning?
It is a water-based method, meaning the carpet needs to dry after the cleaning, which takes a few hours;
Not all types of carpet can be cleaned with steam, for example wool needs to be treated with cold water instead;
If you do not know how to use a steam cleaner, you may cause issues on your carpets;
What can I clean with a steam cleaner?
The steam can clean any surface that is not afraid of high temperature. This means you can maintain your home clean with the steam cleaner. You can clean ovens, microwaves, tiles, tile grout, extractor fans, splashbacks and more. Just be sure to not use too much water, as it may spread the dirt to other areas.
Another interesting option for using a steam cleaner: defrosting the refrigerator. Often, refrigerators take forever to defrost themselves before they can be cleaned. The steam cleaner solves this problem rapidly once the refrigerator is unplugged. The ice is quickly dissolved by the steam, and the dirt is removed.
Steam cleaning does not replace traditional ways of carpet cleaning, but offers a new look at cleaning. It is a very efficient cleaning method, and the portable machines are suitable for any budget. However, it may not be suitable for every single interior element, so care is advised.
There is a misconception that steam machines need distilled water, when tap water is suitable. The machine also requires frequent cleaning and maintenance. For this, the kit includes special eco-friendly tablets that dissolve dirt in cold water. The device should be cleaned at least once every 30 uses, which may vary based on what you clean with it.
Read also: How to Clean Acrylic Paint Off Carpet?