Carpeting should be kept clean in order to keep its appearance, and for health reasons. In the carpet fibres, dust, animal hair and dirt all build up over time. Hoovering the carpets at least 1 to 3 times a week is recommended. However, you will sometimes need home remedies or professional carpet deep cleaning.
If you have just seen a stain on your favourite carpets, then you should act quickly. It is quite possible to get rid of a problem if you react before it's dry. In addition to the usual blot and hoover, there are other home remedies. We will show you how to use white vinegar to clean carpet stains.
There is a very efficient way to remove carpet stains with the help of white vinegar. First, mix one part hot water or lukewarm water and vinegar in a spray bottle. Apply it over the stained area, then begin blotting with a white cloth or paper towel, from edges to the centre. This spot cleaning technique is great at stain removal, and a great alternative to professional carpet cleaning services.
The greatest advantage of white vinegar is that it is readily available anywhere. It is cheap and found in every store, and used in many cooking recipes. It is also an acid, which helps it neutralise certain types of smells and bad odours. When used properly, you can achieve the same results expert carpet cleaners could.
Check also: Dry Carpet Cleaning vs Hot Water Extraction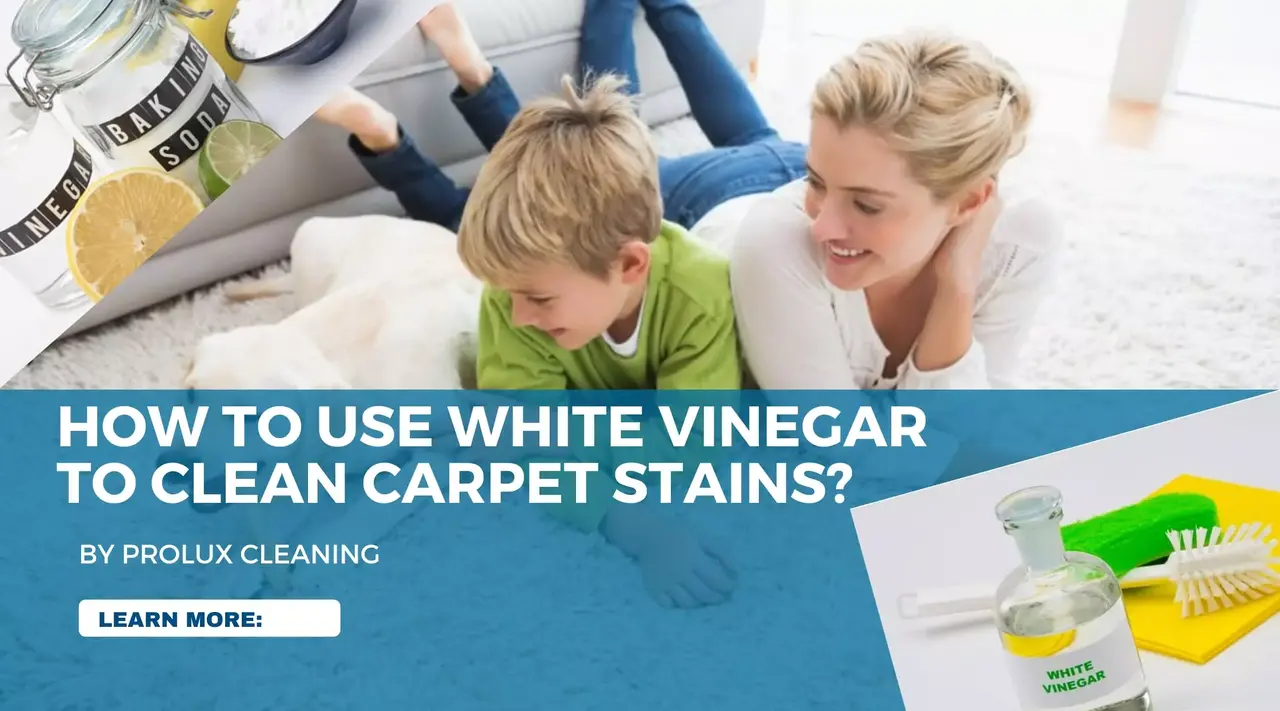 Can I use vinegar and baking soda for carpet cleaning?
When a stain is more complex, or has the added effect of an invasive smell, vinegar alone won't do the trick. Prime examples would be coffee, tea, and various food stains. However, one particular trick to dealing with these issues is to combine baking soda and vinegar.
There are three techniques for home carpet cleaning using vinegar and baking soda. During each method below, you should try to keep the rooms well aired. Simply put, vinegar has a hefty smell, which can be musty if left unchecked.
How to remove carpet stains using white vinegar and baking soda?
Mix half a cup of warm water with 4 tablespoons of white vinegar into a bottle. Then add 1 tablespoon of baking soda and 1 tablespoon of washing powder into the bottle. The resulting solution is thoroughly mixed until the powders are dissolved. For ease of use, the mixture can be poured into a spray bottle, then hastily applied onto stains.
After applying the mixture, let it sit for 30 minutes, so the soda and vinegar can interact with the problems. The built-up issues will be lifted from the carpet fibres just by blotting them out. You can also hoover the carpet from the remnants of mud and other dirt. With this combination, you can deal with stains and smells even from essential oils.
How can I remove stains with white vinegar and dish soap?
Here is another method to use white vinegar to clean carpet stains of any kind. It is considered to be a universal stain remover, applicable to almost all types of carpet. The mixture is 3 tsps. of dish soap, 1/4 glass of white vinegar and ammonia in 8 litres of warm water.
To remove the stain use a sponge or a cloth, then clean it with a vacuum cleaner. If the stain is fresh, remove it from the edge to the centre, otherwise it may spread. Remember to not scrub, just blot the stain until it is gone, and the carpet is completely dry.
Can white vinegar and baking soda remove stains?
White vinegar and baking soda is a very powerful cleaning combination, used to deal with a lot of stains. When they are mixed, they cause a fizzy reaction, akin to foam cleaning products. As a result, the mixture absorbs the dirt and removes the germs at the same time. This is why the technique is recommended for carpets with unpleasant smells and heavy staining.
The method is as follows:
Sprinkle baking soda onto the surface of the floor covering, and leave it for 30 minutes.
Mix 1 tbsp. of white vinegar and 1 litre of warm water into a spray bottle.
After half an hour has elapsed, it is necessary to vacuum the carpet and spray the prepared solution onto it.
Let it sit for another 30 minutes, so the vinegar reacts with the remaining baking soda in the carpet.
Blot the solution out of the carpet with a clean cloth, and hoover the carpet once again.
What are the ups and downs of white vinegar carpet cleaning?
Like any carpet cleaning method, using baking soda and white vinegar to clean carpet stains can have both pros and cons. Consider them all before applying the substance on your gorgeous carpeted flooring. And remember, some types of carpet fibres require special treatment, so be careful.
Pros:
Availability: baking soda and white vinegar are available in every kitchen, and always affordable.
Environmentally friendly: these products are harmless to children and pets when used on the carpet. However, as any cleaning solution, avoid getting them in your eyes.
Efficiency: the mixture is able to deal with lots of stains and odours, commonly found on carpets. It is largely helpful even on marks that occurred a longer period of time ago.
Cons:
Vinegar has its own rather musty smell, and the rooms you clean with it need to be aired well. Sometimes the smell can be absorbed, especially by natural materials, and permeate the room for some time.
This method of carpet cleaning is not always effective the first time. If there are enough stubborn stains, you need tp try again.
The solution is not suitable for every type of carpet fibres available on the flooring market. Baking soda and white vinegar's ability to cause a strong chemical reaction can damage some types of textile flooring. In some cases, incorrect cleaning may lead to permanent colour changes.
You may also like: How to Clean Baby Poop off Carpet?
L
astly, here is a list of general recommendations for our readers:
Do not rinse carpets with boiling water, use warm or cold water instead.
When blotting, the cloth should be moved along the pile direction.
Do not use store-brand products to clean natural carpets. Always consult professional cleaners first.
Do not leave the carpet soaking wet. Blot the treated areas, air and heat the rooms as needed. Humidity may lead to fungus, which is a health concern.
Do not immediately apply the carpet cleaning solution of baking soda and white vinegar on the whole surface. First, try it in an inconspicuous corner, especially if you have doubts about the carpet quality.
Before you spray anything on the carpet, hoover it first. Vacuum cleaners will remove dry dirt and loose bits of muck.