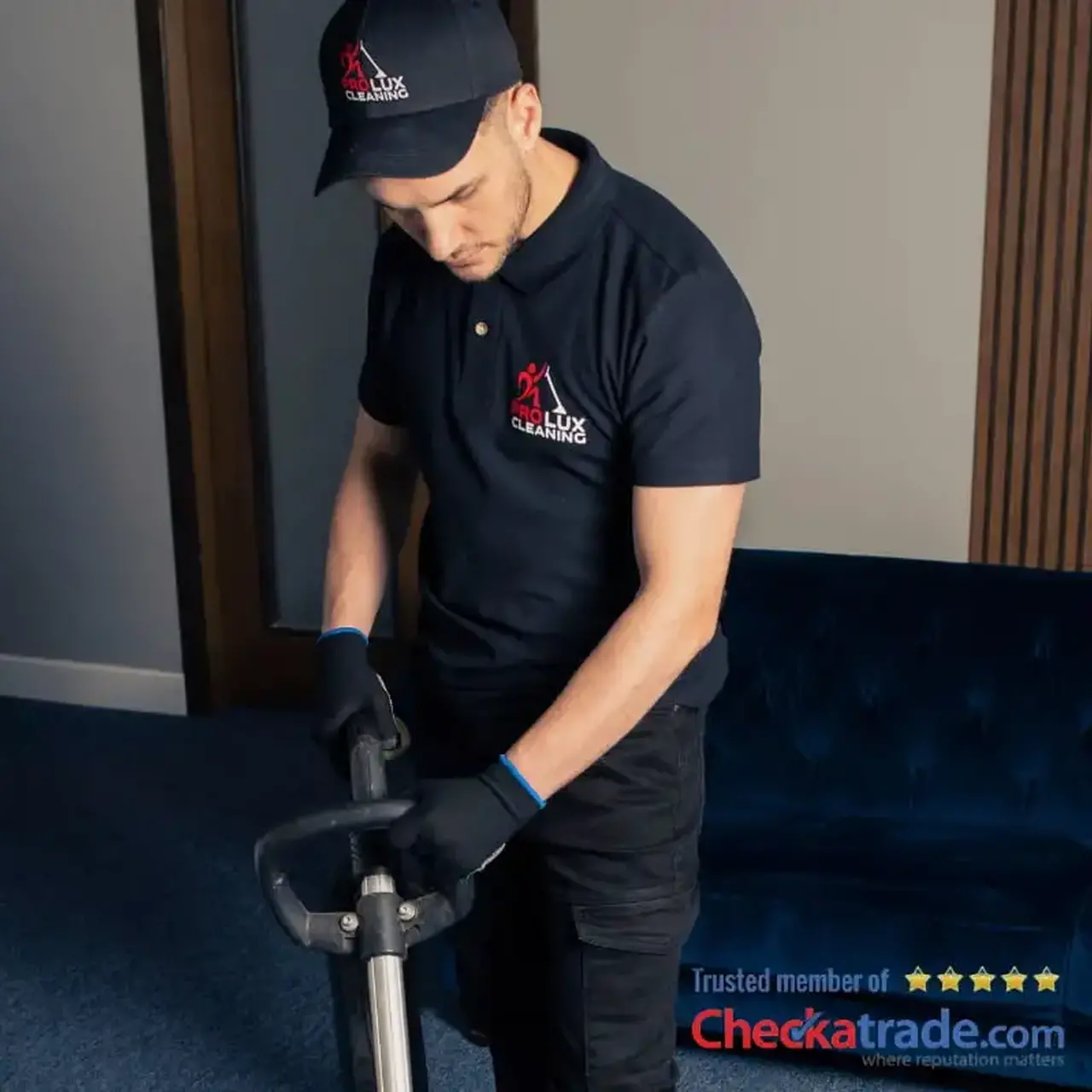 Stain Removal Specialists: ProLux Carpet Cleaning Services in Archway N19
ProLux provides with professional carpet cleaning services in Archway to residential and commercial customers alike! Hot water extraction, also known as steam cleaning, is our cleaning method of choice. It's performed with eco-friendly cleaning solutions and industrial grade steam cleaning machines.
Certified and insured carpet cleaners
All our carpet cleaners in Archway have over 5 years of experience, and are fully insured. They have years of extensive training within our cleaning company, and have undergone numerous special training courses as well. They are experts in terms of stain removal, having dealt with stains from red wine, pollen and even paint.
Benefits of using a professional cleaning company
Affordable and competitive prices
Availability to book a same-day cleaning, with no extra cost
Award-winning customer support team
Use of modern cleaning equipment
Child and pet-friendly cleaning products
Complete disinfection
Experience ProLux's Carpet Cleaning Services: Satisfaction Guaranteed
ProLux's carpet cleaning technicians fully cover Highgate, Holloway, Hampstead, Finsbury Park, the rest of Stoke Newington and Camden, Primrose Hill, Swiss Cottage, Barnsbury, Tufnell Park and Belsize Park. In fact, due to high demand over time, we've extended our reach to all of North London. We've cleaned for schools, hospitals, airports, offices and numerous households. The customer satisfaction rate we achieved is 98%, and we'll do our best to take it even higher.
You can take advantage of our quality services any day of the week, including weekends and bank holidays. Expert carpet cleaning can be scheduled at a day and time most convenient for you. Simply get in touch with a member of our customer service team, and all your questions will be answered.
Professional carpet cleaning: The ultimate solution for stains, odours, germs, and bacteria
Needless to say, professional cleaning is much more effective in removing stains and odours compared to home remedies. So if the time to clean the carpet has come, it's best to hand it over to the professionals. Our specialists will handle the stubborn stains and unpleasant odours, and get rid of all germs and bacteria. Each procedure takes 1 to 2 hours, depending on the property size, with a minimal waiting time in terms of drying.
How do we achieve perfectly clean and fresh carpets with steam cleaning?
Carpet initial inspection and pre-hoovering
Each job is approached with the proper tools and attitude. Our cleaning teams carefully inspect your carpet to determine its state and type. Then, the most suitable machine settings and cleaning products are selected. The carpet is then hoovered and pre-treated to allow for better stain removal results.
Deep steam cleaning and stain removal
What follows next is the actual steam extraction cleaning process. Under high pressure, hot water is sprayed deeply inside, in between the carpet fibres. Simultaneously, the polluted water is extracted into the dirty tank (our equipment is build with a dual tank system). If any stains or marks do remain, they are further treated with special cleaning solutions.
Carpet after care and drying
Optionally, Stain Protection spray can now be applied in order to help prevent future staining over the carpet. The product, which is also eco-friendly, forms an invisible layer over the carpet's surface. By having it, better results will be achieved via domestic and commercial means.
Additionally, the deep cleaning process simultaneously removes allergens, such as dust mites, pet dander and mould. The result is a fully disinfected, stain-free carpet with a refreshing citrus smell.
Maintain your carpets' quality with ProLux's regular deep cleaning services
Deep cleaning should be done regularly - at least twice a year, or even more often if you have children or pets. The service life of the carpet and its appearance depend on this. Naturally, the most regular customers of ProLux receive special offers. If you haven't used our services, however, don't be afraid - our experts will provide you with the very best price!
Dry carpet cleaning
The method of dry cleaning is performed with industrial specialized hoovers and granule like cleaning solutions. It's mainly performed on sisal weave type of carpets, and other natural fibre ones which cannot be wet cleaned. The biggest advantage to this cleaning method is the ability to use the carpet straight away.
Find the Best Local Experts in Archway
Number of cleans: 5986
Working with us for: 7 years
Expert in:
Stain Removal
Upholstery Cleaning
Carpet Cleaning
Rug Cleaning
Recent customer feedback
"Dimitar's expertise was evident as he transformed my post-renovation carpets, eradicating every speck of building dust. Impressive results and exceptional service!."
Liam - Archway
Number of cleans: 3120
Working with us for: 3 years
Expert in:
Stain Removal
Upholstery Cleaning
Carpet Cleaning
Rug Cleaning
Recent customer feedback
"Ibrahim transformed my home's staircase, eliminating dust and revitalizing the high-traffic areas. Impressive work! Already referred to a friend."
William -
Number of cleans: 3789
Working with us for: 4 years
Expert in:
Stain Removal
Upholstery Cleaning
Carpet Cleaning
Rug Cleaning
Recent customer feedback
"Tisho is a true professional! He swiftly removed paint from my living room carpet, even on short notice. Impressive service."
Ava -
Contact Us on the Number Below for a Free Quotation: