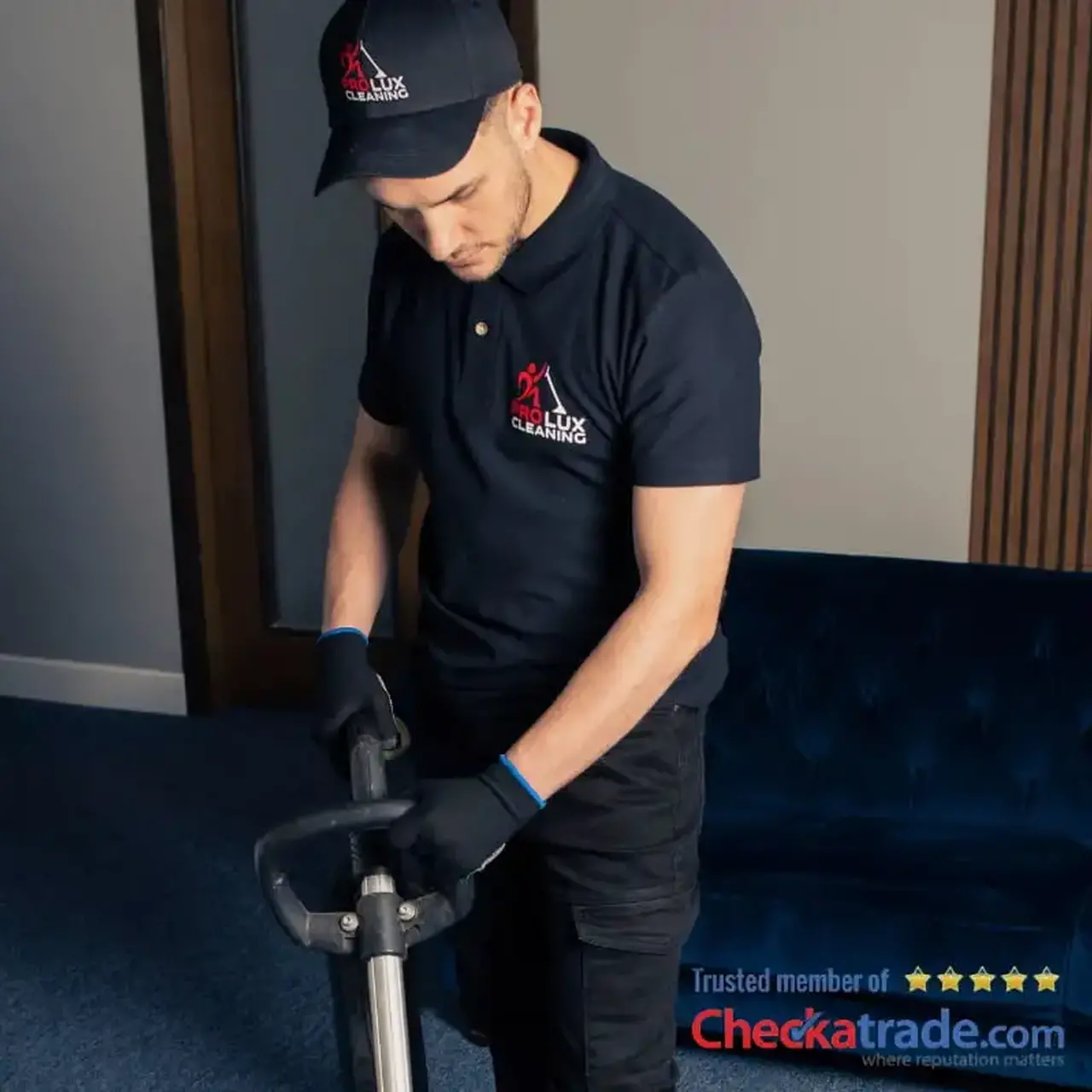 Trust the Professionals: ProLux Carpet Cleaning in Barnsbury
If you're in the search of fully insured carpet cleaning experts, you have come to the right place. ProLux is a professional carpet cleaning company, based in Barnsbury, with 15 years of experience in the industry. Our preferred carpet cleaning method is the world-renowned hot water extraction cleaning technique. It's performed with industrial grade steam cleaning equipment and eco-friendly cleaning solutions by ProChem.
In all carpet cleaning services in Barnsbury we apply:
pre-treatment product to react with the most soiled areas over the carpet
stain removal products to deal with even the most stubborn stains and marks
deodorizers to tackle unpleasant odours
disinfectants to remove all traces of germs and bacteria
The result is a carpet which is fully disinfected, with revived colours and with a pleasant aroma. Moreover, steam cleaning procedures rarely take more than 1 or 2 hours, depending on the property size. Drying also happens fairly quickly, with a waiting time of just a couple of hours. Aerate well or heat up the rooms to accelerate the process.
Professional carpet cleaning Barnsbury
Since 2007, ProLux has been the number one carpet cleaning company in Barnsbury and the nearby areas. We provide outstanding cleaning services at affordable prices. Working with harmless cleaning products and innovative cleaning techniques is the primary reason we have thousands of satisfied customers.
For those of you willing to book a combined cleaning services (sofa and living room carpet), special discounts await. We are always more than happy to provide with a specialized quote. List of services in Barnsbury N1 which we offer include:
Upholstery cleaning (fabric and leather sofas)
Mattress cleaning
Curtain cleaning
Tenancy cleaning
From carpet inspection to Stain Protection: What to expect from carpet cleaning service?
ProLux professional carpet cleaners in Barnsbury are trained to consistantly provide high quality cleaning services to all customers. The cleaning process itself is performed in the following way:
Carpet assessment
Our carpet cleaning technician arrives at the property and examines the areas which require cleaning. He assesses the carpet type and identifies the stains and marks. Based on the established information, he selects the appropriate cleaning products and the most optimal machine settings.
Hoovering and pre-treatment
What follows is cleaning of the carpet with an industrial hoover. Once the surface level of dirt and dust is extracted, the carpet will be pre-sprayed. We wait for the product to take its full effect, during which time the steam machine is loaded with water.
Steam cleaning and stain removal
Once the water reaches suitable temperature, it's sprayed deep into the carpet fibres with high pressure. During this time, the machine is also extracting the polluted water into its dirty tank. The most soiled areas receive a second go-over, and the most stubborn stains a proper scrub.
After-care and drying process
Lastly, the carpet is stain protected to help prevent future stains and marks. Stain protection is a non-toxic cleaning agent which allows for better results to be achieved with domestic and professional means. As for the drying time, it's usually a couple of hours, depending on the carpet properties and humidity in the air. Good ventilation is typically enough to speed things up, but if not - feel free to turn on the heating.
How often should you clean your carpets? Expert recommendations
Carpet manufacturers highly recommend deep carpet cleaning to be performed once or twice a year. In case you have pets or children, however, the suggested frequency is doubled. Neglecting the regular use of deep carpet cleaning may lead to the formation of dust mites, mould and other health hazards. Additionally, one of the immediate effects of professional carpet cleaning is improved indoor air quality.
Carpet cleaning near Barnsbury
As a fully mobile company, we have perfect coverage of all Central London areas: Islington, Holloway, Dartmouth, Haggerston, Finsbury Park, Primrose Hill, Tufnell Park, Highbury, Finsbury, Fitzrovia and many more. Furthermore, we work every single day, including national and bank holidays, with no hidden fees. Our customer service team is more than happy to book you in at a day and time most convenient for you!
Get Acquainted with Our Certified Local Professionals in Barnsbury
Number of cleans: 2840
Working with us for: 4 years
Expert in:
Stain Removal
Upholstery Cleaning
Carpet Cleaning
Rug Cleaning
Recent customer feedback
"Nicola from Prolux Cleaning is a miracle worker! The communal staircase's heavy traffic areas, untouched for 12 years, now look unbelievably clean. Impressed the neighbors!"
Billy - Barnsbury
Number of cleans: 2876
Working with us for: 3 years
Expert in:
Stain Removal
Upholstery Cleaning
Carpet Cleaning
Rug Cleaning
Recent customer feedback
"Kosta, the carpet cleaner, is a true pro! Effortlessly erased ink stains. Impressive skills, reliable service. Don't wait, just call them."
Sophia -
Number of cleans: 4324
Working with us for: 6 years
Expert in:
Stain Removal
Upholstery Cleaning
Carpet Cleaning
Rug Cleaning
Recent customer feedback
"Ivo saved the day! He effectively removed dog urine stains from my sister's dog. Arrived early and provided helpful insights. Excellent service!"
James -
Contact Us on the Number Below for a Free Quotation: