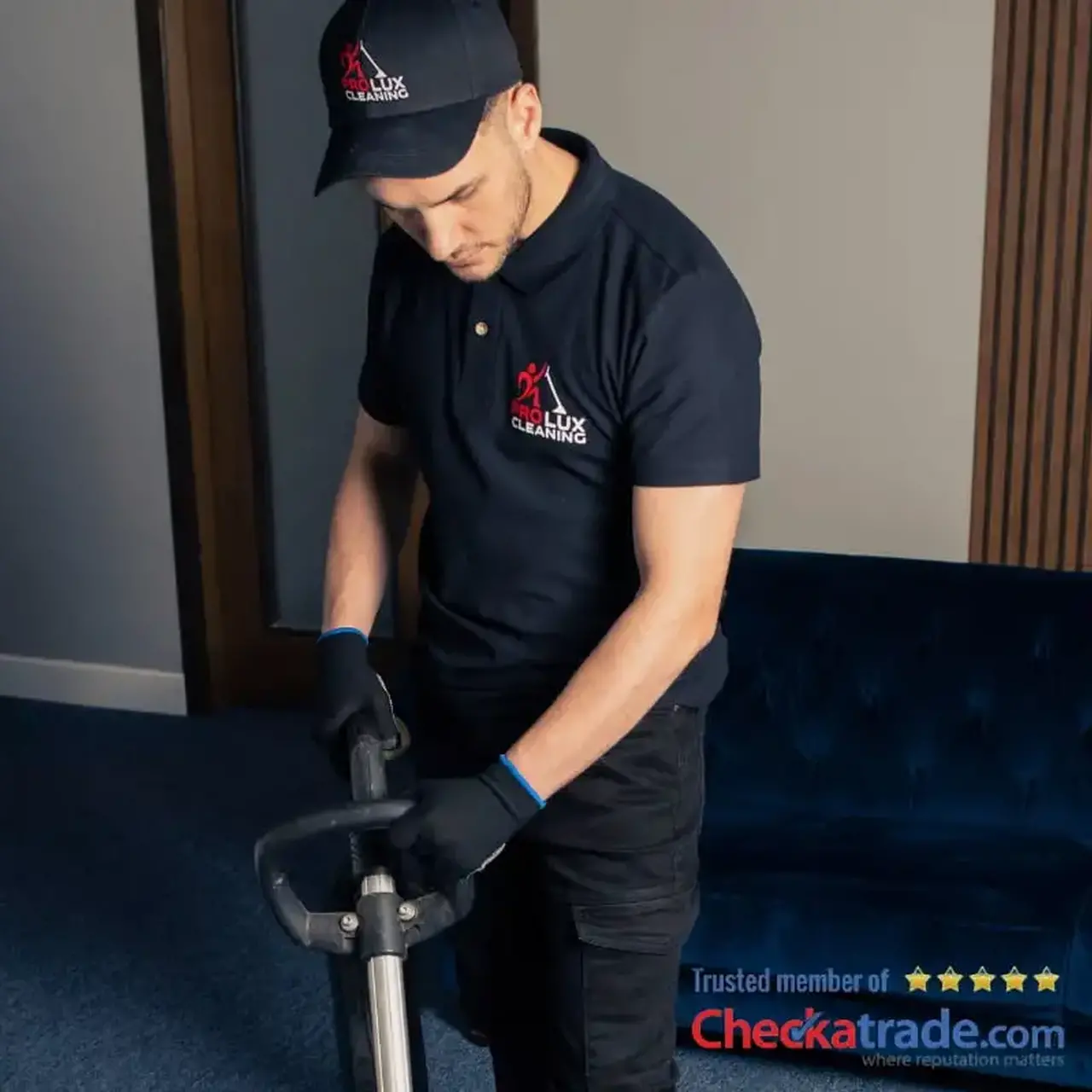 Looking for professional carpet cleaners in Finsbury Park?
ProLux is a well established provider of professional carpet cleaning services in Finsbury Park N4 since 2006. The main cleaning method which we provide with is hot water extraction, suitable for all types of carpets and rugs.
We use eco-friendly cleaning products, harmless to babies, pets and adults alike. Our machines are industrial grade and have a variety of water temperature and pressure settings. That makes them suitable for rug cleaning, mattress cleaning and upholstery cleaning of various sofas, chairs, etc.
Fully insured and trained technicians for guaranteed customer satisfaction
All ProLux carpet cleaners are fully insured and certified stain removal experts. Over the years, they've undergone special carpet cleaning courses to further enhance their skill set. We do not fear wine or coffee stains, or any unpleasant odours - we are the deep cleaning specialists you're looking for!
Steam carpet cleaning
Are you wondering how exactly is steam cleaning performed by professional cleaning companies in Finsbury Park?
There are 6 main stages:
1. Inspection
The carpet type will be assessed, and the obvious and not so obvious stains and marks will be located. Based on the established, the most appropriate machine settings will be selected.
2. Pre-hoovering
Our representative will then clean the carpet with a hoover to take out the surface of dirt and dust.
3. Pre-treatment
An eco-friendly pre-spray cleaning solution is then applied thoroughly, enabling the best possible stain removal results. While the product reacts with the carpet stains, the machine will be filled up with water.
4. Steam Cleaning
Once the water is heated up to 90 °C, under very high pressure, it will be sprayed deeply inside the carpet. Stains will be dissolved and immediately extracted into the machine's dirty tank, along with the polluted water.
5. Stain Removal
To achieve optimal condition, we take special care in treating any stubborn stains.
6. Scotchgard
Assuming the customer has included it, Stain Protection would now be applied to the carpet. An invisible layer of spray is formed over the carpet's surface, protecting it against future stains and marks. It lasts for roughly one year and is a great way to preserve the original carpet colours.
7. Drying process
Drying takes no more than 2-4 hours, depending on the initial carpet condition and the humidity percentage. Ventilate well or turn on the heating where the carpets are situated to speed things up.
8. Checkout
Upon completion of the service, our clients are entitled to review the outcome and provide their signature on a receipt.
See how we make stains disappear!
Why trust ProLux Cleaning company?
Eco-friendly professional cleaning services
The latest steam extraction machines
Well-trained and experienced professional cleaners
Competitive and affordable prices
Smell and stain removal experts
ProLux has the most experienced and highest rated cleaners in Finsbury Park you can find. They are fully mobile and always available for an emergency call-out. We even work on Saturdays and Sundays, as well as on Bank Holidays, with no hidden fees.
And for those customers who are willing to book a combined service (carpet and tenancy cleaning), special discounts are provided. To receive your free quote, simply get in touch with a member of our friendly customer service team!
Dry carpet cleaning
Dry cleaning is a cleaning method only suitable for certain kinds of natural carpets, namely sisal. It's performed using powerful detergents and a minimal amount of water. The carpet can be used straight after the cleaning process, which is the method's main advantage.
Carpet cleaning near Finsbury Park
Our services are not limited to just Finsbury Park - we also cover all of North London! Areas which we serve on a daily basis are: Hackney, Holloway, Highbury, Barnsbury, Highgate, Archway, Dalston and Haggerston. If you're also a homeowner or a business individual looking to have their carpets professionally cleaned, call us today! We will provide you with a personalized free quote based on your requirements and your carpet types. What's more, we work every single day, even on weekends and bank holidays with no extra fees.
Meet Our Certified Local Experts in Finsbury Park
Number of cleans: 5004
Working with us for: 6 years
Expert in:
Stain Removal
Upholstery Cleaning
Carpet Cleaning
Rug Cleaning
Recent customer feedback
"Ivan from Prolux Cleaning is exceptional! Expertly removed water stains from my carpets. Reliable, skilled, and highly recommended!"
Ethan - Finsbury Park
Number of cleans: 2239
Working with us for: 4 years
Expert in:
Stain Removal
Upholstery Cleaning
Carpet Cleaning
Rug Cleaning
Recent customer feedback
"Dimitar worked magic on my rental property's carpets! He transformed the disgusting carpets left by previous tenants into pristine floors. Impressive!"
Rose -
Number of cleans: 4853
Working with us for: 5 years
Expert in:
Stain Removal
Upholstery Cleaning
Carpet Cleaning
Rug Cleaning
Recent customer feedback
"Daniel is exceptional! He skillfully cleaned my staircase carpet, while being friendly and considerate towards my dog and kids. He also showed great care for my property. A true professional!"
Sophia -
Contact Us on the Number Below for a Free Quotation: