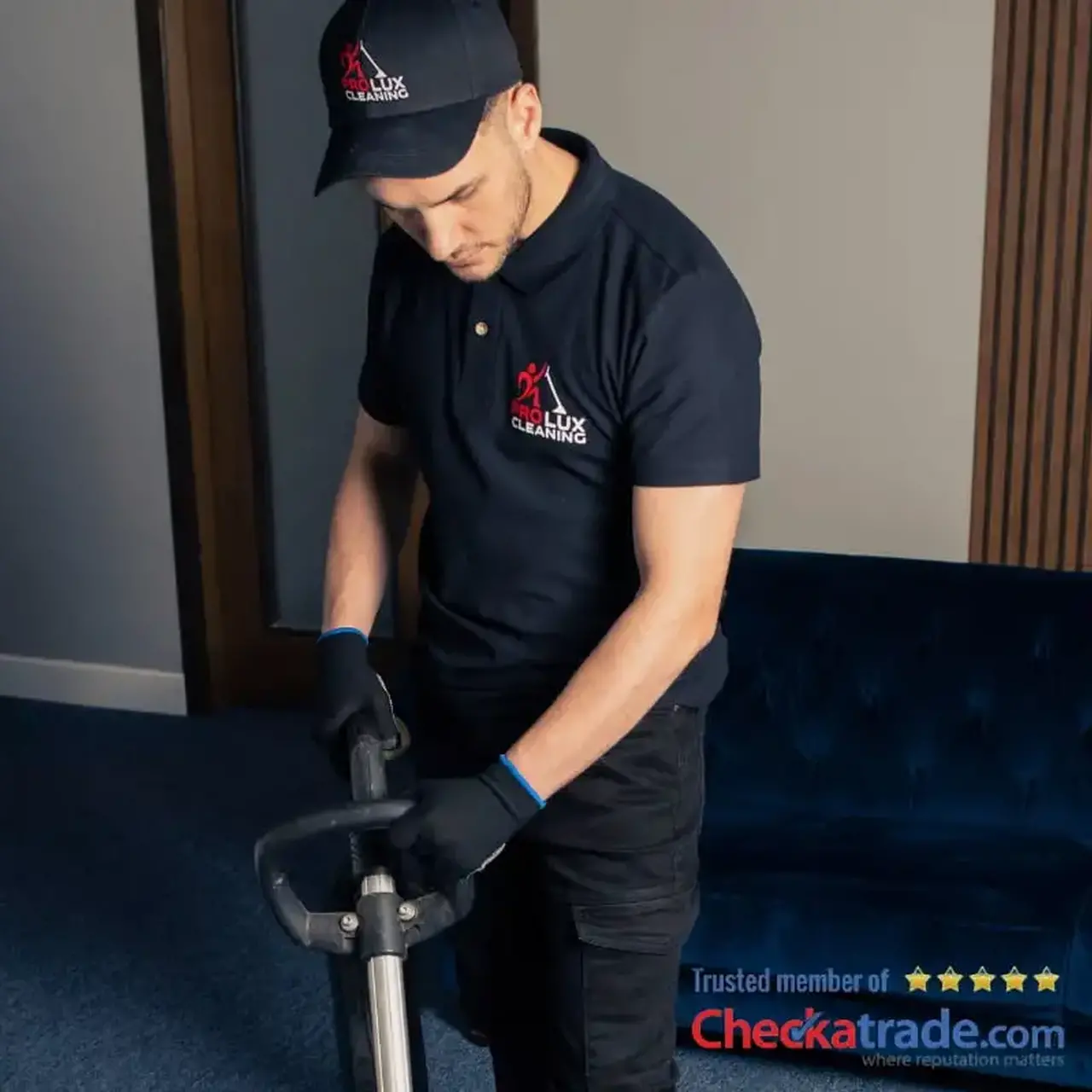 In need of reliable carpet cleaning specialists?
ProLux is a professional carpet cleaning Epsom company specialized in hot water extraction cleaning services. We have many years of experience at the highest levels in the cleaning industry. Our cleaning services are suitable for all types of carpet, synthetic and natural material alike.
Experts highly recommend regularly cleaning carpets (two to four times a year) in order to maintain their appearance. Frequent usage of professional carpet cleaning services also help extend the carpet service life. Another key benefit is improved air quality in the room where the carpet is situated.
Carpet cleaning services by ProLux include:
Top Quality
Free pre-treatment
Hot water extraction cleaning - number 1 cleaning method for stains
Ideal for residential and commercial carpet cleaning
Eco-Friendly Cleaning
Harmless, eco-friendly cleaning solutions
Allergen removal - pet fur, dust, etc
Bacteria removal - use of the most efficient sanitizers
Guaranteed Results
100% customer satisfaction guaranteed
Our carpet cleaners are fully insured and certified
Flexible work time - 24/7 even on bank holidays
Reasons to choose ProLux for your carpet cleaning needs:
Our professional carpet cleaners are trained, fully certified and insured
Deep steam cleaning is performed with high-powered steam extraction machines
All cleaning products are eco-friendly and harmless to people, babies and babies
The most effective method of cleaning artificial and natural flooring
Emergency cleaning teams for professional steam cleaning 24/7
A reliable carpet cleaning company with principles
Epsom based carpet cleaning company ProLux offers its services to residential and commercial customers alike. All carpets are cleaned thoroughly and left in their best possible condition. With the help of our highly efficient steam cleaning service, no stains, smells or marks stand a chance.
Our company specializes in carpet and upholstery cleaning services. We provide with exclusive offers to those willing to book a combined cleaning service for their home or office. We will come to you at the arranged time, and do our deep cleaning magic. The results from the cleaning will exceed your expectations
All ProLux carpet cleaners have a minimum of three years of experience in the cleaning industry. Prior to attending their first cleaning service, they undertake many special training courses. By the time they attend your home, they will have the needed skill set to reach 100% customer satisfaction.
We use commercial steam carpet cleaning machines suitable for any kind of carpet material. The process of hot water extraction is quick and highly efficient in smell and stain removal. The method also leave your carpet completely disinfected, removing bacteria, germs and allergens. After the cleaning, your carpets will have their original appearance brought back to them.
How much will it cost to get my carpets cleaned?
Carpet Cleaning Prices in Epsom



Regular price

Up to 10% OFF

Double bedroom

from

£35

from

£30

Living room

from

£40

from

£35

Staircase

from

£40

from

£35

Hallway

from

£20

from

£15
Special Affiliate Program
Every customer of ProLux who recommends our services to friends or family is entitled to unique discounts, which can be used for carpet, rug, sofa and mattress cleaning services 24/7. For every new business that we work with, we provide with a set of vouchers - 10 silver ones for the employees and 1 gold one for the person arranging the order. This is done in order to establish and strengthen the relationships we have with business owners, and further grow and improve as a service provider.
If you also want to join our affiliate program, all you need to do get in touch with our customer service team. As a member, you will also benefit from discount codes provided to your email on national holidays and on your birthday as well! And for every 5 confirmed recommendations, you receive a free cleaning service by ProLux worth up to £60.
Steam Carpet Cleaning in Epsom - How do we do it?
Steam carpet cleaning in Epsom is carried out in several stages. The first step of the cleaning process is to determine the carpet type and level of pollution. Based on this, he will select the most appropriate power and pressure settings for the deep cleaning. The carpets will then be hoovered with an industrial machine to remove the surface layer of dirt and dust.
Next, the application of pre-spray cleaning product to the carpet. This eco-friendly solution softens the carpet and allows for optimal end results. The steam extraction machine will then spray water deeply inside, in between the carpet fibres. Due to the high pressure and power of our equipment, all remaining pieces of dirt are dissolved and extracted.
Keep your carpets clean and fresh for longer with ProLux Stain Protection
Based on the customer's requirements, Stain Protection spray can be applied to help prevent future stains and marks. It forms an invisible layer over the carpet surface, which lasts one year, depending on traffic. The Stain Protection spray also strengthens the carpet and prolongs its service life. To receive a free quote for the after-care service, contact our offices on 020 3318 6387.
How to speed up drying time after carpet and rug cleaning
In connection with the drying process, simply ventilate or heat up the rooms after the carpet and rug cleaning. Average drying time during the summer is one to two hours, and two to four during the colder seasons. It varies depending on the initial condition of the carpet and the humidity percentage in the room.
Dry carpet cleaning
Dry carpet cleaning services involve a low amount of moisture and special powder-type cleaning products. The greatest advantage of dry carpet cleaning procedure is the ability to use the carpet immediately. Dry cleaning is, however, only suitable for certain types of natural fibre carpets, namely sisal.
Carpet cleaning near Epsom
Our professional services are available not just to Epsom, but to the surrounding areas as well. ProLux cleaning company also has perfect coverage of all South London areas, including Sutton, Banstead, Tadworth, Leatherhead, Chessington and many more. We professionally clean synthetic and natural carpets in London 7 days a week, inclusive of bank holidays, with no added fees.
We are available for standard scheduled bookings as well as for emergency steam cleaning services. If you wish to receive a free quote, simply call our five-star customer service team. They'll be more than happy to assist you, and answer any of your deep cleaning related questions. All of them are former carpet cleaners with many years of experience, fully knowledgeable in our craft.
For tenants, you should know that letting agencies return deposits after the property has been professionally cleaned. That is why we offer our clients in Epsom and London professional tenancy cleaning of carpets and upholstery. Accept our assistance in reclaiming your deposit today by contacting our customer service assistants over the phone.
Contact Us on the Number Below for a Free Quotation:
Frequently Asked Questions
We operate as a mobile company, providing cleaning services at your location. Your rugs will be cleaned in the most suitable area of your property. If you have wooden flooring, rest assured, as we know how to clean your rugs with your floor safety in mind.
Our technician can move small and light items, if it is safe for him to do so.