✓ A company run by a family with a passion for cleaning
✓ Customer satisfaction is our guarantee
✓ Industrial-grade cleaning equipment
✓ Quick and convenient scheduling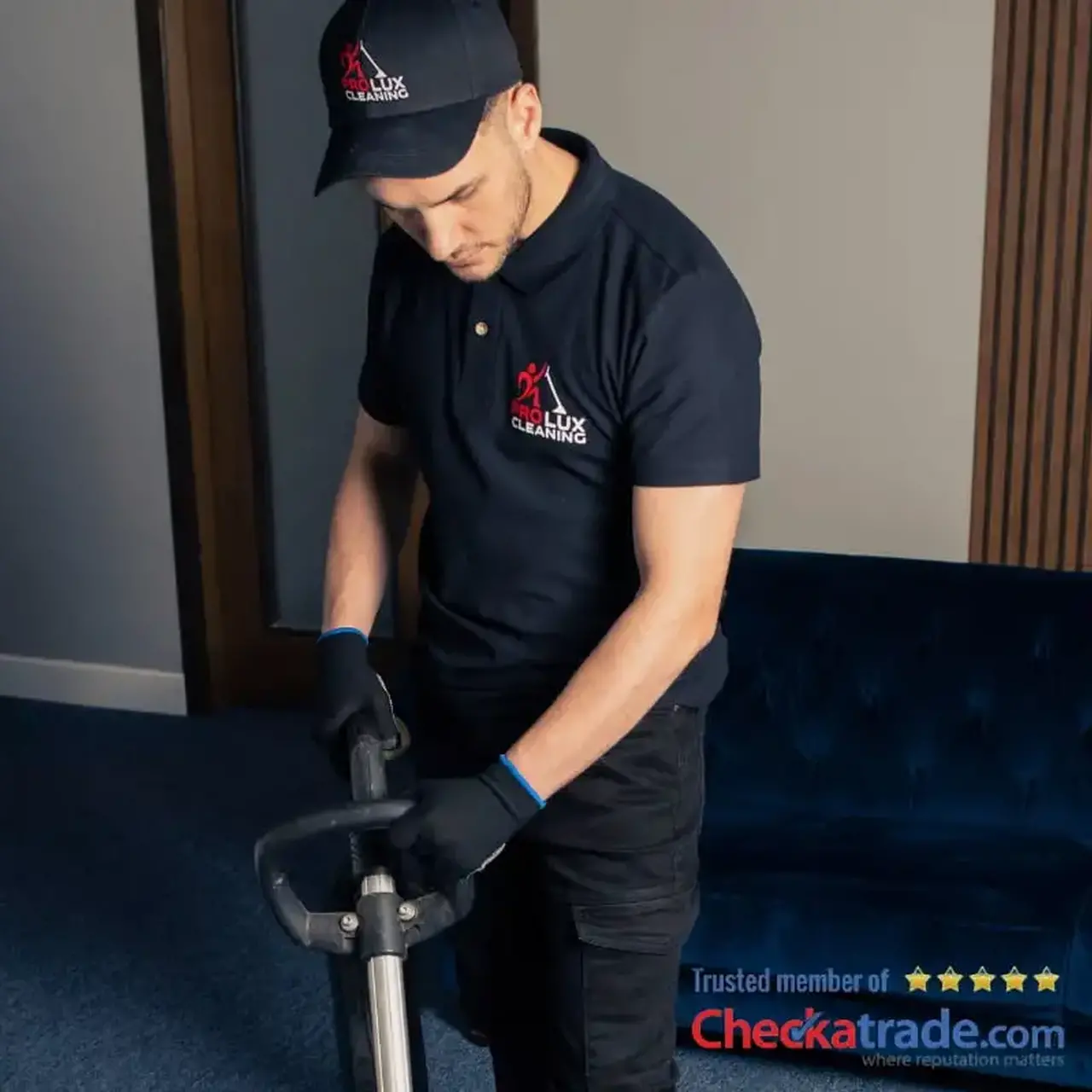 Want to hire experienced carpet cleaners?
ProLux Cleaning offers professional carpet cleaning services in Harrow for domestic and commercial carpeted properties. Our specialists can efficiently deep clean carpets, using the most innovative cleaning techniques and powerful equipment. The cleaning method is called hot water extraction, and is performed with powerful steam machines.
High-quality cleaning requires diligent and hard-working cleaning experts, but also first-class chemicals. That's why we use the products of the well known brand Prochem. They are eco-friendly and harmless to your family, and incredibly effective at removing stains, unpleasant odours and bacteria.
Certified and insured cleaning experts for your carpet and upholstery needs
All ProLux operatives are certified, trained and insured veterans of the cleaning industry working with us for many years. Our cleaning teams are specialized in providing deep steam carpet and upholstery cleaning services in London!
You have the option to order a cleaning service 7 days a week by filling an online form. Or, you can quickly call our award-winning customer service centre and chat with a friendly office assistant. After a few minutes over the phone, our experts will be sent to clean your carpet to its best condition.
Professional steam carpet cleaning Harrow
Here are the advantages of choosing professional carpet cleaners:
Mobility and flexibility - we work every day, even on weekends and bank holidays, with no extra fees
Deep carpet cleaning is done exclusively with the use of high-quality steam extraction machines
Extensive work experience enables our specialists to clean domestic and commercial carpets efficiently
Working with perfectly eco-friendly and safe cleaning products
The lowest prices in Harrow
Working with fully trained and certified carpet cleaning experts, all members of the company
How is steam extraction cleaning performed?
1. Inspection
A professional representative of our company attends the property. He inspects the carpeted areas which are due to be cleaned, to determine his further cleaning actions. Based on the carpet fibres, he may use hot water, warm water or cold water to clean it.
2. Pre-hoovering
The carpets are hoovered, which removes the top layer of dust and debris. For this, we a powerful canister vacuum cleaner.
3. Pre-treatment
A chemical solution known as pre-spray is applied onto the carpet, to allow easier stain removal. This solution is left to interact with the dirt and stains for a few minutes.
4. Steam Cleaning
The industrial steam extraction machine heats up water to the suitable temperature automatically. Our technician uses it to spray the water and the cleaning products deep inside the carpet fibres.
5. Stain Removal
Any specific stains and smells are given special treatment with specific smell and stain remover products. We come with a whole arsenal of cleaning products, able to remove any carpet issue.
6. Scotchgard
Optionally, we can apply stain protection spray onto the carpets. The spray creates an invisible layer, which reacts chemically with any stains that happen while it's active. It makes them go in less deep than usual, and take longer to fully form as a stain. As a result, professional carpet cleaning services will more easily remove stains on a stain protected carpet.
7. Drying process
About 90% of the water is extracted immediately during the steam cleaning process. This allows a very short drying time of a handful of hours, even in the colder periods of the year.
8. Checkout
Following the conclusion of the task, our clients possess the entitlement to examine the findings, and subsequently indicate their acceptance by signing a receipt.
Why does the carpet need regular cleaning?
The carpet should be deep cleaned at least twice a year by a professional carpet cleaning company. This is the recommended minimum frequency, as noted by hundreds of cleaning experts and medical specialists. Our cleaning method of hot water extraction is the best option for this, for two major reasons:
Disinfecting carpets with hot water extraction
Firstly, due to the nature of the steam extraction method, it is the most efficient at disinfection. Bacteria in the carpet are unable to survive the combination of heated water and professional germ-killing products.
Eco-friendly solutions for optimal odour stain removal
Second, the Prochem chemicals we use are eco-friendly, meaning this is the most harmless carpet cleaning method. The products, combined with our staff's decades of experience, are also the best stain removers and deodorizers available.
Top Rated Technicians
As confirmed by our satisfied clients
When to order professional carpet cleaning services?
There are stains on the carpet, which were caused by a coloured drink, food or bodily fluid;
A major issue such as ink stains, blood stains or paint stains has just occurred;
You can sense an unpleasant smell coming from the flooring;
If you want your carpets to be refreshed and disinfected, with the help of high-quality detergents. This will help your floor covering serve you for many more years and retain its original appearance.
Professional carpet cleaning Harrow at home or the workplace is performed at a reasonable price. ProLux deep cleaning services allow you to enjoy your carpet for many years to come. Our steam extraction cleaning will get rid of dirt, remove stains and unpleasant odours.
Comprehensive carpet cleaning services and more from ProLux. Contact us today!
Over the years, we have dealt with all nasty food, drink and pet stains and smells many times. The trained specialists we employ have certificates and insurance, and know how to restore your carpet's appearance. Give us a call today and become our next happy client!
24/7 Customer support available
To order professional carpet cleaning services today, email or call our customer service centres, full of award-winning friendly assistants. Our professional staff is ready to answer all your questions regarding the cleaning. We operate under flexible working hours, so our customers can book their carpet cleaning service at the most convenient time!
Special discounts on combined cleaning services
We also offer other cleaning services, such as upholstery cleaning and mattress cleaning. Our experts can also clean your car interior, and your curtains, and you have an incentive to order mixed services. Combined cleaning orders with ProLux, with the multiple services taking place on one day, are rewarded with special discounts.
Dry carpet cleaning
If your carpet is a specific material, and you are unsure how to clean it, you should always consult professionals first. For sisal weave, carpet manufacturers advise for customers to use dry cleaning services. The reason is that sisal is unsuitable to be wet cleaned.
Carpet cleaning near Harrow
Our professional carpet cleaners are highly mobile in the North-West London region. We also cover the surrounding areas of Ruislip, Wembley, Finchley, Pinner, Borehamwood, Uxbridge and more!
Don't take our word for it – see what our customers are saying!
How much will it cost to get my carpets cleaned?
Carpet Cleaning Prices in Harrow



Regular price

Up to 10% OFF

Double bedroom

from

£35

from

£30

Living room

from

£40

from

£35

Staircase

from

£40

from

£35

Hallway

from

£20

from

£15
Looking for great value? See our rates now!
Receive your free quotation within minutes
Let us know what you have and what you need and we'll tell you how to proceed
Transform your carpets with ProLux - contact us now!