Upholstery Cleaning North London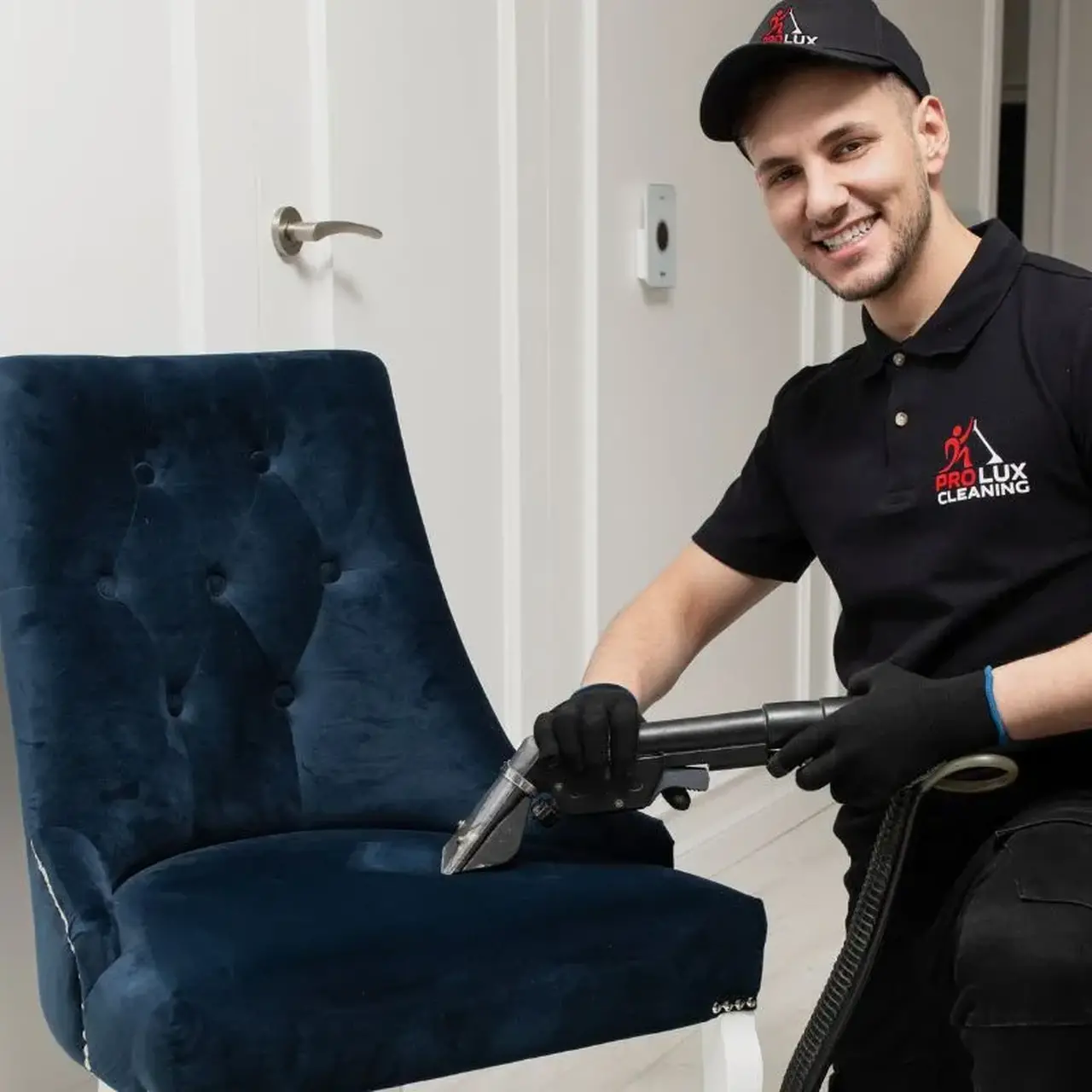 Looking for sofa cleaners in North London?
ProLux Cleaning provides professional upholstery cleaning North London services to our customers. We offer the hot water extraction method of deep cleaning for fabric upholstered furniture. It is performed with a commercial steam machine suited for carpet and upholstery cleaning services.
All our services are done by fully trained, certified and insured upholstery and carpet cleaners. They are highly experienced in cleaning all kinds of fabric and leather sofas. Our cleaning services for leather upholstery are performed manually in most cases.
Fabric upholstery cleaning in North London
Hot water extraction cleaning is highly recommended by upholstery manufacturers and professional cleaning companies. It is the most effective at smell and stain removals, and the best in disinfection possibilities. This is the reason we have spent over 15 years specializing in the use of this upholstery and carpet cleaning method.
Highly trained technicians for exceptional hot water extraction cleaning
Our professional technicians have attended hundreds of training courses, and continue going to new ones every month. The goal is to have the most experienced hot water extraction providers on the market. ProLux staff is capable of performing deep upholstery cleaning services on any kind of fabric furniture.
Artificial, natural and luxury materials are all suitable for our hot water extraction cleaning method. However, this would not be possible if we didn't have the highest grade equipment available. Our steam extraction machines have a variety of temperature and pressure settings, which lets us clean even the most delicate sofas.
Prochem cleaning products for deep cleaning and germ elimination
ProLux technicians use eco-friendly products to clean carpets and soft furnishings in commercial and residential properties. The cleaning solutions are made by Prochem and certified harmless for children and pets. These chemicals are very effective at cleaning stains and killing germs in your upholstery and carpets.
Same-day Sofa Cleaning Services
Spilling food or drinks on your favourite sofa can be very frustrating, sometimes even stressful. It can be even worse if you attempt removing the stain yourself with store-bought chemicals. They can easily ruin your sofa, especially if it's a delicate fabric like velvet or viscose. If you want the best possible care for your sofa, and you want it now - call ProLux!
Within the very same day, we will send a trained expert capable of removing any type of stain from any type of fabric. We will take our time and ensure that you are happy with the service and even provide you with free advice for future reference.
See Our Amazing Steam Upholstery Cleaning Results
How professionals clean your fabric upholstered furniture
Our experienced cleaning veteran attends your residential or commercial property and inspects your upholstery. This is done to determine the best way of cleaning it.
Your sofa base, cushions and sides are hoovered in all reachable areas. The goal is to remove surface dust and allow the steam extraction cleaning to begin.
The upholstery is pre-treated with a special cleaning solution to enable easier stain removal. The product is eco-friendly and takes between 5 and 10 minutes to dissolve the dirt.
The hot water extraction machine is loaded with water and harmless chemicals. The device heats up the water to the suitable temperature and sprays it deep inside the furniture.
Smells and stains are specially treated, then extracted together with 90% of the water used in the cleaning.
The upholstery is left slightly damp to the touch after the cleaning concludes. Our customer is advised to open the windows and use the heating for several hours.
We additionally offer stain protecting your fabric upholstery. This makes the material more resistant to new stains and solar deformities.
Fabric sofa drying time
Our customers frequently ask us how many hours the sofa will need to dry out. The answer always varies, based on four main factors affecting the drying time:
humidity percentage of the air;
condition of the upholstery (smells, stains, etc.);
weather conditions;
room airflow and use of heating after the work is done;
Our award-winning customer service centres are available 24/7 and ready to assist you. The friendly staff therein are all former cleaners and have been working with us for many years. They will answer your questions and take only a few minutes to schedule your upholstery deep cleaning service.
Stain Protection of fabric upholstery
Stain Protection is a spray-type product we can optionally apply to your upholstery. It will create an invisible layer on the fabric, which will strengthen it against future spillages. It does not prevent stains from happening, but it makes them much easier to remove. To receive a free quote for stain protecting your sofas, chairs or footstools, call us today.
Let's make it happen! Get in touch today!
LEATHER SOFA CLEANING
Our cleaning professionals are very experienced in cleaning leather sofas and armchairs. The leather cleaning process is the most harmless one, as it is done manually. We use a soft brush, a sponge and eco-friendly leather cleaning products to disinfect the upholstery.
Although there are some leather sofas which are suitable for steam extraction cleaning, the vast majority of leather is cleaned the following way:
first, we hoover it to remove the dust and debris like crumbs
the sofa is scrubbed and brushed with a sponge and soft brush, and treated with eco-friendly leather cleaning products
afterwards, it is conditioned with cream and oil type conditioning products
We apply conditioners to your leather upholstery, so it can become more shiny, elastic and serve you longer. They take a while to be absorbed by the material, but usually this process is between 1 and 2 hours long.
If you have carpets and leather upholstery, you need ProLux carpet and leather cleaning services in North London. Our highly trained upholstery and carpet cleaners are here to assist you 24/7. Ordering professional carpet cleaning and leather sofa cleaning services will also net you a special price.
Dry upholstery cleaning
Some types of velvet upholstery is only suitable for dry cleaning. However, in most cases, we are still able to clean them with our hot water extraction machines. This is accomplished by using low water pressure and temperature, and sometimes a minimal amount of water. Our professional upholstery cleaners in London will be delicate while deeply disinfecting your luxury sofas.
Tenancy cleaning North London
If you are a tenant and ready to move out or into a new property, you require professional cleaning services. Our emergency response team of professional cleaners is here to assist you on this matter. Call us today and schedule your tenancy upholstery and carpet deep cleaning service.