Carpet Cleaning St Albans
✓ Say goodbye to stubborn stains
✓ Pet and child-friendly cleaning
✓ Your satisfaction is our promise
✓ Trained experts in carpet care
✓ Removal of dust mites and bacteria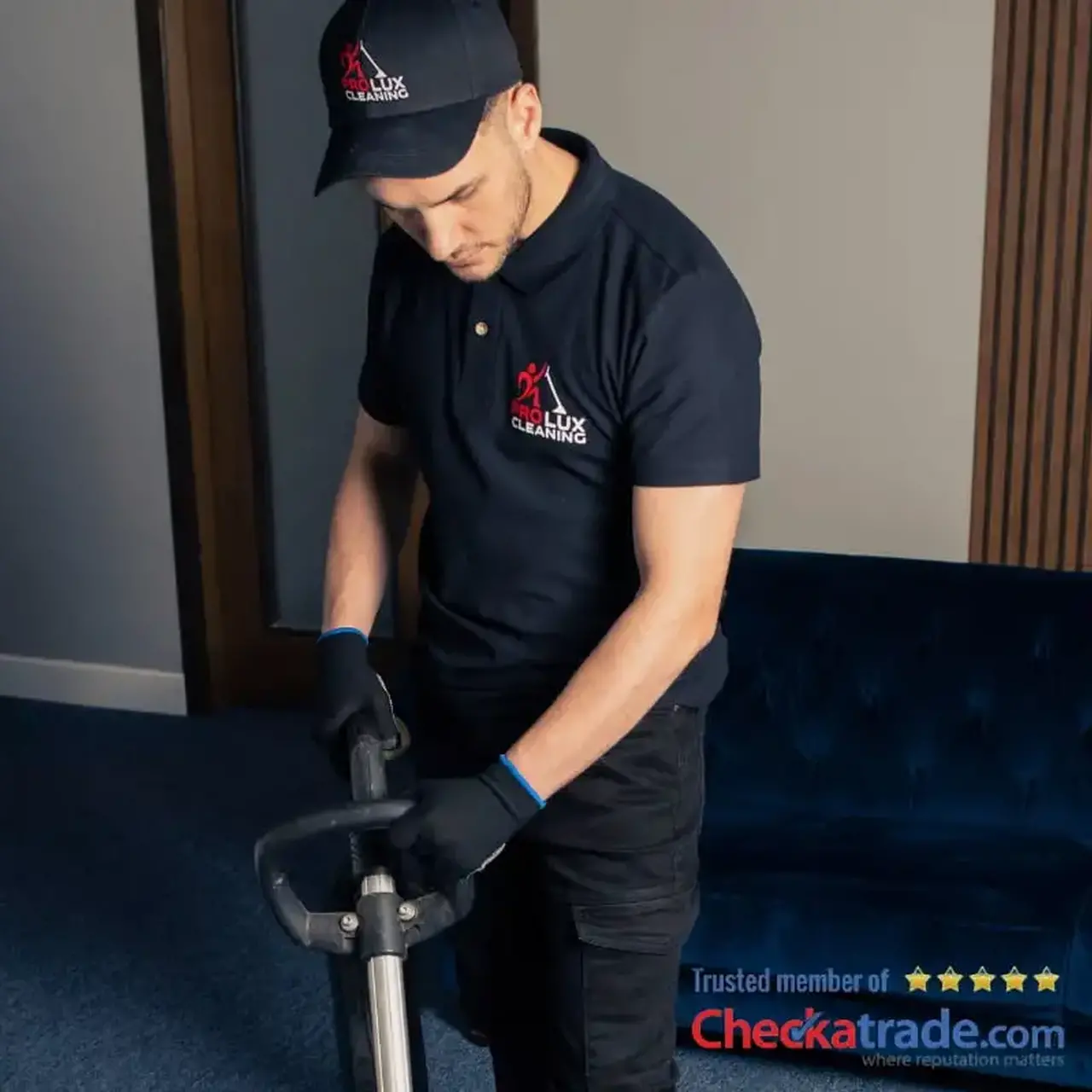 Want your carpets to look and feel brand new again?
ProLux Cleaning is a reliable local carpet cleaning St Albans based company, with more than 15 years experience in the cleaning industry. We clean all types of carpets 7 days a week, inclusive of bank holidays. Each member of our team of expert cleaners is carefully selected with great experience and good reputation. We work with the most capable professional cleaners in St Albans.
We also clean in London, and our mobile teams have perfect coverage of all its districts. You can make an online booking or contact our customer service centre over the phone. We offer the highest quality of professional cleaning services you can find on the market.
We are certified professional carpet cleaners
ProLux's professional deep steam carpet cleaning services in St Albans are performed by certified, insured and highly trained cleaners. This is done with the help of special equipment and ecologically safe detergents. And as a result you get a completely clean and refreshed carpet that will provide a new level of comfort!
Stain and odour removal experts you can trust
Steam cleaning of carpets done by ProLux specialists will ensure perfect cleanliness. Our cleaners know how to remove stains and unpleasant odours of any origin. They have the necessary years of experience and high-end cleaning equipment.
Regular deep cleaning for domestic and commercial properties
Deep carpet and upholstery cleaning services for domestic properties should be scheduled at least 2 times a year. For carpet and upholstery in offices, cleaning should be carried out more often. This is because commercial areas accumulate dirt faster.
Experience the magic of steam cleaning
Nine key advantages:
1. Steam cleaning provides much faster drying of surfaces compared to traditional methods of wet cleaning. The reason for this is both the high water temperature and the subsequent extraction technique. About 90% of the total water used during the cleaning service will be extracted immediately, leaving the carpet slightly damp.
2. By using steam extraction cleaning services, you receive stain removal without harsh products. We use only eco-friendly solutions to deep clean your carpets and rugs in St Albans.
3. The machines ProLux Cleaning technicians use have a dual tank system to store water. One for the clean water and cleaning products, and one for the dirty water to be extracted into. The equipment is designed to prevent the mixing of the contents of the tanks.
4. Saving time is also an important advantage of steam carpet cleaning St Albans. It takes no longer than 30 minutes to clean one room, and houses take about 2 hours.
5. When you choose steam cleaning for any of your carpets, you significantly prolong their life. The carpet shampoo cleaning process is also suitable for rug cleaning, with the same effect achieved.
6. Steam carpet cleaning St Albans is very effective for removing fat-based contaminants. Cleaning with steam is the most optimal way for degreasing and carpet care.
7. Hot water extraction allows not only cleaning, but also simultaneously disinfecting. Most microbes and viruses die at a temperature of 70° C. They cannot develop resistance to this temperature level.
8. Deep steam cleaning is the most effective method for stain removal and dealing with bacteria. After processing the carpet with a vacuum cleaner, we will use a powerful machine on it to restore its pristine condition.
9. Steam carpet cleaning St Albans provides the highest quality home and office cleaning available. After the work is done, you will not believe the amazing results achieved on your carpet! Customer satisfaction is guaranteed, because we only use our own technicians to perform all services.
Don't wait - schedule your appointment today!
Reliable carpet cleaning St Albans by professionals
Deep carpet cleaning is carried out by fully insured specialists with professional hot water extraction equipment. Our experts perform the most effective method of carpet care. Steam extraction provides an ideal result, which is the removal of stains and contaminants from your carpet. In each service, our experienced carpet cleaners rely on high-quality commercial steam machines and eco-friendly Prochem cleaning products.
100% Customer Satisfaction Guaranteed
There is no company better suited to clean your carpets than ProLux. An individual approach to each client is ensured, always. You will likely notice this from your first conversation with us, and we will demonstrate it with the quality of our work on the day itself. All carpet problems will be treated using the latest stain and smell removal techniques with a commercial steam extraction machine.
Your carpets will not only look clean - they will also be free from harmful allergens, such as pet dander, dust mites and mildew. In this way, you are not only protecting your health, you are also helping extend the life of your carpet. Why not call us now and be the next completely happy ProLux customer?
Carpet cleaning near St Albans
Contact ProLux Cleaning right away if you are in St Albans or in the surrounding areas. We clean for residential clients and businesses in Harpenden, Hemel Hempstead, Batchwood, Townsend, Bernards Heath, Borehamwood, Watford and more. We also offer our services in all London districts, with a special focus on North London regions.
All-in-one cleaning expertise: Carpets, sofas, mattresses, and more
Aside from carpet and rug cleaning, we also perform professional sofa and mattress cleaning services. They all involve the same trained and equipped technicians, powerful steam machines and eco-friendly Prochem products. For tenants, we even offer tenancy cleaning services to deep clean the property's carpet and upholstery.
How Much Does Carpet Cleaning Cost in St Albans?



Regular price

Up to 10% OFF

Double bedroom

from

£35

from

£30

Living room

from

£40

from

£35

Staircase

from

£40

from

£35

Hallway

from

£20

from

£15
Receive your free quotation within minutes
Let us know what you have and what you need and we'll tell you how to proceed