✓ Experts in carpet cleaning, certified by the NCCA
✓ We'll help your carpets look as good as new
✓ Heavy-duty cleaning equipment
✓ Your trusted family cleaning service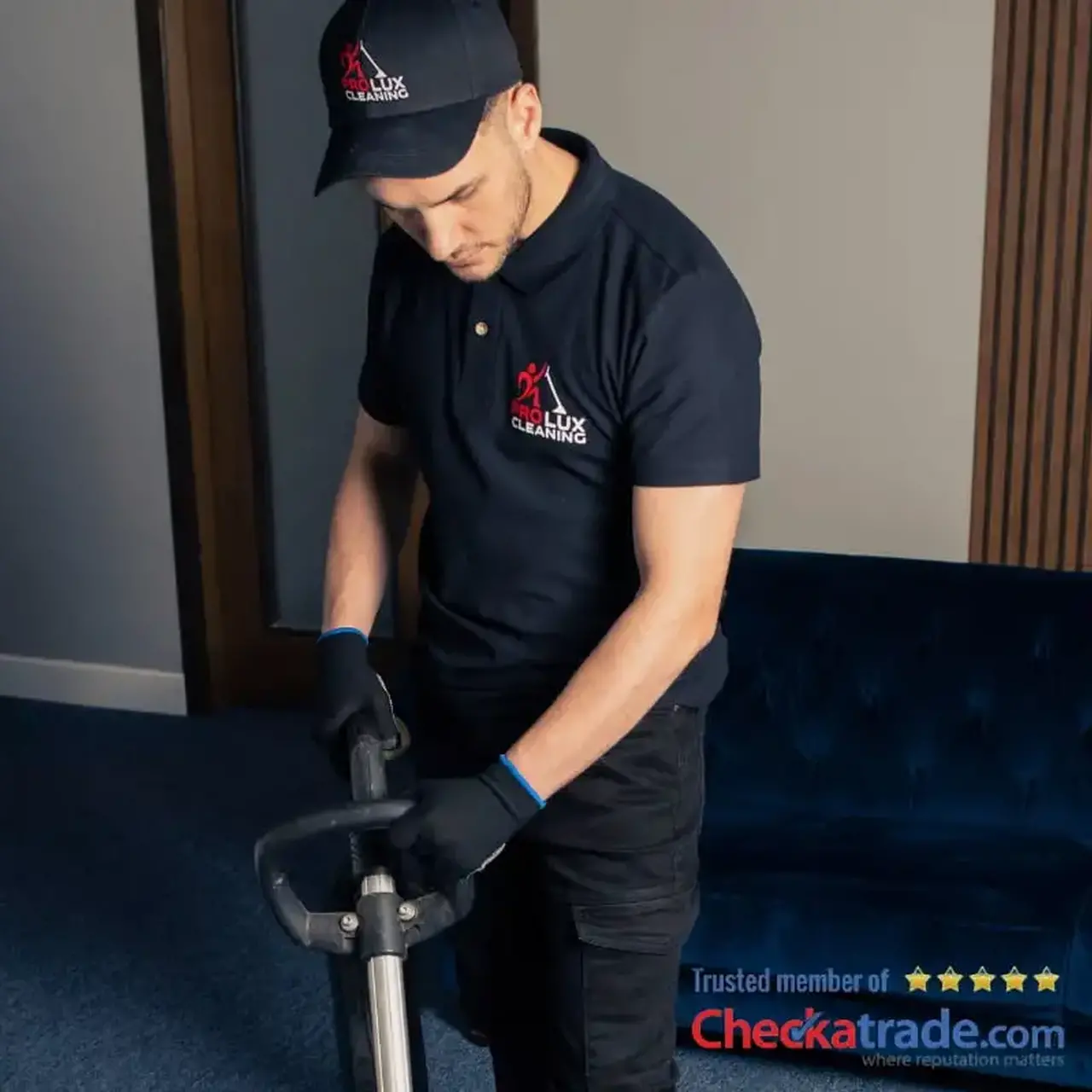 Need some steam carpet cleaning done?
ProLux Cleaning has specialized in professional carpet cleaning Watford services, for businesses and residential homes, for over 15 years. We offer deep cleaning services at the best prices in Watford. Our WoolSafe certified, trained and insured carpet cleaners can handle any problem of your carpet without hesitation.
The method of choice for our professionals is known as hot water extraction carpet cleaning. It involves the use of a high pressure steam machine and eco-friendly cleaning agents. The machine can be set to use hot water, warm water or cold water based on your carpet fibres. If you want to receive a free, no obligation quotation for deep steam carpet cleaning, contact our customer service centres.
Certified professional carpet cleaners Watford
A professional carpet cleaning Watford based company needs to know how to remove stains. Spillages of food, wine stains or coffee stains can happen on any carpet in a home or workplace.
However, ProLux professionals are trained and equipped to deal with any kind of issues. Our fully insured cleaners have the necessary years of experience and the equipment to do it. The stains do not stand a chance against our hot water extraction steam machines and eco-friendly products.
The chemicals we use are indeed completely harmless to children, pets and people with allergies. Our vacuum cleaners and steam extraction machines are top-notch, letting us achieve a great job every time. We know exactly how to use them to maximum efficiency, letting us remove stubborn stains and dirt.
Our team of expert cleaners has sufficient knowledge in the field and knows how to clean other material too. We provide deep mattress and upholstery cleaning services, using the same method and cleaning equipment.
Carpet cleaning near Watford
Our fully insured technicians cover all surrounding areas. Examples would be Knutsford, St Albans, Bushey, Aldenham, Pinner and many North-West London areas. We work every single day, bank holidays included, with no extra charges for a weekend appointment.
How to care for your carpets
Carpets require proper maintenance and frequent cleaning. In order to protect your carpets at home or workplace, you need to regularly order deep carpet cleaning. Experts highly recommend to use professional carpet cleaning services at least once a year. For properties with children or pets, it is advised to order deep cleaning at least 3-4 times a year.
If you are looking for an expert carpet cleaning Watford company for your home or business venue, contact us. ProLux Cleaning is the company that will take care of your carpets at affordable rates. By becoming our regular client, you can even get special prices for loyal customers.
What is steam extraction cleaning?
Steam extraction cleaning consists of the following:
After a thorough hoovering, the carpet must be sprayed with a specially designed pre-spray solution. This is a detergent which enables better results from the subsequent cleaning carpet cleaning process. The pre-treatment cleaner must penetrate into the carpet depths, which will require adequate time (5-10 minutes).
Then, the hot water extraction machine will be able to dissolve and collect dirt from the carpet. This is done with the support of professional cleaning solutions. Hot water extraction for carpets and rugs prevents the possibility of faded colours.
Additionally, professionals using a steam extraction machine will significantly reduce the drying time of the carpet. This enables faster walking around again after the deep carpet cleaning.
ProLux Cleaning is capable of delivering everything described above. Our experienced operatives know how to perform any kind of domestic cleaning and commercial cleaning services on all types of carpets.
Just call our customer support centres full of friendly and knowledgeable people. We will be able to arrange your cleaning appointment in a few minutes. Your carpet will look as good as new within a couple of hours after the cleaning.
How much will it cost to get my carpets cleaned?
Carpet Cleaning Prices in Watford



Regular price

Up to 10% OFF

Double bedroom

from

£35

from

£30

Living room

from

£40

from

£35

Staircase

from

£40

from

£35

Hallway

from

£20

from

£15
100% Guaranteed Customer Satisfaction
In order to have a clean home, a professional cleaning company must be contacted regularly for proper Watford carpet maintenance. ProLux is capable of restoring the original look of your carpets and removing stains from them. Our specialists have encountered all typical and atypical issues for carpet fibres over the years, and know how to resolve them.
Contact us and order a deep clean for carpets, upholstery and mattresses today. After speaking to our customer service assistants for just a minute, you will understand you came to the right place. This quality of service is not available at our amazing prices anywhere else, so stop looking and start booking.
Our experience, training and professionalism guarantees customer satisfaction. Deep steam cleaning is also the best at disinfection, due to the quality cleaning equipment. It is completely harmless to humans, animals and the carpet fibres.
What carpet cleaning methods are recommended?
As a professional carpet cleaning company with decades of experience, ProLux Cleaning will offer the most effective method on the market. It is known as steam extraction cleaning.
This way of deep cleaning is done with eco-friendly cleaning solutions and powerful machines. It is proven to be the number one deep carpet cleaning technique. Our operatives are all trained in this method primarily, but that does not mean we are limited as a cleaning company. Our technicians know the most suitable way to clean any kind of carpet type.
Before any cleaning session, we inspect the carpet fibres and choose the most suitable settings on the machines. This is so we can be sure we are using the optimal water pressure and temperature the carpet can handle.
With steam extraction, there is no risk of causing any issues to your carpet. The method has a very high threat level only to the stains affecting it. Deep Steam Cleaning is the best stain removal method available on the market.
Looking for great value? See our rates now!
Don't take our word for it – see what our customers are saying!
Take the first step towards your goals - request a quote!