Carpet Cleaning Bexleyheath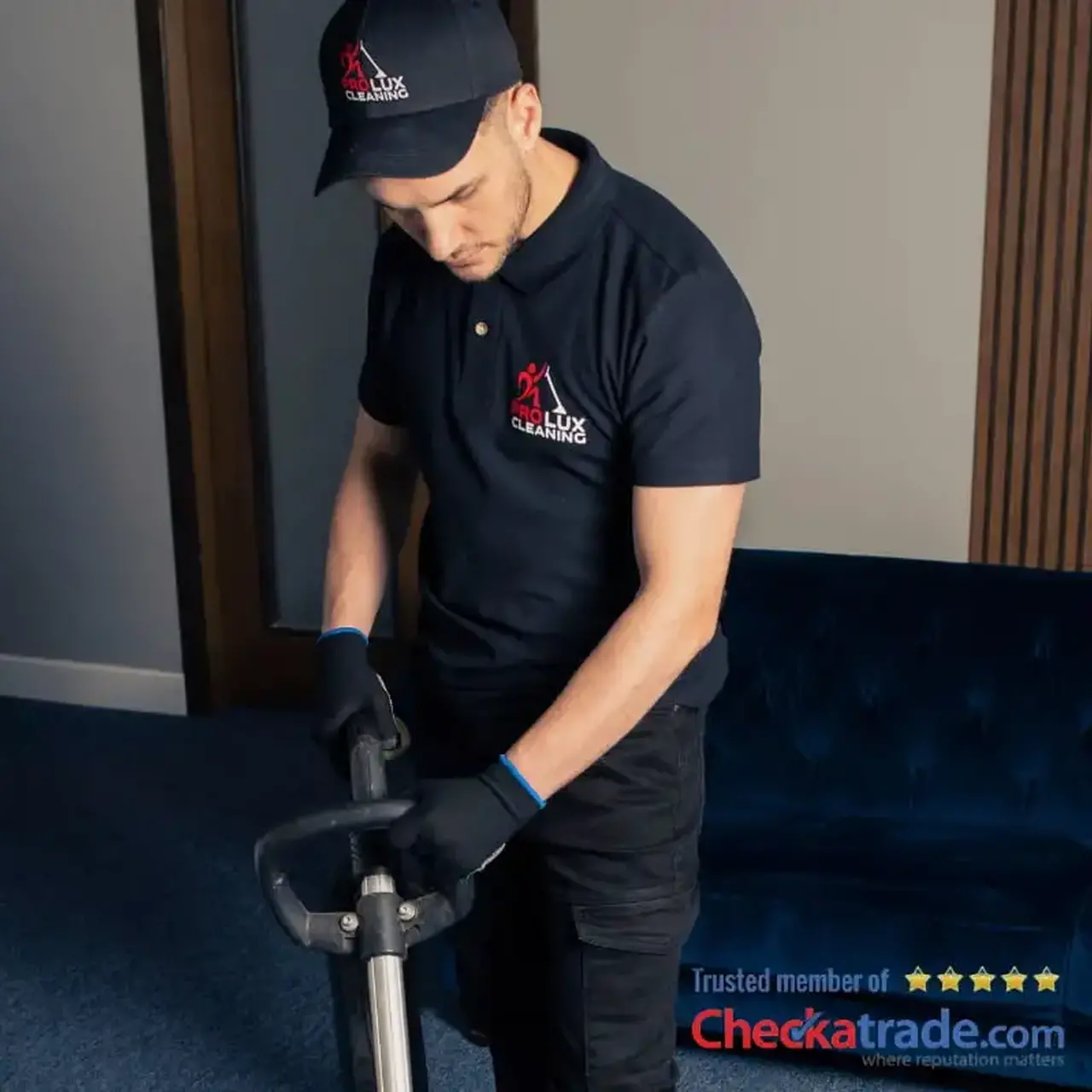 Carpet cleaning services in Bexleyheath DA6 with guaranteed satisfaction
ProLux is a local family run professional carpet cleaning company based in Bexleyheath DA6. We work with certified, fully insured carpet cleaners, capable of treating all types of carpets and rugs. They have a minimum of 4 years of experience within the company, and have undergone numerous special training courses. For them, there is no stain or odour too difficult to be removed.
Hot water extraction is our cleaning process of choice, also known as steam cleaning. The method is suitable for:
Carpet and upholstery cleaning
Area rug cleaning
Car interior cleaning
Mattress cleaning
Deep cleaning your carpets has never been easier!
Top Quality
Meticulous attention to every detail
Special prices for your home or business
Hot water extraction cleaning - the best cleaning method for stain removal
Eco-Friendly Cleaning
Harmless, eco-friendly cleaning solutions
Removal of dust mites, bacteria and germs
Reliable technicians
100% customer satisfaction guaranteed
Our carpet cleaners are certified, fully insured and highly trained
Flexible work time - 24/7 even on bank holidays
Prochem + ProLux: The winning combination for effective carpet cleaning
All carpet cleaning services by ProLux are performed with modern steam extraction cleaning equipment of the highest quality. Each machine has multiple water pressure and temperature settings, so even the most delicate natural fibre materials can be dealt with. Additionally, the extracted dirty water doesn't mix with the clean one, thanks to a dual tank system.
In terms of the cleaning products, they're entirely provided by Prochem - the leading manufacturer in all the UK. We choose their detergents, as they're eco-friendly and completely harmless to pets, babies and people with allergies. Using them, we have successfully removed various issues over carpets, such as coffee, tea, wine, chocolate and paint as well.
The importance of regular steam cleaning for your home's carpets
By using steam carpet cleaning services once or twice a year, the original carpet colours will be preserved for longer. Indoor air quality also significantly increases due to the removed dirt and dust stuck deeply inside the piles. And just as importantly, the service life of the respective carpet is also prolonged. For homes with pets or babies, experts highly recommend calling in professionals every 3 to 4 months.
Achieving optimal results: Our proven carpet cleaning process
In order to achieve the desired results from every cleaning session, our experts must undertake these steps:
Inspection and assessment of the carpet type and level of pollution
Selection of the most suitable cleaning products and machine settings
Removal of the surface layer of debris particles with a powerful hoover
Application of pre-spray to dissolve stubborn stains and marks
Steam extraction cleaning
Stain Protection*
*Stain Protection is an invisible layer of spray applied by our technician to ease the removal of any future stains. The product is eco-friendly, child and pet-friendly, and is completely scentless. Additionally, better results will be achieved through professional cleaning services as well.
Understanding the drying process: What you need to know
As for the drying process, the waiting time mostly depends on the initial state of the carpet and the weather conditions. To speed the process up, simply aerate or heat up the rooms where the carpets are situated. On average, it takes 2 to maximum 5 hours until the carpets completely dry out.
24/7 Carpet Cleaning Assistance in South-East London
Regardless if you are situated in Bexley, Sidcup, Abbey-Wood, Dartford, Greenwich, Dartford, Dagenham, Orpington, Bromley or Catford, we will be able to assist you. Our technicians have complete coverage of all South East London areas, and are available every day of the year. We even work on weekends and bank holidays, with no additional charge on those days.
To receive your free personalized quote, get in touch with us via phone, email or via the live chat! A member of our customer service team will be more than happy to assist you. Additionally, if you book a few items of different categories in one go, special offers will be provided.
Meet Our Trusted Local Professionals in Bexleyheath
Number of cleans: 2876
Working with us for: 3 years
Expert in:
Stain Removal
Upholstery Cleaning
Carpet Cleaning
Rug Cleaning
Recent customer feedback
"Kosta, the carpet cleaner, is a true pro! Effortlessly erased ink stains. Impressive skills, reliable service. Don't wait, just call them."
Sophia - Bexleyheath
Number of cleans: 4324
Working with us for: 6 years
Expert in:
Stain Removal
Upholstery Cleaning
Carpet Cleaning
Rug Cleaning
Recent customer feedback
"Ivo saved the day! He effectively removed dog urine stains from my sister's dog. Arrived early and provided helpful insights. Excellent service!"
James -
Number of cleans: 5004
Working with us for: 6 years
Expert in:
Stain Removal
Upholstery Cleaning
Carpet Cleaning
Rug Cleaning
Recent customer feedback
"Ivan from Prolux Cleaning is exceptional! Expertly removed water stains from my carpets. Reliable, skilled, and highly recommended!"
Ethan -
Contact Us on the Number Below for a Free Quotation: