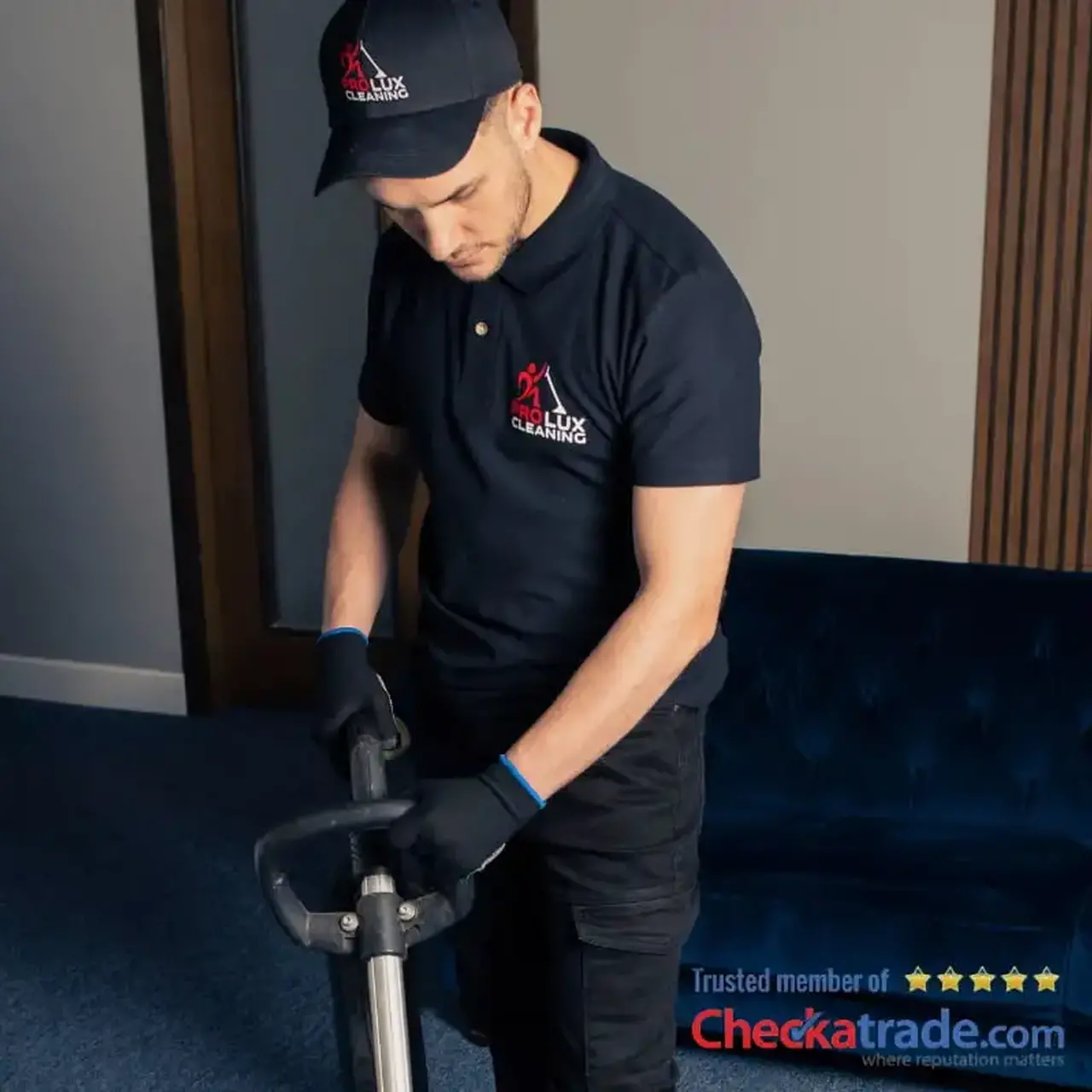 Trustworthy Carpet Cleaning Services in Abbey Wood SE2
ProLux offers professional carpet cleaning services in Abbey Wood SE2 and the surrounding South-East London areas. Hot water extraction is our cleaning method of choice, performed with industrial grade steam cleaning equipment. And in order to have the highest chances of stain removal, we apply eco-friendly cleaning products by Prochem.
Certified and fully trained carpet cleaners in Abbey Wood for quality results
Since 2006, our cleaning company has performed over 100 000 jobs, and dealt with various issues over carpets and rugs. Our carpet cleaners in Abbey Wood have great knowledge of all types of carpets and the proper way to clean them. They are certified, insured and fully trained, having undergone dozens of specialized courses.
Quality cleaning services for your whole home
In order to assist more customers and grow further as an organization, we've expanded the list of services which we offer:
Area rug cleaning
Upholstery cleaning
Mattress cleaning
Car interior deep cleaning
Curtain cleaning
Get more done for less with ProLux!
Make sure to take advantage of the best prices in Abbey Wood, by contacting our customer service team. Special offers are provided for combined bookings, e.g. a sofa and a living room carpet. Trust our cleaning experts and have your whole home refreshed and disinfected in just a matter of an hour or two!
Protect your investment: How often should you clean your carpets?
Cleaning your carpet once or twice a week with a hoover is necessary in order to maintain its appearance. By neglecting to care for it, large amounts of dust and other allergens build up in between the piles. This can lead to allergy development, formation of stubborn stains and unpleasant odours. What professionals bring to the table, however, can resolve all those issues.
The recommended frequency for professional carpet cleaning services is 1 to 2 times a year. Crowded homes or offices, however, should consider calling in cleaning experts even more often. Apart from stain removal, you also benefit from improved indoor air quality and extended carpet lifespan.
Commercial equipment and high quality detergents: The key to efficient steam carpet cleaning
Steam carpet cleaning on its own is efficient in killing germs, bacteria, preventing the spread of viruses and diseases. Moreover, it's the best and most eco-friendly way of removing stains and smells. To perform it, the use of commercial equipment and high quality cleaning detergents is required.
Our machines have a variety of water pressure, temperature and amount settings, which can be regulated depending on the carpet type. They also function with a dual tank system, which doesn't allow for the clean water to mix with the dirty one. This ensures optimal results from every cleaning session.
See Our Amazing Steam Carpet Cleaning Results
Experience our thorough carpet cleaning process: From stain removal to Stain Protection
At ProLux, what we aim to do is to achieve and exceed the expectations of even the most demanding customers. We do that by following a strict cleaning program, which includes the following steps:
Examination of the carpet to determine its type (natural or synthetic), and to locate the issues over it. Only then are the suitable cleaning solutions and machine settings selected.
Removal of the built-up layer of dirt, dust and other debris particles with a powerful hoover
The next step is to apply a pre-treatment solution in the form of a spray to the carpet's surface. It dissolves the current stains and marks, and makes them easier to be removed via the steam extraction process.
Hot water, under high pressure, is sprayed deeply inside the carpet and then immediately extracted into the machine's dirty tank.
Any remaining issues over the carpet are further treated using special cleaning techniques and products.
By this point, the carpet's best possible condition has been achieved. The only thing left to do now is to protect it against future staining from spillages. Stain Protection is an invisible layer of spray applied by our technician on site, which aids the removal of subsequent issues.
The carpet is generally left just slightly damp and it requires just a couple of hours of drying time. If, however, the carpet was particularly soiled prior to the cleaning, drying might take longer than usual. What can also increase the waiting time is the carpet's properties and the weather conditions. We advise our customers to ventilate and to turn on the heating (during the colder months) to speed things up.
Carpet cleaning near Abbey Wood
Do you want to have your carpets cleaned, but you don't live in Abbey Wood? Not to worry - we have complete coverage of all South East London areas! On a daily basis, we clean for customers at Bexley, Bexleyheath, Eltham, Dagenham, Sidcup, Barking, Blackheath, Greenwich, Stratford, Canary Wharf, Catford and Dartford. If you also want to become part of our big and happy family, give us a call today and a member of our friendly customer service team will assist you!
Meet Our Skilled and Insured Local Professionals in Abbey Wood
Number of cleans: 4682
Working with us for: 7 years
Expert in:
Stain Removal
Upholstery Cleaning
Carpet Cleaning
Rug Cleaning
Recent customer feedback
"Petko from Prolux Cleaning is incredible! He skillfully removed juice stains, even those I tried to treat myself with Vanish. Remarkable results!"
Benjamin - Abbey Wood
Number of cleans: 2840
Working with us for: 4 years
Expert in:
Stain Removal
Upholstery Cleaning
Carpet Cleaning
Rug Cleaning
Recent customer feedback
"Nicola from Prolux Cleaning is a miracle worker! The communal staircase's heavy traffic areas, untouched for 12 years, now look unbelievably clean. Impressed the neighbors!"
Billy -
Number of cleans: 2876
Working with us for: 3 years
Expert in:
Stain Removal
Upholstery Cleaning
Carpet Cleaning
Rug Cleaning
Recent customer feedback
"Kosta, the carpet cleaner, is a true pro! Effortlessly erased ink stains. Impressive skills, reliable service. Don't wait, just call them."
Sophia -
Contact Us on the Number Below for a Free Quotation: