✓ Allergen removal - pet fur, dust, etc
✓ Remove allergens like pet fur and dust
✓ A tradition of quality and care in our family business
✓ Let us handle your stain removal needs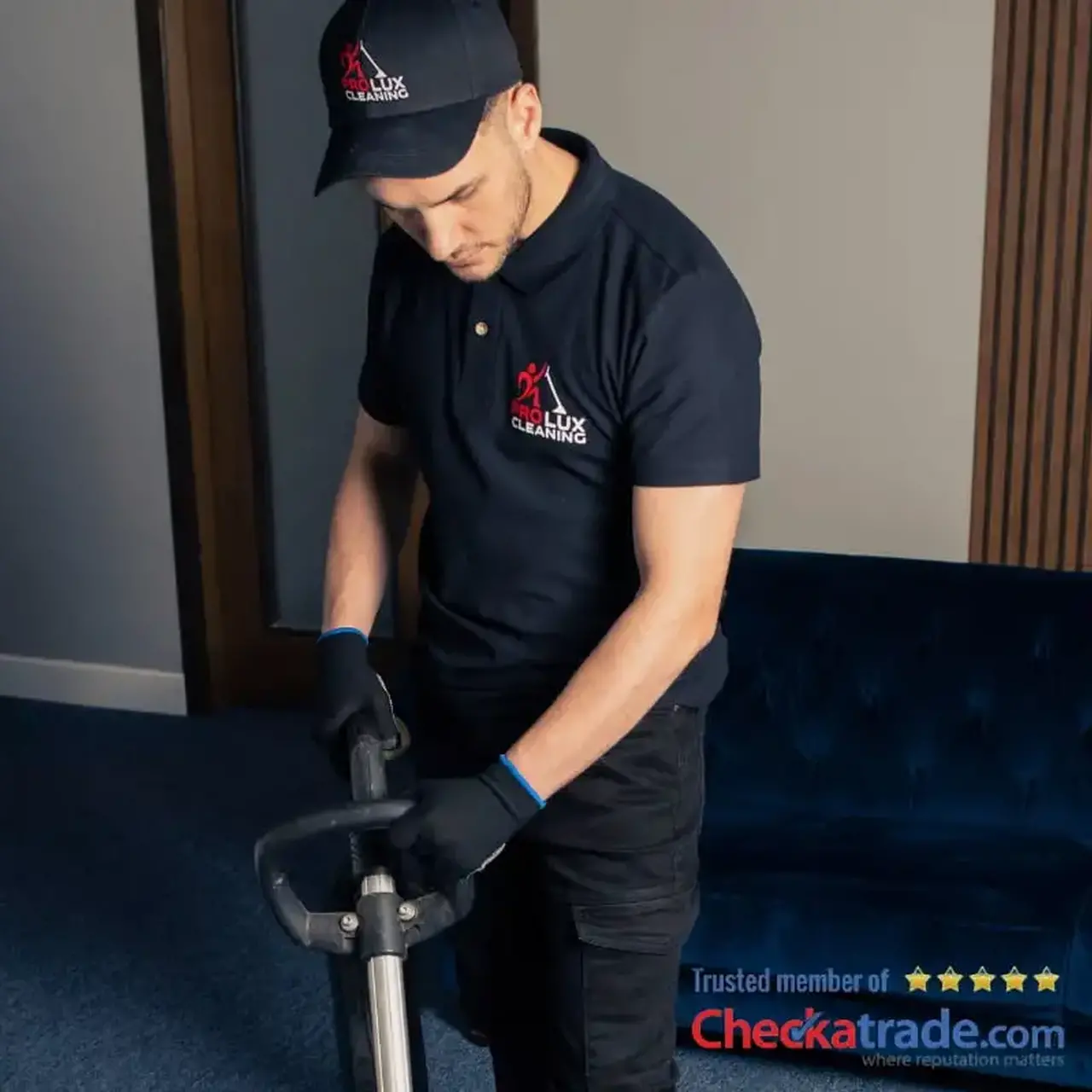 Are you in need of some professional carpet cleaning?
ProLux Cleaning, a professional carpet cleaning company based in Lewisham SE13, is what you never knew you needed all along. Our company's carpet cleaners have excellent specialized equipment that will restore your carpet to its original appearance. You require our hot water extraction cleaning services in London for your carpets to retain their looks for many years.
All our cleaning services are performed by certified cleaning professionals with powerful machines and eco-friendly cleaning solutions. The steam extraction carpet cleaning method is what will bring your carpet to its best possible condition. This cleaning technique is the most effective at removing stains and germs from your carpeted flooring!
ProLux Cleaning works with the most experienced and skilful certified professional carpet cleaners in London. At the beginning of each cleaning procedure, they will inspect your carpet and determine its problems. Afterwards, they will make the decision what cleaning method is most appropriate for your specific carpet fibres.
Advantages of professional carpet cleaning Lewisham
You save time: professional carpet cleaning takes 1-3 hours, depending on the size of the carpeted rooms and their condition.
You save money: ProLux carpet and upholstery cleaning services have the most affordable prices in Lewisham SE13.
Deep cleaning with steam will extend the life of your carpets and upholstered furniture. Our steam extraction cleaning service will provide the care they need, letting you use them for many years.
By using steam carpet cleaning, you minimize the number of bacteria and dust mites in your carpets and rugs. The steam cleaning service is the best disinfection method available on the market!
Carpets and upholstery will be only slightly damp to the touch after the job concludes. Thanks to the extraction property of the hot water cleaning machine, they will contain no more than 20% of residual moisture.
The steam extraction method is the most effective stain remover available. The water pressure and temperature, combined with eco-friendly cleaning products, can remove stains of any source.
Why do you need deep steam carpet cleaning?
The high temperature of the steam allows for carpet treatment without harsh chemicals. All products applied to your carpets by ProLux carpet cleaners in Lewisham are highly tested and certified harmless solutions. Carpet manufacturers recommend using an eco-friendly cleaning company for your carpet and rug cleaning needs.
You need deep steam carpet cleaning if:
You have a baby or small children.
You or members of your family suffer from allergies, asthma or other illnesses.
You have a pet that is constantly on the floor and you are worried about its reaction to chemicals.
You prefer only the most natural and ecological methods of cleaning.
You value service quality, and expect a great job on your carpets.
Certified technicians by NCCA & WoolSafe
Our highly trained and insured technicians are certified by NCCA (National Carpet Cleaning Association), WoolSafe, Prochem and more. They know how to remove the stains and germs from your carpet fibres in a harmless way to everyone involved. As thousands of satisfied clients will confirm, there is no better choice for you in Lewisham or anywhere in London.
Why steam cleaning is the ultimate solution for carpet cleaning?
✓ For deep steam cleaning, a professional steam extraction machine is used.
✓ The high temperature of the water (60-100° C) penetrating the fibres ensures the dissolution of grease and dirt.
✓ In steam carpet cleaning, a small amount of water is used, which prevents waterlogging and shrinkage.
✓ Steam cleaning is very efficient at removing stains and disinfection, due to the high temperature and pressure. This cleaning method allows us to extract the dirt and disinfect the carpet from bacteria.
✓ Steam cleaning is also an excellent option for carpets with a thick and high pile. The professional steam cleaning machines we use allow us to reach into the depth of the pile.
How to choose a reliable carpet cleaning company?
Here are the criteria a company needs to meet in order for you to be sure you're making the right choice:
Highly rated in the area
Certified, insured and highly-trained staff
Industrial equipment
Top-quality eco-friendly chemicals
Experienced and knowledgeable customer service teams
Branded vans and uniformed cleaners
Able to perform both domestic and commercial carpet cleaning services
Revitalize your home with Professional Deep Carpet Cleaning Services
When it comes to maintaining a clean and healthy home environment, nothing quite matches the impact of professionally cleaned carpets. Our deep carpet cleaning service goes beyond surface-level cleaning, utilizing advanced cleaning equipment and techniques to ensure complete carpet disinfection.
Our team understands that a deep carpet cleaning not only removes visible dirt and stains but also tackles allergens, dust, and hidden contaminants that can accumulate over time. With our specialized cleaning equipment, we can reach deep into the fibers, extracting grime and leaving your carpets looking and feeling fresh.
Our commitment to excellence doesn't stop at the equipment we use but extends to the entire cleaning process. We take pride in delivering results that exceed your expectations, creating a cleaner and healthier living space for you and your family. Experience the transformative power of our deep carpet cleaning service and enjoy the comfort of a truly clean home.
Dry carpet cleaning services
If your carpet should not be wet (e.g. sisal weave) or you want it to be ready to use immediately, dry cleaning is what you need. The greatest benefit of dry carpet cleaning Lewisham is saving time spent waiting for the carpet to dry.
Carpet cleaning near Lewisham
We carry out high-quality deep cleaning of carpets in the Lewisham SE13 area and the rest of South-East London. We cover all surrounding areas, such as Saint John's, Honor Oak, Horn Park, Deptford, Eltham, Peckham and many more.
Frequently Asked Questions
In most cases, we are indeed successful in removing blood stains from carpets and upholstery. As long as the issue is attended on time (within 24 hours of the incident occurring), and hasn't been treated with non-professional products, we will likely be successful in removing it. However, blood is one of the hardest stains to remove if left to dry and sit for a few days' time. We are unable to promise removal on 100%, but what we can promise is that our technicians have the highest chance of remedying this issue for you.
Yes, we are one of the most flexible carpet cleaning companies. We have a team of fully mobile technicians, able to arrive at your doorstep within the same day should an accident occur. Our cleaners work every single day, and appointments on weekends or bank holidays are not extra charged. Don't hesitate to contact our customer support centres, which are also open 7 days a week.
Contact Us on the Number Below for a Free Quotation: