Carpet Cleaning Chingford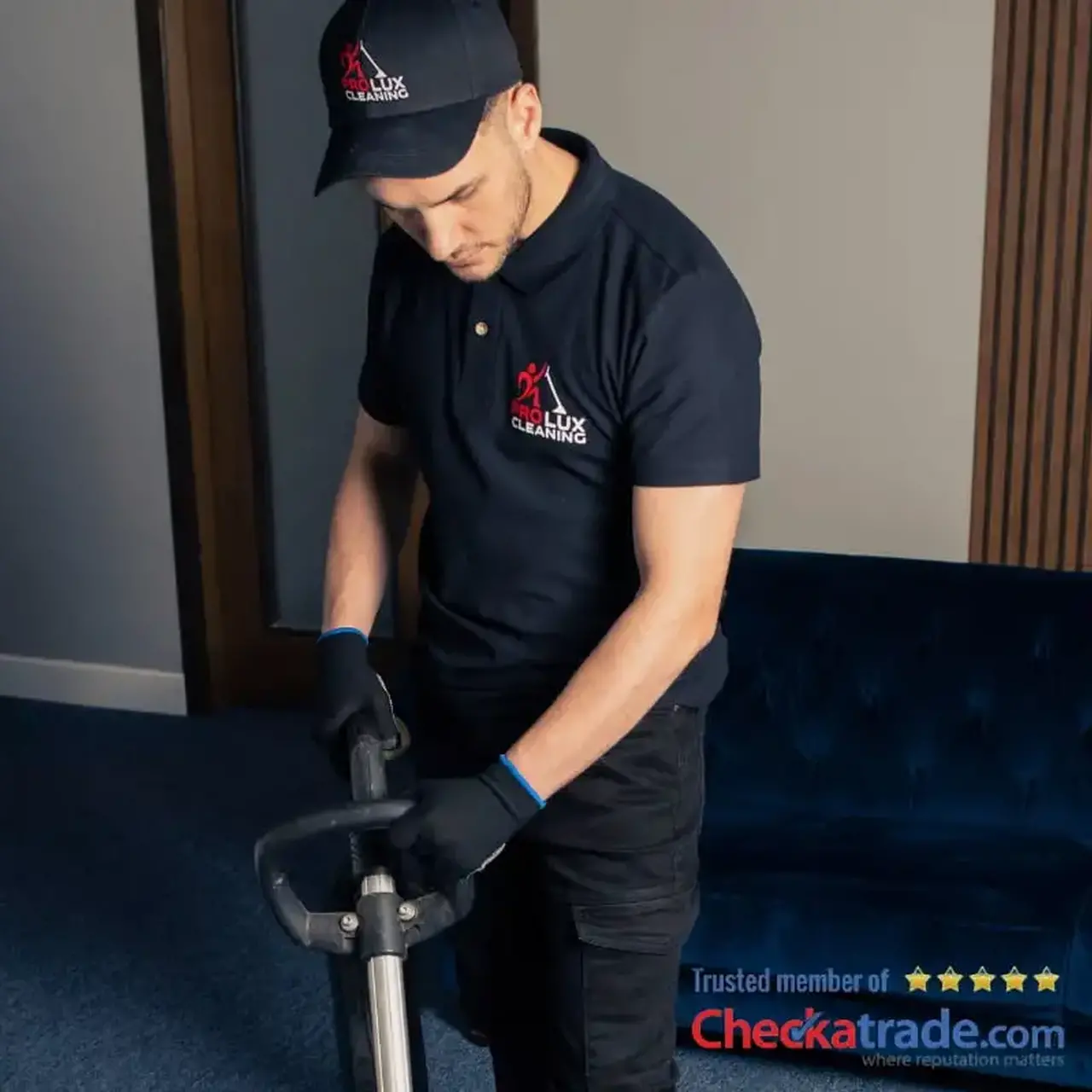 Looking for professional carpet cleaners in Chingford?
ProLux is the main provider of professional carpet cleaning services in Chingford E4 since 2006. Our main method of cleaning carpets is hot water extraction. We use the latest and most powerful cleaning equipment and only eco-friendly cleaning solutions.
Over the years, our carpet cleaners have successfully dealt with all kinds of stains and marks on carpets and rugs. We can effectively deep clean delicate natural materials as well as durable synthetic fabrics. ProLux is the right choice for your carpet cleaning needs - call us now and receive your free quote!
Benefits of choosing ProLux
All our cleaners are fully insured and certified professionals
We use eco-friendly and harmless cleaning products
Our steam extraction machines are industrial grade
We are experts in the field of smell and stain removal
We have a 5-star customer service team
ProLux cleaning technicians are long experienced veterans of the cleaning industry. They work fast and efficiently, and their number 1 goal is to make you a happy and a returning customer. And in order to keep their skill set sharp, they undertake special training courses every few months.
To ensure we always achieve optimal results in every steam cleaning session, we use ProChem cleaning products. They are environmentally friendly and are completely harmless to adults, babies and pets alike.
Our hot water extraction machines have a variety of power and temperature settings. That makes them suitable for heavy-duty work and for light cleaning as well. They are also used on a daily basis for upholstery cleaning, rug cleaning, etc.
Expert steam cleaning services for fresh carpet colors and high air quality
ProLux' steam cleaning method is highly efficient in removing stains, smells and allergens (pet hair, dust mites, etc.). We will leave your carpets and rugs in their best possible condition, and most importantly - germ and bacteria free. Consider steam cleaning services at least twice a year to keep your carpet colours fresh, and the overall air quality - high.
Our customer service team is highly-trained and capable of answering any of your carpet cleaning related questions. As we work 24/7 and have numerous branches all throughout London, we are always available to take your call.
Look at what our stain removal process can do!
Stages of steam carpet cleaning process
1. Inspection
Our carpet cleaner will firstly examine the state of your carpet. All visible stains will be pinpointed, and the carpet type will be assessed. Based on what we determine, the most appropriate temperature and pressure settings will be selected.
2. Pre-hoovering
The carpet will now be hoovered, in order to remove the surface layer of debris. If any dirt particles do remain, they will later be broken down by our powerful steam extractors.
3. Pre-treatment
An eco-friendly pre-spray product will be applied to the carpet surface. It takes around 5-10 minutes for it to react on a chemical level with the most soiled areas. During this time, our cleaner will fill up his machine and wait for the water to get heated up.
4. Steam Cleaning
Hot steam, under very high pressure, is sprayed deeply inside, in between the carpet fibres. The carpet stains are removed, along with any unpleasant odours and bacteria. At the same time, most of the moisture, around 95%, is extracted into the machine's dirty tank.
5. Stain Removal
In order to obtain the best possible condition, special attention is paid to any stubborn stains.
6. Scotchgard protection
At this point, assuming the customer requests it, Stain Protection spray is applied. This eco-friendly product enables easier stain removal for future spillages. It also prolongs the carpet's service life, and stays there for roughly one year.
7. Drying process
All that's left to do now is to wait until the carpet is fully dry, which normally takes 2-4 hours. To speed things up, simply ventilate or heat up the rooms.
8. Checkout
Following the conclusion of the service, our clients are entitled to examine the results, and then endorse them by signing a receipt.
Efficient and convenient hot water extraction cleaning services in Chingford and beyond
Professional hot water extraction cleaning Chingford E4 is an excellent way to save time and bring new life into your carpets. Thanks to the sheer power of the latest steam cleaning equipment, no stains and marks stand a chance. Last but not least, the cleaning method is highly efficient in bacteria removal, leaving your carpet completely safe to use.
Apart from being Chingford's most preferred carpet cleaning specialists, we also received jobs on a daily basis from: Ilford, Loughton, Chigwell, Barkingside, Finsbury Park, Dalston, Highbury, Barking and many other East London areas. We are fully mobile, operating 24/7, and always ready to assist you with all your stain removal needs. Call us on 020 3318 6387 and receive your free quote!
Dry carpet cleaning near Chingford
Dry cleaning is an alternative cleaning method to steam cleaning. It utilizes powerful detergents and a minimal amount of moisture - this allows for the carpet to be used straight away.
Carpet and Upholstery Cleaning Services in Chingford
Residential Carpet Cleaning
Commercial Carpet Cleaning
Upholstery Cleaning
Rug Cleaning
Frequently Asked Questions
The average drying time for carpets after steam cleaning is between 2 and 5 hours. This may vary based on the weather outside, the type of carpet, and its initial condition before the cleaning begins.
Our professional cleaning equipment allows extraction of the vast majority of water during the cleaning process. This means that the drying will not take all that long. To make it as short as possible, ventilate and/or heat the rooms for as long as it's necessary.
Dry compound cleaning works well for heavily walked-on carpets, like those in big offices or hotels. However, most experts agree, it isn't too effective for tough stains and built-up dirt. It's perfect when you need to use the flooring right after cleaning. It's also the only suitable cleaning method for carpets made of plant fibers.
On the flip side, steam cleaning is ideal for most residential and commercial carpets. It's the top method for removing smells and stains. Also known as hot water (spray) extraction, steam cleaning is versatile, suitable for upholstery, mattresses, and curtains.
Contact Us on the Number Below for a Free Quotation: