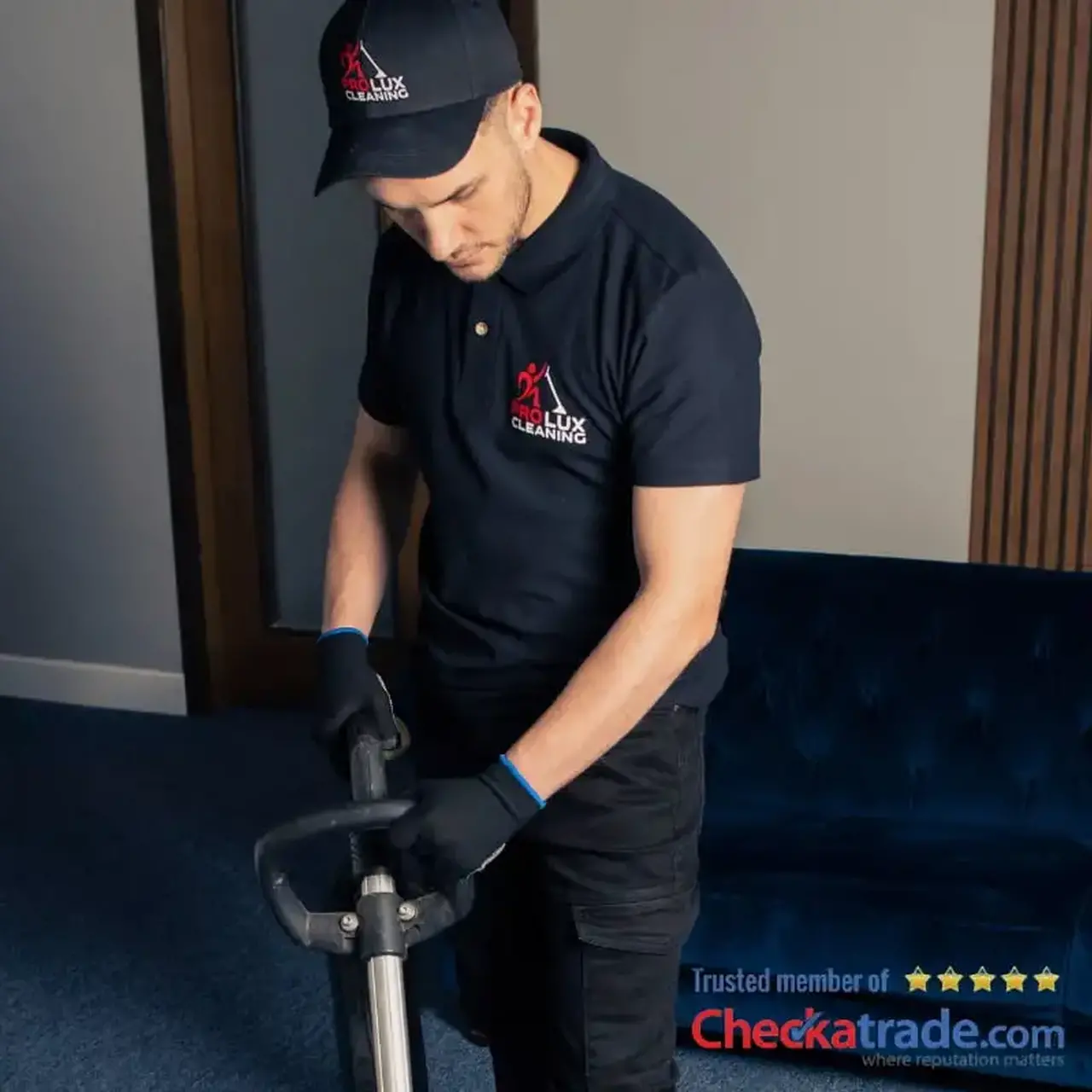 Searching for expert carpet cleaning services in Woodford?
ProLux is a Woodford E18 based professional carpet cleaning company specializing in hot water extraction services. We have over 15 years of experience in the industry, having assisted numerous households and businesses in the area. Dealing with stubborn stains, traffic areas and unpleasant odours is a walk in the park for our trained carpet cleaning technicians.
In order to always achieve customer satisfaction, however, we must have the right tools, skills and attitude. For this reason, we equip all our carpet cleaners with the latest steam cleaning machines. Moreover, they undertake special carpet cleaning courses prior to performing their first cleaning service. Once on site, they will do everything in their power to achieve the best possible results from the cleaning session.
Benefits of choosing us:
We deal with durable and delicate carpet fibres
Our cleaning process is 100% eco-friendly
We use industrial grade steam extraction machines
Guaranteed stain removal of all physically removable issues
Available for emergency call-outs, with no hidden fees
Most efficient deep cleaning method on the market
Affordable prices
ProLux operates 24/7, including weekends, Bank Holidays and National Holidays. We also perfectly cover many East London areas. Some of these areas are: Chigwell, Ilford, Chingford, Walthamstow, Wanstead, Loughton, Bow, Barking, Haggerston, Highbury, Enfield, Redbridge, Barkingside, Hackney and Finsbury and more! Receive your free quote over the phone or by email, and experience professional cleaning services first-hand!
100% Money Back Guarantee
Book Your Risk-Free Cleaning Today!
We promise to deliver a carpet cleaning service of the utmost quality, ensuring you are 100% satisfied with the results. Rely on 10+ years of experience, excellent communication, and unmatched professionalism.
We will only consider the service complete once we've addressed each carpet stain to the best of our abilities, using all means at our disposal. We don't mind how long this may take, as long as the best possible condition is achieved by the end of the service.
If, however, you find any faults with the service provided, please let us know. We're more than happy to return to your property and address any stains completely free of charge. If the second visit does not meet approved industry standards, we will refund you in full. Just contact us within 48 hours from the day of the service.
Steam carpet cleaning Woodford
Replacing your carpets can be very expensive and time consuming. This is why experts recommend having deep carpet cleaning services at least once per year. Steam cleaning is not only a great way to remove stains, but it's the best way to deal with bacteria. By having professionals at your home regularly, you choose the best for your carpet and your own well-being.
The importance of a thorough inspection before carpet cleaning
As a professional cleaning company, we have good knowledge of all types of carpets, including natural and artificial ones. How we decide on the best possible approach for the specific situation is by firstly inspecting the flooring. With the help of the customer, we will also locate the stains, and determine their age and origin. Based on our findings, we will select the most suitable water pressure and temperature settings.
Our technician will then go over your carpet with a vacuum cleaner, removing the surface dust and dirt particles. After doing this, we apply a pre-treatment spray to achieve better stain removal results. It takes a short while for the product to take its full effect, usually 5 to 10 minutes. During this time, we load the steam extraction machine with water.
Disinfecting and protecting your carpets
The machine sprays the water deeply inside the carpet with high pressure after reaching the optimal temperature for that specific carpet. As the machine has a dual tank system, the extracted dirty water does not get mixed with the clean one. If any stains persist after cleaning the entire carpet, we apply special techniques to treat them.
At this point, we leave your carpets fully disinfected and in their best possible condition. You can help maintain their appearance by opting for Stain Protection. The protective layer applied by our technician is harmless, it helps prevent future staining, and it prolongs the carpet's lifespan.
How long should you wait until you can use the carpets?
The average drying time is around 2 to 3 hours, depending on the initial carpet condition and properties. Make sure to aerate or heat up the property to speed things up.
Dry carpet cleaning Woodford
The two most popular professional ways of cleaning carpets are steam cleaning and dry cleaning. The edge dry cleaning has over its competitor is the ability to use the carpet straight after the cleaning process. Dry cleaning is the suitable method for Sisal weave carpets, as wet cleaning may not be appropriate for certain natural materials.
Our NCCA Certified Local Experts in Woodford
Number of cleans: 4324
Working with us for: 6 years
Expert in:
Stain Removal
Upholstery Cleaning
Carpet Cleaning
Rug Cleaning
Recent customer feedback
"Ivo saved the day! He effectively removed dog urine stains from my sister's dog. Arrived early and provided helpful insights. Excellent service!"
James - Woodford
Number of cleans: 5004
Working with us for: 6 years
Expert in:
Stain Removal
Upholstery Cleaning
Carpet Cleaning
Rug Cleaning
Recent customer feedback
"Ivan from Prolux Cleaning is exceptional! Expertly removed water stains from my carpets. Reliable, skilled, and highly recommended!"
Ethan -
Number of cleans: 2239
Working with us for: 4 years
Expert in:
Stain Removal
Upholstery Cleaning
Carpet Cleaning
Rug Cleaning
Recent customer feedback
"Dimitar worked magic on my rental property's carpets! He transformed the disgusting carpets left by previous tenants into pristine floors. Impressive!"
Rose -
Contact Us on the Number Below for a Free Quotation: