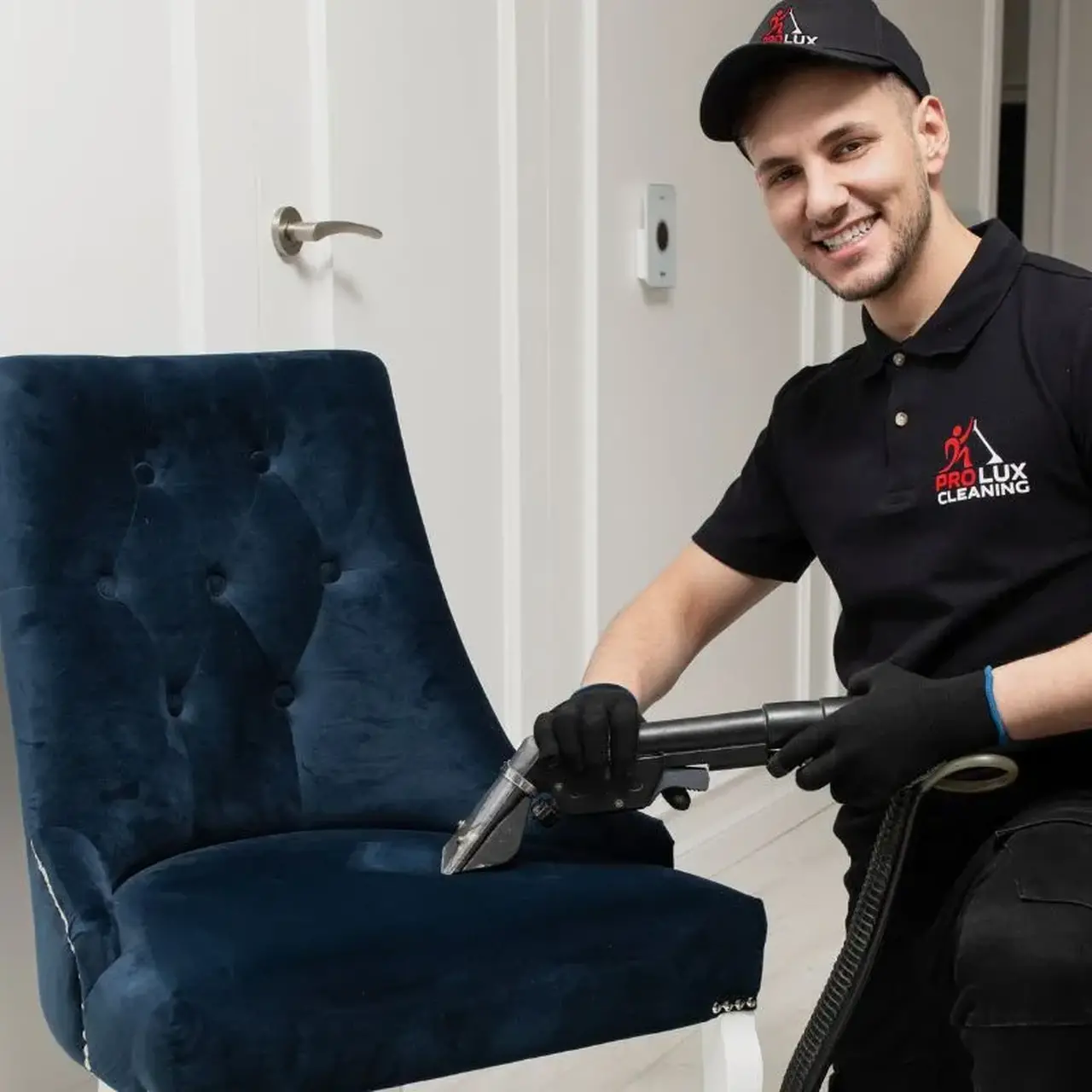 Rejuvenate Your Upholstery with Professional Cleaning Services in East London
If you are looking for professional upholstery cleaning East London services, you have come to the right place. ProLux has experienced, certified and insured upholstery cleaners. They are able to achieve the best condition of your favourite sofa and armchair. Using steam extraction cleaning and harmless products, we will bring your upholstery back to its original look.
Order professional upholstery cleaning services and benefit from more than 10 years of experience. We are always available when our clients need our help as we work 24/7, including bank holidays. Mobile teams of the company provide deep cleaning services in East London, Central London and all surrounding areas. We have gained the trust of thousands of satisfied customers who use our carpet and upholstery services on a regular basis.
Expert Upholstery Cleaning Services in London: Choose ProLux for the Best Results
Skilled technicians delivering exceptional results
Our technicians are equipped with the needed knowledge to apply the right cleaning methods and most suitable cleaning solutions. All of them are personally trained by our supervisors to provide the best upholstery cleaning in London. Your upholstered furniture is placed in the best hands when you choose ProLux to clean it.
Hot water extraction: The ultimate solution for stain removal and disinfection
Our commercial steam machines are suitable for deep cleaning of any type of fabric upholstery. Hot water extraction is the best stain removal and disinfection method. It is highly recommended to be used once every few months on your fabric sofas.
Specialized cleaning for different types of fabric and leather sofas
Over the years, our upholstery cleaning East London based team has specialized in cleaning different types of fabric and leather sofas. Each kind of material requires a specific approach. Most commonly, we use hot water extraction machines on fabric pieces of furniture. Leather upholstery is usually cleaned by hand, using a soft brush and special leather products.
Environmentally friendly solutions for your upholstery
The cleaning solutions we use are provided by ProChem, one of the leading manufacturers in the cleaning industry. Their products are annually tested and are proven to be completely harmless to people, children and pets. We apply the most environmentally friendly chemicals while restoring your upholstery's original look.
Deep and Effective Steam Cleaning for Your Upholstered Furniture
We clean all manner of fabric upholstery using our powerful hot water extraction method. The machines we use operate under different water pressure and temperature settings. This lets us deeply clean artificial, natural and delicate upholstered furniture.
Our professional upholstery cleaning technicians have many years of experience cleaning polyester, linen and velvet sofas. They are aware of the best way to treat every type of material which is suitable for steam cleaning. If you are unaware whether your sofa is suited to our method, look for a label or contact the manufacturer. We request this information when available, if your sofa cover is made of delicate fabric.
Some types of velvet are suitable for hot water extraction, and others are suited for dry cleaning services. Unfortunately, they are not that visibly different from one another, excluding the patterned velvet types. Always let us know any and all cleaning instructions provided by the manufacturer of your sofa.
Our step-by-step approach of steam upholstery cleaning
Inspection of the pieces of furniture to be cleaned
Hoovering them to remove crumbs and surface dust
Applying pre-treatment spray on the sofas
Deep Steam Cleaning the upholstery with an industrial hot water extraction machine and eco-friendly cleaning solutions
Extraction of dirt and stain residues, with about 90% of the water used during the cleaning
Let's make it happen! Get in touch today!
Discover the Variety: Types of Fabric Upholstered Furniture and How We Clean Them
The most commonly known types of upholstery cover material are listed below. As cleaning experts, we have the necessary experience to professionally clean all of them.
Cotton
Cotton is very popular due to being relatively cheap, yet very durable. Settings on our equipment vary between high to medium water temperature and pressure.
Silk
On the contrary, silk is one of the costly options, and it is difficult to maintain. Most frequently, silk upholstery is cleaned in a delicate way, sometimes with a minimal amount of water.
Wool
Woollen material is durable and resistant, but cannot be cleaned with hot water. We always use water temperature below 65° C during wool upholstery and carpet cleaning services.
Linen
In terms of the price range, linen is the middle ground between cotton and silk. The material is delicately cleaned, with mid to low settings on our equipment.
Polyester
If you have almost any kind of sofa, odds are the cover is at least partially made of polyester. If your sofa is purely polyester, it is cleaned under high pressure and temperature. However, lower settings will be used for sofas which are only partially polyester.
Olefin
The other name of this material is polypropylene, and it is very durable. It is cleaned in the same way we clean pure polyester, using hot water and high pressure.
If you have any questions, you can always get in touch with our customer service centres. Our professional phone assistants are all well versed in the art of upholstery cleaning. They are happy to answer all your questions and provide a free quote.
Nourish and Restore Your Leather Upholstery to its Former Glory
ProLux upholstery cleaning East London professionals know how to clean all types of leather materials. The products we are using for the cleaning services are specially designed for use on leather upholstery. After cleaning a product made of leather, we apply conditioners that nourish the leather and make it look spectacular.
Cleaning and conditioning: How we take care of your sofas
A brief explanation of how we clean leather upholstery:
the leather sofas are hoovered to remove dust and crumbs

then, they are treated via sponge, soft brush and eco-friendly products
once the cleaning is finished, the leather is conditioned with cream and oil, to make it more elastic, shiny and prolong its life
The leather upholstery cleaning procedures is done almost entirely by hand. In rare cases, we are able to use a steam machine to clean your leather. However, this is only applicable to very specific types of leather. Get in touch with our customer service centres to find out more.
Tenancy cleaning services East London by ProLux
When moving out or into a new flat, it is often required to order professional cleaning services beforehand. ProLux Cleaning is here to help, as we offer same day upholstery cleaning in East London. Call us today and we will do our best to fit you in our busy schedule.
Upholstery Cleaning Prices in East London