Everyone has at least once wondered how to clean red wine out of a carpet. Red wine stains are one of the most difficult issues to remove. Do not be frustrated if you notice several red wine stains on your carpet after a party.
We have the most effective tips on how to clean red wine out of carpet. The goal is to help you take it easier when you see a red wine stain on your floor. Know that each stain can be removed, and your carpet can be saved, if you know the right cleaning tricks.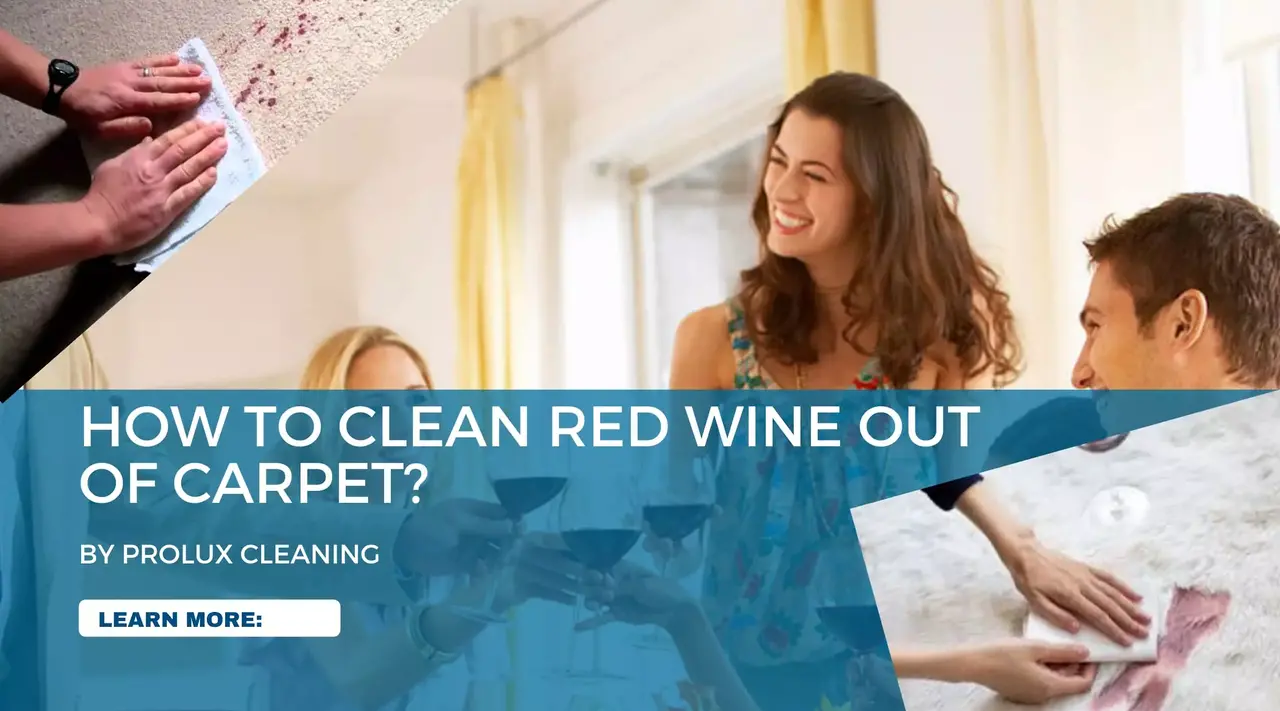 What are the best ways to remove red wine from carpets?
Red wine stains are a rather common issue for carpets and upholstery. There are many cleaning products that can act as red wine carpet stain removers. Below, you will understand how to deal with red wine spills using home remedies.
It is important to stress that red wine is one of the most difficult problems to remove. You need to react as soon as possible once you see a stain from red wine on your carpet. If you are unsure you can deal with it, do not hesitate to use professional carpet cleaning services. Keep the stain slightly damp until the cleaning experts arrive, as that will make their job easier.
Can white vinegar remove red wine from carpet fibres?
White vinegar is able to remove red wine stains from carpets. Pour white vinegar in a spray bottle and apply it to the affected area. Then, blot the stain with a clean cloth, going from the edge to the centre. Air out the room afterwards, as vinegar has a hefty smell to it.
Is salt able to remove red wine stains from carpets?
If you have a wet hoover, salt can be effective at helping you deal with red wine. Sprinkle plenty of salt on the red wine stained area. The salt should be left to sit for a while, so it can absorb as much of the stain as possible. Hoover the salt out afterwards, and sprinkle again until fully absorbed.
Remember - be patient and do not remove salt until it has absorbed some wine. Otherwise, red wine will penetrate much deeper into the fabric. Also take care when removing the salt, as you will need a hoover to do so. Just a reminder, wet hoovers and dry hoovers are not the same, so make sure you have a wet hoover.
You can use baking soda to remove red wine stains in the same way. Baking soda also has a deodorizing effect, which will help with any other smells on your carpet. It is also safe for any carpet colours, and can be easily hoovered out of the carpet.
Can hydrogen peroxide deal with red wine stains?
If the fabric you want to treat is white or a bright colour, you can safely use hydrogen peroxide. But be very careful with the use of hydrogen peroxide because it has a bleaching effect. Always test on a small area of the carpet fibres to confirm if they are colour-fast. Also, use a white cloth to remove the stain, to avoid colour bleeding from the cloth.
Will club soda remove red wine from a carpet?
Club soda is good at removing red wine stains safely, as it is carbonated water. If mixed with laundry detergent or dish soap, it will act as an agitator and ease stain removal. It will help to remove wine stains which have been left to dry by accident.
Read also: Why to Use Professional Services for Carpet Cleaning
Is there a professional cleaning product for red wine stain removal?
There are many cleaning products for carpet stain removal. However, Scotchgard Rug and Carpet Cleaner is proven to be effective at removing red wine stains. The foamy chemical achieves top standard results at an affordable price.
Scotchgard Rug and Carpet Cleaner is eco-friendly, and leaves no sticky residues after its use. It also has a protection layer, making the carpet more resistant to new issues for a few months. However, bear in mind that most natural fibred carpets and rugs need to be cleaned with another product.
General tips for removing red wine stains
Red wine is very hard to remove from all types of fabric material in general. If you leave the stain to dry, it becomes more complicated. If you make the mistake of scrubbing it, it will ingrain itself into the fibres.
Simple advice we can give you is to be prepared for red wine stains. Just keep a bottle of white vinegar in storage, and always have a clean towel. The most important thing is to not panic, and blot the stain quickly.
What do you have to do if you see a red wine stain?
Act quickly, the faster you react, the greater chances you have to not stain the carpet. The first step is to apply white vinegar, then blot the area with cloth or paper towels.
Second, rinse the stain with a sponge dipped in cold water.
If the stain persists, repeat the process and do your best to not scrub the fibres.
What not to do when facing the issue of red wine carpet stains?
Do not use hot water, as high temperature will make the stain permanent.
Do not pour cups of warm water directly onto the stain.
Never use harsh chemicals on the stain, since you may damage the carpet.
What to do with stubborn red wine stains?
If these tips were not helpful, you should call a professional carpet cleaning company. Cleaning experts are trained and equipped to deal with all kinds of stains, inclusive of red wine stains. They will take the best care of your carpeted flooring.
It is best to look for a company that offers same day carpet cleaning services. Red wine needs to be dealt with right away, before it ruins your carpet fibres. It is preferable to call a company that offers hot water extraction cleaning services.
Do not underestimate the need of professional carpet cleaning services. They should be performed once or twice a year at a minimum. That is what carpet manufacturers highly recommend. By using professional cleaners, you prolong the life of your carpet, and are sure it is free of germs.
If you think of your carpet as an investment, take care for its decent look. No matter whether the stain is from red wine, coffee or other drinks, remove it as soon as possible. You can use the tips we gave you in this article, while you wait for the experts to come to your home. Not all carpet cleaning providers can respond immediately, so you should do something about it while you wait.
You may also like: Carpet Cleaning Technologies Development
Is salt a universal stain remover?
Remember that many stains can be cleaned with salt, including red wine stains. This is a simple cleaning tool, available at every home and store. Do not hesitate to apply salt on the stain, as it will not damage the carpet.
Even if it is not appropriate for the specific type of stain you are trying to remove, you will lose nothing to try! Salt can not make the stain bigger or cause any side effects. It will soak up anything spilled, and make it easier for you to remove with another method.