Upholstery Cleaning West London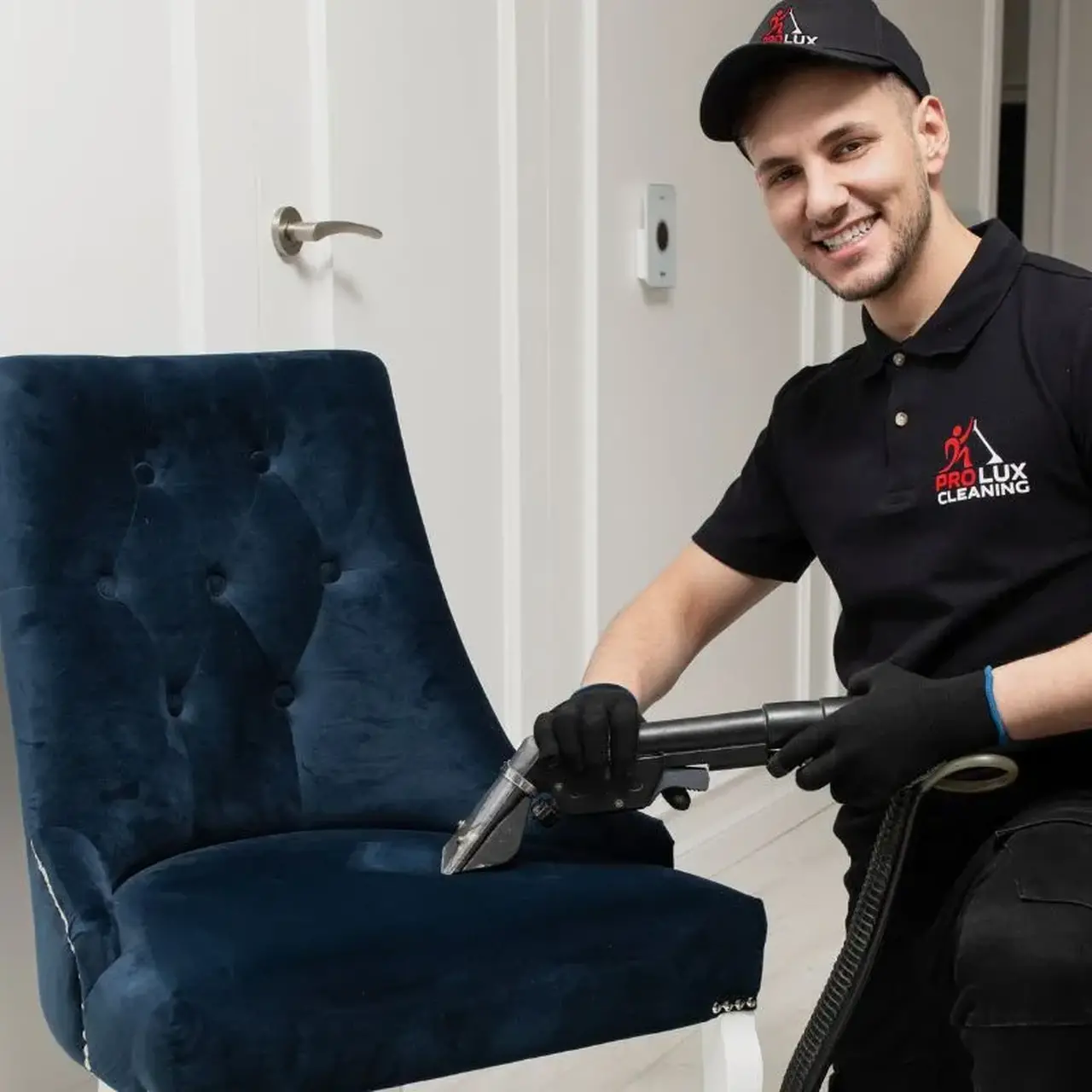 Looking for professional sofa cleaners in West London?
We are ProLux, a cleaning company specialized in professional upholstery cleaning services. Our certified, insured and experienced technicians clean your upholstery using industrial machines. The cleaning method is called hot water extraction and involves the use of eco-friendly cleaning solutions. ProLux upholstery cleaners know the best way to deep clean and disinfect your fabric and leather upholstered sofas, chairs and footstools.
The products we apply during our leather and fabric upholstery cleaning services are completely eco-friendly. They are tested and certified 100% safe for all types of upholstery materials. These cleaning solutions are pet and child-friendly, meaning they are harmless to your family.
60,000+ Satisfied Customers: Unmatched Upholstery Cleaning Services
High-quality upholstery cleaning in London is what we have been providing our customers for over 15 years. We have cleaned over 60,000 sofas, armchairs and other soft furnishings for residential and business customers. Steam extraction cleaning is our preferred method, and what we use to clean all types of fabric upholstery. Leather cleaning is done manually by one of our experts, but there are a few leather types suitable for steam cleaning.
If you want to inquire what we can do for you, get in touch with our customer support centres. All ProLux office staff are highly experienced and know all nuances of our cleaning work. They are happy to answer your questions and provide a free quote for deep upholstery cleaning services.
Maintain freshness and cleanliness: Regular upholstery cleaning services for your sofas
Getting your sofas professionally cleaned should be relatively frequent, at least once every few months. If you have a big family, including pets, you should book upholstery cleaning services at least once per season. For your convenience, our professional upholstery cleaners in West London work 7 days a week, including bank holidays. They are capable of cleaning all types of delicate fabrics and sturdy leather upholstered furniture.
Advanced equipment for superior fabric sofa cleaning
Professionals of our company perform hot water extraction cleaning services every single day. We offer the most effective stain removal and disinfection method for your fabric sofas. Our equipment is an industrial steam machine with a long hose and several nozzles for specific material. The machine has multiple settings for pressure and temperature of the water it sprays deeply inside the upholstery.
By using the different settings of our machine, we can clean any type of synthetic or natural fabric sofa cover. We have decades of experience in deep cleaning of polyester, cotton, silk, linen and velvet sofas. Our technicians will always inspect the material before choosing the best way to perform the cleaning service.
The hot water extraction upholstery cleaning process explained
Brief explanation of our hot water extraction upholstery cleaning process:
inspection of the fabric type to determine its composition and best approach;
hoovering the upholstery in reachable areas to remove dust and surface dirt;
application of a pre-treatment product which starts dissolving stains on the sofa;
steam extraction machine is used to spray hot water and eco-friendly solutions deep inside the fabric;
stubborn stains are given special treatment with specific stain removal products;
about 90% of moisture is extracted from the upholstery during the cleaning;
if included by the client, we apply stain protection to your sofa, which will protect it from future stains;
After the steam extraction cleaning process, your upholstery is left only slightly damp. Due to the extraction property of our gear, your sofa will take a few hours to dry after steam cleaning concludes. You can speed up the drying process by opening windows and using the heating.
Preserve your upholstery with ProLux Stain Protection
Stain Protection is an after-care spray which can be applied to your fabric upholstery by our technicians. This spray is an eco-friendly and harmless solution, like the rest of our cleaning products. Its benefits are shielding the fabric from solar deformities and making new stains easier to remove.
If you want to include this product, you can decide while booking, or on the day of the cleaning service. Our customer service assistants are happy to explain further and provide a free quote to all customers. Call us today to book upholstery cleaning services and inquire about Stain Protection!
Leather Cleaning Excellence: Years of Experience and Gentle Solutions
Our professional upholstery cleaners have decades of experience in cleaning leather material. The leather cleaning services are performed by hand, using a sponge and soft brush. Only harmless cleaning solutions, which are child and pet friendly, are used during the process.
After the cleaning, the leather is also conditioned with two kinds of special leather products. Cream and oil Prochem conditioners will make your leather upholstery more elastic, shiny, and prolong its life. This is the most harmless way of treating leather material while still doing a great job of cleaning it.
How we perform leather sofa cleaning services in London:
hoovering the leather first to remove dust
scrubbing it with a sponge dabbed in eco-friendly cleaning solutions
wiping it off with a clean towel, then applying conditioners
Please bear in mind that the leather upholstery, once conditioned, should not be sat on for a few hours. The conditioners take a while to be absorbed by the material, the average is between 1 and 3 hours.
Extensive coverage in West London: Acton, Ealing, Hammersmith, and More
As a West London cleaning company, we have perfect coverage of many London areas. Notable examples are Acton, Ealing, Hammersmith, Fulham, Harrow, Wembley, Hounslow, Richmond and more. If you are unsure whether we do indeed cover your particular area, just get in touch with our customer service centre.
Same day upholstery cleaning for End of Tenancy
It has become common practice to require a professional cleaning of the property from tenants. If you are about to move out, you need emergency deep cleaning services, which our company provides. Call our customer support team and inquire about same day upholstery cleaning services.
Let's make it happen! Get in touch today!
Upholstery Cleaning Prices in West London