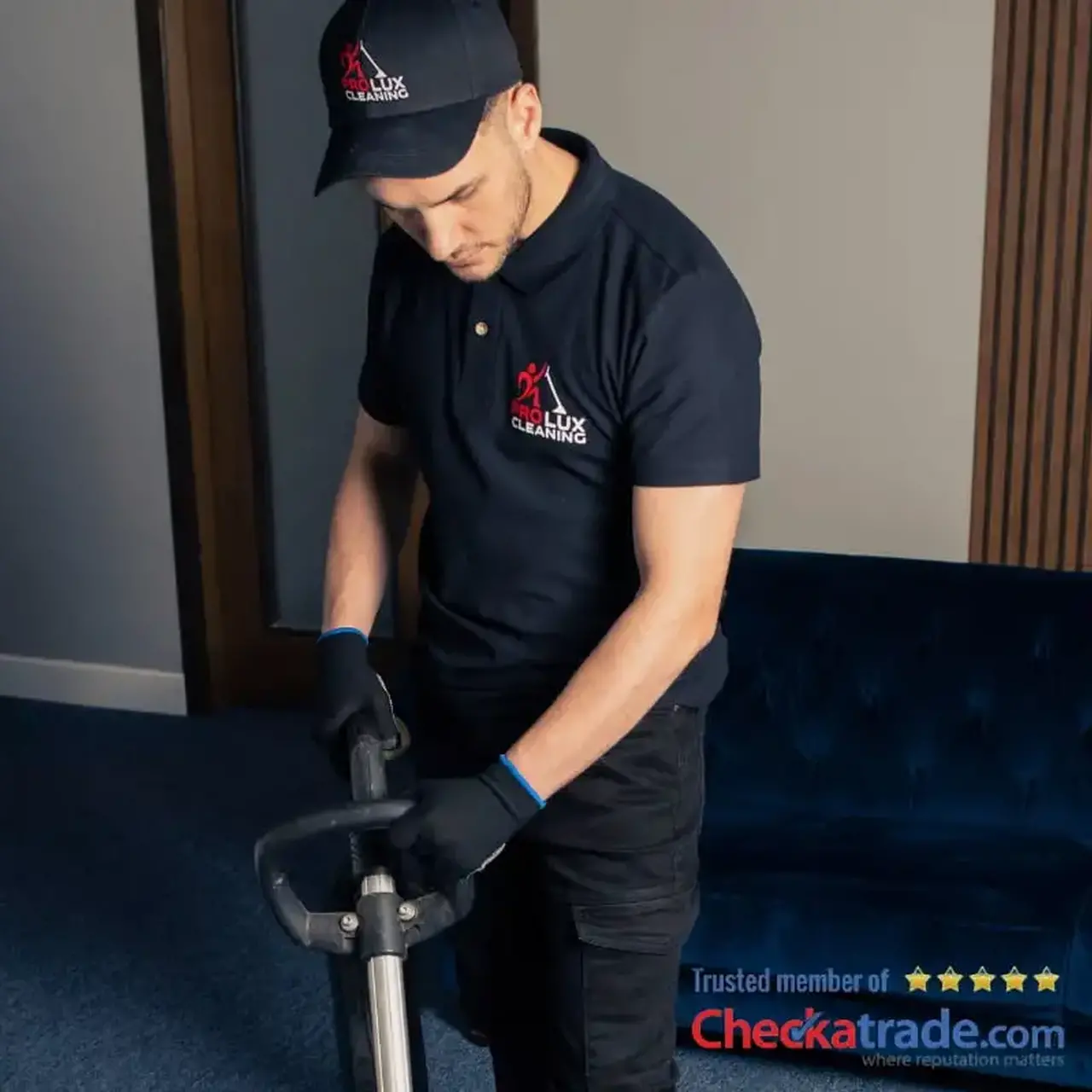 Are you in need of expert carpet cleaners?
ProLux is a family-run professional carpet cleaning business in Catford. In all carpet cleaning jobs, we, at ProLux, make use of commercial gear and top of the line professional detergents. We are the local's first choice for steam cleaning services since 2006.
Our carpet cleaners are fully insured and certified professionals. They are able to treat natural and synthetic materials alike, and are the solution for your stain removal needs.
Eco-friendly carpet cleaning services
Many carpet cleaning associations, such as WoolSafe, highly recommend deep cleaning your carpets every once in a while. For homes with pets or children, consider steam cleaning services even more frequently. The three main advantages to hot water extraction carpet cleaning are:
Smell and stain removal
Extraction of allergens (pet hair, dust mites, etc.)
100% disinfection (removal of bacteria and germs)
ProLux is a proud partner of the most renowned manufacturer of carpet cleaning products - ProChem. Their cleaning solutions are eco-friendly and completely harmless to people and pets of all ages. We use their "Green Line" of products, which are also safe for people with allergic conditions, and even pregnant women.
To achieve the best possible results from each and every cleaning session, we use the latest steam cleaning equipment. These powerful machines have a variety of temperature and pressure settings. They're also perfectly suitable for rug cleaning, as well as upholstery cleaning.
Let us show you our spot removal expertise!
Steam carpet cleaning Catford
Steam carpet cleaning in Catford SE6 is the key to having a brand-new look for your carpets. The cleaning method also significantly improves the overall air quality, by removing small dust particles stuck deeply inside the carpet fibres. Needless to say, it's also the best way to deal with stains, marks and smells from your carpets and rugs.
If you have not cleaned your carpets in a while, and the dog has made them a sight to look at, don't fret. Contact ProLux and we'll make your troubles go away faster than they happened. We work around the clock for your convenience, and know how to give your carpet the care it deserves.
Every steam extraction cleaning service in Catford SE6 has several important stages
1. Inspection
We will firstly assess the carpet type, and pinpoint the obvious and not so obvious stains and marks. We will also ask you about the origin of the issues and the amount of time they were on the carpet. It's essential to mention as well if you have attempted to remove said problems, and with what.
2. Pre-hoovering
Once all the above is established, your carpet cleaner in Catford will hoover the carpet surface. It's absolutely vital for the dirt, dust and debris to be extracted prior the steam cleaning service. If any dirt particles do remain, they will later be dissolved by the high pressure steam extractor.
3. Pre-treatment
The last step before deep steam cleaning is the application of pre-spray. This ProChem cleaning product will allow us to achieve excellent results in terms of stain removal. It generally takes no more than 5-10 minutes for it to react with the most soiled areas on your carpet.
4. Steam Cleaning
Now, under very high pressure, hot water will be sprayed deeply into the carpet. Simultaneously, the machine also extracts most of the moisture into its dirty tank. Stains, smells and marks, as well as any remaining dirt particles, are removed from your carpet. Bacteria treatment is also applied in order to leave the carpet disinfected.
5. Stain Removal
To attain the best possible condition, particular attention is given to stubborn stains.
6. Scotchgard
Depending on the customer's request, Stain Protection spray is applied to the carpet surface. The protective layer over your carpet stays there for roughly a year, and helps prevent future staining. Any spillages which happen from now on will be easier to remove, and the carpet service life will also be prolonged.
7. Drying process
At this point, all that's left is to wait for the carpet to dry out, and this must happen naturally. Ventilate well until it's fully dry, or simply bump up the heating.
8. Checkout
After inspecting the results, our clients exercise their right to sign a receipt.
Frequently Asked Questions
If you've been looking around for professional carpet cleaning services, odds are you've heard of Scotchgard. While it is a household name, it's only one brand of stain protection products, and we offer a service exactly like it. It's a spray that can be applied to the carpets by the technician after he's cleaned them, for an additional cost. To receive a quote for your carpets to be stain protected, just call our customer service team and ask them!
In terms of why you should take advantage of this product, it's very simple. Its primary effect is making the carpets easier to look after in the future. This is achieved by the product creating an invisible eco-friendly layer on top of the fibres, which makes them resistant to new spillages. Stains that occur on a stain protected carpet take longer to dry, and do not go in as deep, compared to a non-protected carpet. This, in turn, extends the window of time you have to deal with the stain yourself, or to call in professionals to sort it for you. So, if you want to enjoy your carpets for a longer period, you definitely need Stain Protection.
Our experienced technicians clean carpets using the most powerful and efficient method, known as hot water extraction (or simply steam cleaning). The equipment is a high-end dual tank extraction machine, which heats water up to 90 degrees and sprays it deep inside the carpet fibres under high pressure. Note that temperature and pressure varies based on the carpet fibres themselves, as in, we clean natural fibres on gentler settings than most synthetics. If the specific material requires it, we can also clean with a lower amount of water overall.
What you can expect from this cleaning service is the deepest cleaning possible, and the carpets to be left fully disinfected and refreshed. All stains and odours will also be treated with top quality eco-friendly cleaning products manufactured by Prochem. We cannot promise 100% stain removal, but we promise the removal of all issues which can be physically removed by cleaning, as the technician we send you will do his absolute best, and treat the carpet as many times as its fibres will allow.
Contact Us on the Number Below for a Free Quotation: