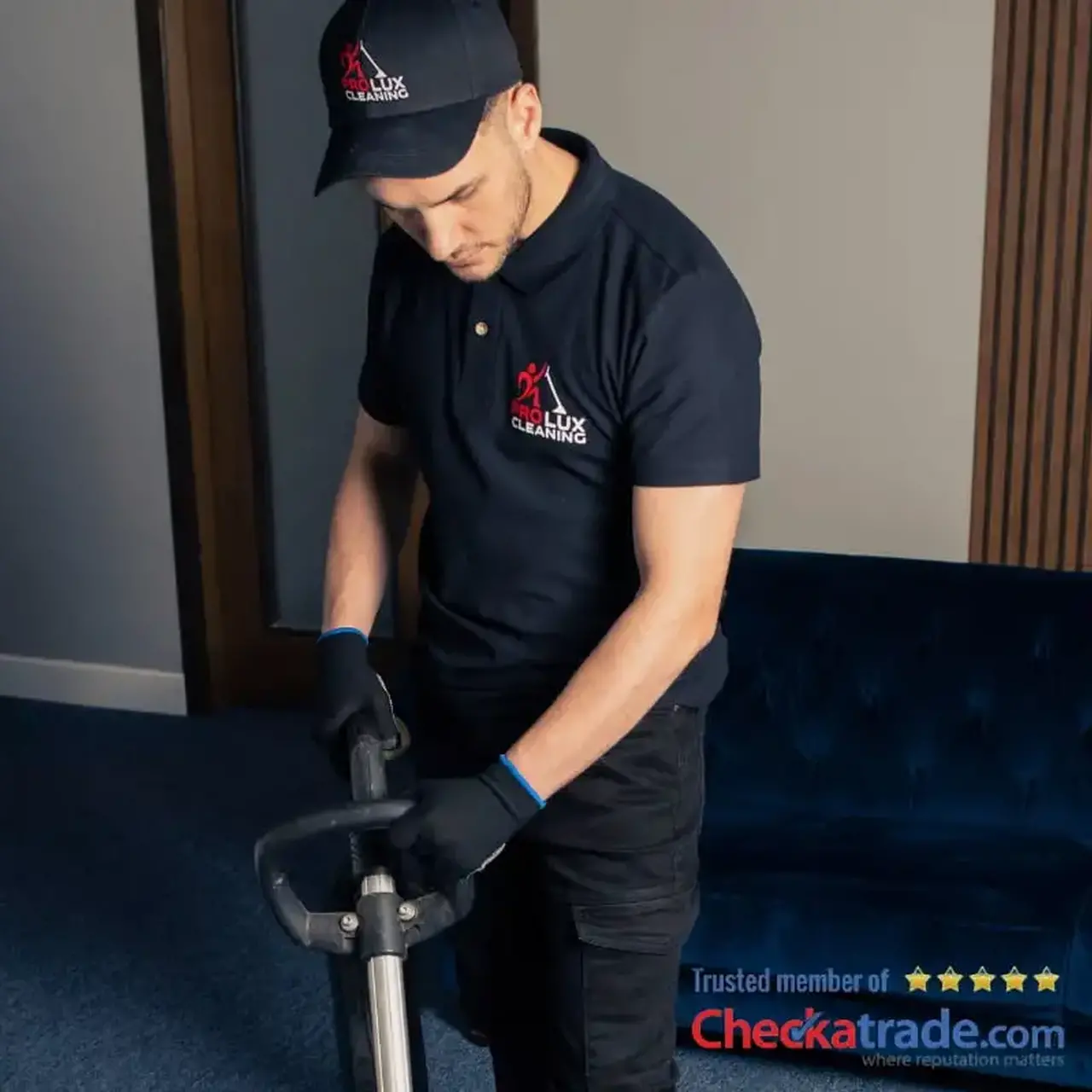 Exceptional carpet care in SE21 at your service
ProLux is a Dulwich based professional carpet cleaning company, a leading provider of steam cleaning services in South-East London. We make use of industrial carpet cleaning equipment and high quality eco-friendly cleaning solutions. Our technicians are well-trained and certified cleaning experts with many years of experience.
Thanks to our advanced carpet cleaning techniques, stain removal has never been an easier task. We can effectively and consistently remove stains from all sorts of origins - wine, coffee, tea and chocolate. With us, the original colours of your carpets and rugs will be preserved, and all germs and bacteria - removed.
Why choose ProLux?
All our professional cleaners are highly trained and fully insured
We deal with all types of dirty carpets and rugs
Award-winning customer service team
100% eco-friendly cleaning process
Expert smell and stain removal services
Reputable Company
Where Trust and Excellence Meet
Quick and Easy Booking
Simplifying Your Service Experience
Customer Satisfaction Oriented
Exceeding Expectations, Every Time
100% Stain Removal
Say Goodbye to Stubborn Stains
ProLux is a proud partner of many East Dulwich SE22 and Dulwich SE21 businesses, and the first choice of thousands of residential customers in the area. Our services are available every day of the year, including Saturdays and Sundays, with no extra fees. We even work on Bank Holidays, so in case of an emergency, a professional cleaner will always be around.
We are the cleaners you can trust
All ProLux technicians are individually selected and work only for us. For them, no job is too big or too small, because every client matters. They want to be able to put a smile on your face and make you come back next year. That's achieved through the thorough treatment of every single carpet problem, regardless of the age or origin of the issue. Because it's not about just leaving the carpet wet, it's about bringing it back to its original condition!
Receive the best care for your carpets
Cleaning your carpets with a vacuum cleaner at least once a week is recommended by all experts. When you have messy children and pets, however, you should consider having professional carpet cleaning services. Experienced carpet cleaning technicians, such as ours, will bring new life into your carpets and tackle all existing stains and smells.
What to expect from our expert once he arrives?
Our carpet cleaners will firstly determine the carpet type and pinpoint the obvious and not so obvious problems over it. The most appropriate pressure and water temperature settings will then be selected depending on what is established.
The carpet will then be hoovered in order to remove the surface layer of debris. Sometimes, dirt and dust particles to remain, but they will later be dissolved by our high pressure steam cleaning machine.
How we remove stains from the carpet?
Next is the application of an eco-friendly pre-spray cleaning product by ProChem. It allows for better stain removal results to be achieved by the actual hot water extraction cleaning process, which follows shortly after. While we wait for the solution to fully react with the stains, the steam machine will be filled up with water.
Then, under very high pressure, hot steam is sprayed deep into the carpet fibres. Old stains will be removed, unpleasant odour tackled, and the remaining dirt and dust - extracted.
How to care for the carpet after the cleaning?
Assuming the customer requests it, Stain Protection will now be applied to the carpet surface. This layer of spray prolongs the service life of your carpets and helps prevent future staining. It stays there for roughly a year and is completely harmless and eco-friendly.
At this point, all that's left to do is to leave the carpet to dry out, which normally takes between 2-4 hours. Ventilate well or turn on the heating in the respective rooms to speed things up.
NCCA Certified
Trust in Excellence: Our NCCA-Certified Technicians
The National Carpet Cleaning Association (NCCA), operating since 1968, stands as a hallmark of industry standards and professionalism. This esteemed organization has been setting the bar for carpet cleaning expertise, ensuring that our technicians, certified by the NCCA, are at the forefront of this legacy.
Rest assured knowing that when you choose ProLux Cleaning, your technician is not just someone with a job but a certified professional equipped to handle any stain on any carpet. Whether it's a delicate wool or a robust synthetic fabric, our technicians, backed by NCCA training, bring a level of skill that instills confidence.
Beyond expertise, we prioritize your comfort and satisfaction. From the onset to the completion of the job, ProLux Cleaning adopts a personalized approach. We aim to make you feel at ease, providing explanations and tips throughout the cleaning process. Your trust is our priority, and we go the extra mile to ensure that your experience with us is not just a service but a partnership in maintaining the longevity and vibrancy of your carpets and rugs.
Carpet cleaning services by ProLux include:
Top Quality
Free pre-treatment
We deep clean carpets with industrial steam extraction machines
Hot water extraction cleaning - the number 1 carpet cleaning method
Eco-Friendly Cleaning
Harmless, eco-friendly cleaning solutions
Allergen removal - pet fur, dust mites, etc
Bacteria removal - use of the most efficient sanitizers
Guaranteed Results
100% customer satisfaction guaranteed
Our carpet cleaners are certified, insured and highly trained
Flexible work time - 24/7 even on bank holidays
We have the needed tools and knowledge to clean all carpet types
Regardless what type of carpet you have, the ProLux representative will be able to clean it. We efficiently clean natural carpets such as wool and silk, and synthetic ones like nylon and polyester. Low piled, high piled - it doesn't matter, the cleaning will be done with appropriate products and machine settings.
Carpet cleaning near Dulwich
ProLux cleaning services are not limited to just Dulwich - we also cover all of South East London. Many of our regular customers reside in: Lewisham, Crystal Palace, Herne Hill, Denmark Hill, Camberwell, Catford, Brixton, Beckenham and more.
We operate 24/7, even on weekends and bank holidays - because accidents don't just happen Monday to Friday. If you have a specific issue, which needs special attention from an expert or if you simply need a quick spruce up, we are the people for the job!
We Offer Free Quotes - Call Us Now!