Carpet Cleaning Stratford
✓ We can tackle any stain or spot
✓ Experienced and professional technicians
✓ 24/7 availability for emergencies
✓ Affordable pricing options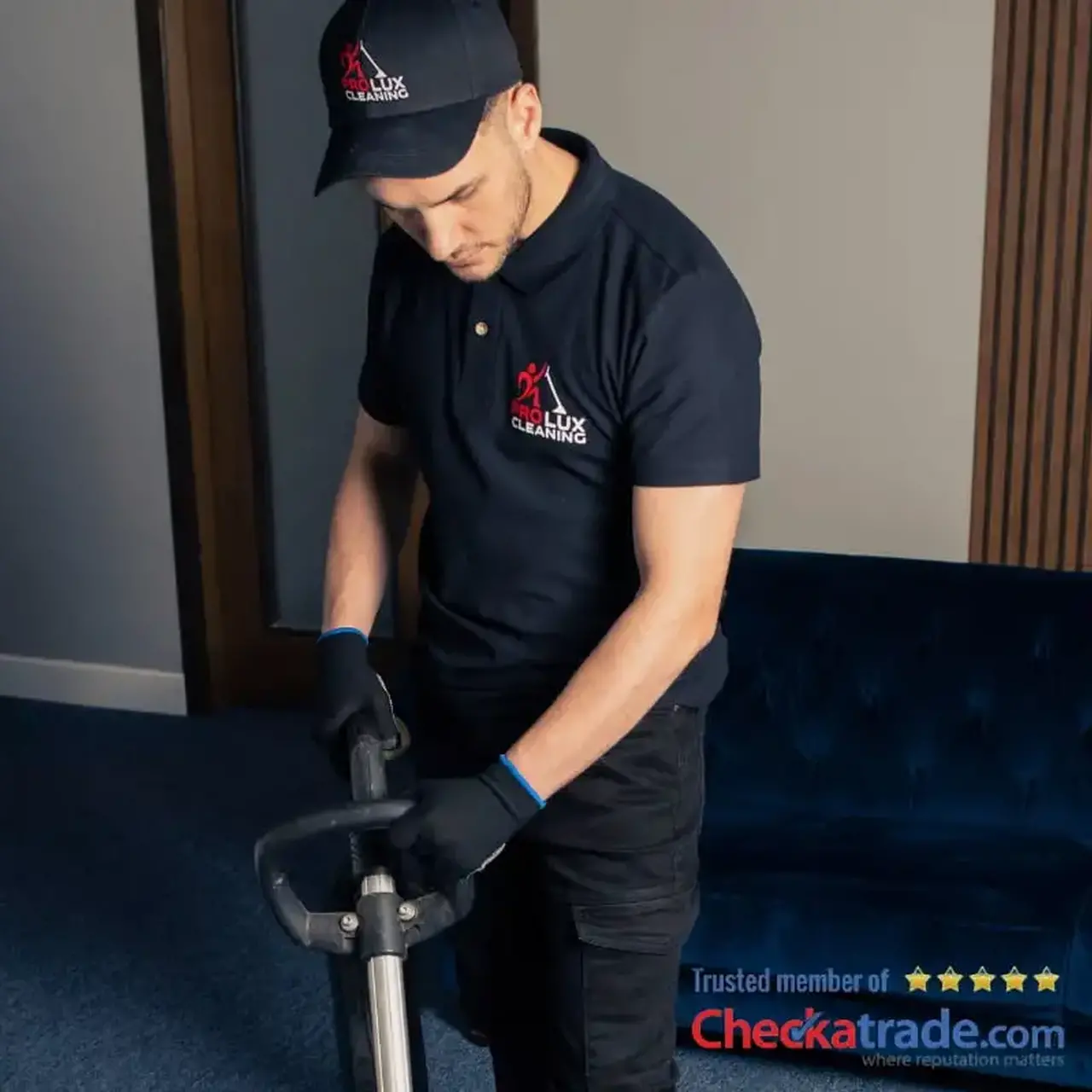 Are your carpets in need of deep cleaning?
ProLux carpet cleaning Stratford company will return your flooring's freshness and nice appearance. We offer high standard professional hot water extraction cleaning of all types of carpets and rugs. We will select the optimal means and methods after taking into account the material, type and condition. Our company employs professional carpet cleaners in Stratford E15, who are certified and highly-trained!
Professional carpet cleaning Stratford E15
Deep carpet and rug cleaning is a responsible task that should be entrusted only to professionals. All our employees have extensive experience and have been trained to clean artificial and natural carpet fibres. We guarantee you that deep cleaning of carpets will be carried out with minimal discomfort for your family.
Stratford based carpet cleaning company ProLux is ​​the preferred choice for a provider of deep carpet cleaning services in the area. After our deep cleaning process, we guarantee complete safety of the carpet for animals and children. The chemicals and gear we use are completely harmless to your family and carpets.
After a steam extraction cleaning service, the carpet returns to its original appearance. If it is made of natural fibres, they acquire a pleasant softness, and the dye becomes saturated. The fibres are protected, and carpet's life is considerably prolonged. Professional steam carpet cleaning is the right choice for home carpets and office cleaning of textile flooring.
Keep your home healthy and clean with ProLux cleaning services
Our carpet cleaning company uses the best chemicals and professional equipment to remove any stain from your carpets. After using our services once, you will become our customers for many years. All our loyal customers receive special prices for each carpet and upholstery cleaning service.
In addition, effectively cleaning the carpets and area rugs from bacteria, dust and dirt helps our clients maintain their health. This is possible thanks to the use of eco-friendly cleaning products and industrial equipment. The method itself is suitable for domestic and commercial cleaning services for all types of carpets.
NCCA Certified
Bring New Life to Your Carpets Today
Choose ProLux Cleaning for a carpet clean that goes beyond the basics. Our NCCA-certified technicians are masters in the hot water extraction process, ensuring your carpets receive a deep and thorough refresh. We know the ins and outs of treating synthetic, wool, and wool-mix carpets, tailoring our care to suit every fibre.
But we don't stop there – we're your stain conquerors. Whether it's red wine mishaps, stubborn curry splatters, or inky accidents, our skilled professionals have the knack for turning challenges into success stories. Trust ProLux Cleaning for a carpet cleaning experience that's not just effective but uniquely tailored to your carpets' needs.
Join us in bringing back the vibrancy to your carpets. Our NCCA certification isn't just a badge; it's your guarantee of a top-notch, hassle-free service that leaves your carpets looking and feeling fantastic.
Several reasons to order professional carpet cleaning services today:
Top Quality
We offer the most effective carpet cleaning technique, the hot water extraction method
The cleaning offers the highest chances of smell and stain removal
Insured, experienced and certified cleaning teams
Eco-Friendly Cleaning
Use of eco-friendly, harmless cleaning products in our services
Most efficient cleaning method in terms of disinfection
Free quotes
Available 7 days a week, including bank holidays
Free quotes offered over the phone or online
Mobile teams offer top standard carpet cleaning in all London areas
Same-day Stain Removal Services in Stratford
Whether you're a busy individual or a parent of messy children, you likely can't afford to wait weeks for your carpets to be cleaned. Stains and smells need to be tackled immediately or they will settle into the carpet, and become almost impossible to be removed later. Fortunately for you, ProLux has numerous technicians situated all across London and the vicinity, all ready to arrive at your doorstep within a blink and remove the stains at hand.
For our customers' convenience, we operate 24/7 - even on weekends with no extra fees. To book, you simply have to call our friendly customer support members!
From drab to fab
Steam carpet cleaning
Deep carpet steam cleaning, also known as hot water extraction, is highly recommended by carpet manufacturers. This technique clears the most difficult spots and dirt, and the carpet is disinfected at the same time. The steam cleaning equipment has been improved over time to ensure the best results in less time.
For best results, use ProLux carpet cleaning services in Stratford. We have the experienced and trained staff necessary in order to complete the work as soon as possible. After using our steam extraction cleaning services, there is around 2 to 4 hours of drying time. This may vary depending on the carpet's condition, the weather, and the room's airing out and heating.
For your convenience, we perform carpet, mattress and upholstery cleaning jobs 24/7. Our customer service personnel are happy to answer all questions you may have regarding the cleaning services of our company.
How much will it cost to get my carpets cleaned?
Carpet Cleaning Prices in Stratford



Regular price

Up to 10% OFF

Double bedroom

from

£35

from

£30

Living room

from

£40

from

£35

Staircase

from

£40

from

£35

Hallway

from

£20

from

£15
How is steam extraction performed?
1. Inspection
After arriving at the property, the professional carpet cleaner performs an inspection of the carpet. He then selects the most suitable steam machine water temperature and pressure settings, and the cleaning products to be used.
2. Pre-hoovering
The carpet is hoovered, with special attention given to the high traffic areas where people walk more.
3. Pre-treatment
Afterwards, it is pre treated with a chemical, allowing easier stain removal. This product takes a few minutes to dissolve the dirt and stains which it is sprinkled over.
4. Steam Cleaning
The steam extraction machine sprays the hot water and eco-friendly bacteria treatments and stain removers deeply inside the fibres. Approximately 80% of the water, together with all dirt and stain residues, is extracted from the fibres.
5. Stain Removal
Special care is given to persistent stains, with the aim of achieving the optimal condition possible.
6. Scotchgard
If the client chooses to include it, stain protection spray is applied, protecting the carpet from new stains and solar deformities. The product will create an invisible layer which makes new spillages much easier to remove. This applies both to conventional cleaning means, and to professional carpet cleaning techniques by cleaning experts.
7. Drying process
The carpet is deodorized with environmentally friendly smell treatment products, and left to dry for a couple of hours. The drying time can be shortened by opening windows and using the heating in the property.
8. Checkout
Upon completion of the task, our clients have the privilege to examine the outcome, following which they acknowledge it by signing a receipt.
Dry carpet cleaning
Dry cleaning of carpets in Stratford is a gentle way to provide carpet care for fibres unsuitable for wet cleaning. One of these carpet types is sisal, which professionals recommend to be dry-cleaned only.
Carpet cleaning near Stratford
We are a Stratford based carpet cleaning company with highly mobile teams of professional cleaners. We perform our professional services in all East London areas, including Hackney, Dalston, Wanstead, Walthamstow, Plaistow, Forest Gate, Poplar and more.
Contact Us on the Number Below for a Free Quotation:
Frequently Asked Questions
The recommended minimum by carpet cleaning associations is 1 to 2 times a year. It depends on the property's traffic and if there are factors like kids or pets that can cause more stains.
If the latter are present, consider having the carpets cleaned by professionals at least once per season. Neglecting this task will result in your carpet losing its original colours. Additionally, stain removal is significantly more difficult on older stains as opposed to recent ones.
Considering all possible factors, the average drying time for carpets after steam cleaning is 2 to 4 hours. The cleaning process depends on the weather, the condition of the carpet (stains, odours, dirt, traffic areas) before cleaning. Our equipment quickly removes most of the water during cleaning, reducing drying time to a minimum.
All that remains is a small amount, leaving your carpets slightly damp, as opposed to soaking wet. To speed things up, simply open the windows and use the heating in colder months. Fans or dehumidifiers will also assist you in shortening the process.