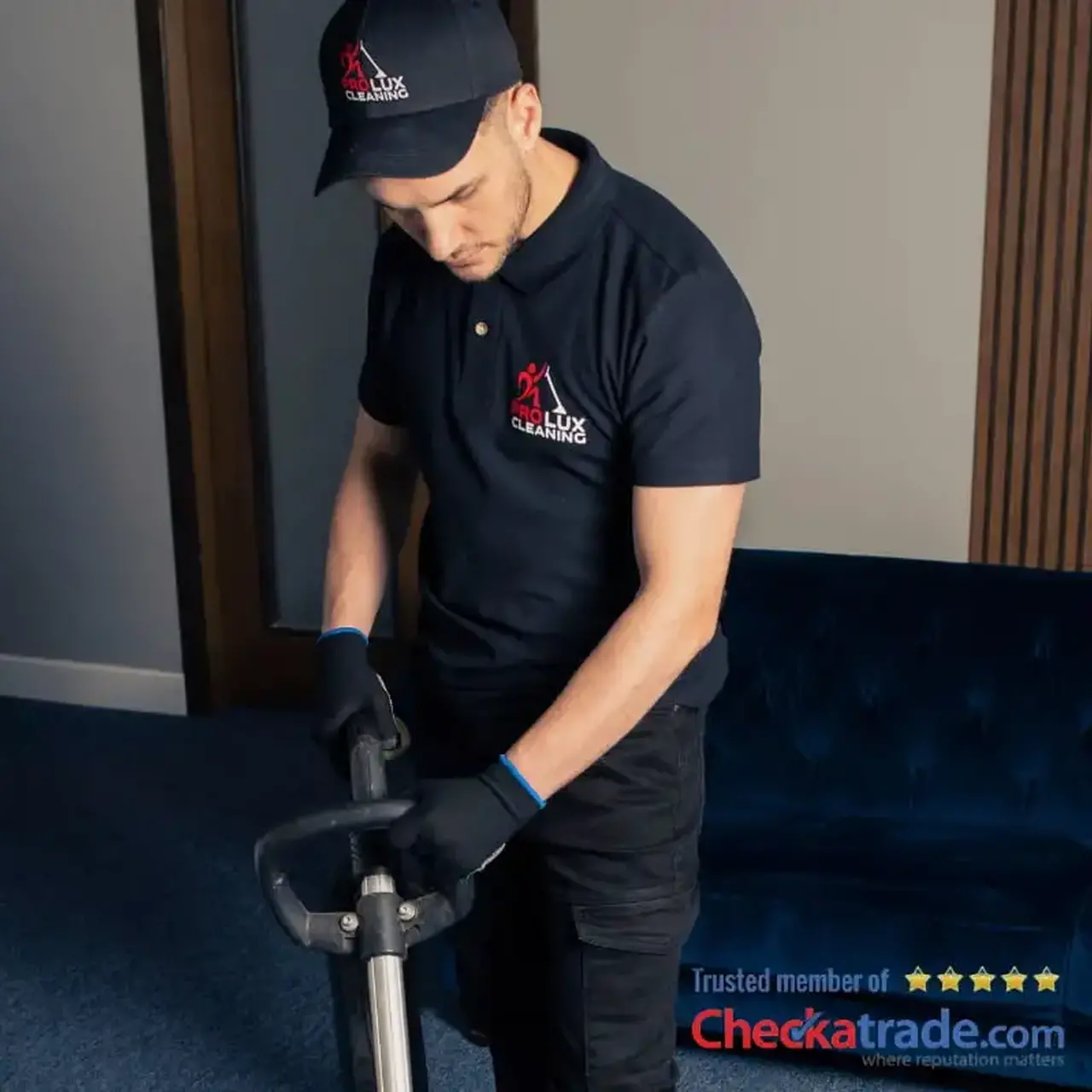 Expert hot water extraction carpet cleaning in Bow E3
ProLux is a well established professional carpet cleaning company based in Bow E3 with many years of experience. We provide the most efficient carpet cleaning method on the market, known as hot water extraction. By choosing us, your original carpet colours will be revived, old stains - removed, and any trace of bacteria - gone.
Guaranteed stain and odour removal with modern carpet cleaning technology
Our professional carpet cleaners are armed with the latest steam extraction machines and the highest quality eco friendly cleaning solutions. These professionals means allow us to successfully deal with all types of stains and smells on carpets and upholstery.
24/7 Availability in Bow - No extra fees on weekends or holidays
ProLux takes no days off, as we work every day, including weekends and Bank Holidays, with no extra fees. Our customer services assistants are trained and prepared to answer any of your cleaning related questions. To receive your free quote for your first professional cleaning service in Bow, simply get in touch with us today.
Top-rated cleaning team
Book the highest rated commercial and domestic cleaning services available in Bow and the surrounding areas.
Affordable Prices
Take advantage of professional grade cleaning at the most affordable price.
Guaranteed Results
Your complete satisfaction is our mission, and we proudly stand behind our work. We pay speciall attention to detail, ensuring the best results are always achieved.
Take a look at our spotless results!
Get quality carpet cleaning at reasonable prices
Carpets may cost a fortune to put in, but their maintenance doesn't have to cost an arm and a leg. We offer our clients the highest quality of carpet cleaning at prices fit for any budget. Unlike other companies, our costs for cleaning include all labour and cleaning products we will apply. We also never apply additional fees for appointments booked on weekends or bank holidays.
Deep cleaning carpets in Bow E3: ProLux's strict procedure for achieving pristine results
ProLux is one of the many professional cleaning companies in Bow E3 who provide steam carpet cleaning services. What makes us the local's first choice is our transparency, affordable prices and consistent high-quality results. In order to always achieve customer satisfaction, however, all ProLux cleaners must follow a strict set of procedures:
Carpet inspection
Firstly, our carpet cleaning expert will examine the state of your carpet and determine its type. This is necessary in order to select the most appropriate cleaning equipment settings. All our machines can be regulated in terms of water pressure, temperature and total water amount.
Pre-treatment and stain removal
Next, the carpet will be hoovered to remove the surface dirt, dust and debris. We will then apply an eco-friendly pre-spray product which enables better results in terms of stain removal.
The pre treated carpets will now be deep cleaned by our company representative. Hot water, under very high pressure, is sprayed deeply inside, in between the carpet fibres. Due to the sheer power of our cleaning machines, all remaining dirt particles will be dissolved and extracted. The carpet will be left disinfected, stain-free and in its best possible condition.
Prevent stains before they happen with Stain Protection
Assuming Stain Protection has been included in the customer's booking, it will now be applied all over the carpets' surface. This harmless eco-friendly product is a great way to preserve the pristine condition of your carpeted flooring. Future stains will be easier to deal with, the carpet fibres will be strengthened, and the over service life of the carpet - prolonged.
Drying tips from our experts
The final step of the steam cleaning process is to simply let the carpet dry out naturally. You do that by ventilating or by heating up the rooms where the cleaning took place. The approximate drying time is about 2-4 hours, depending on the initial carpet condition and the humidity percentage in the air.
Why choose ProLux Cleaning company?
We offer high quality steam cleaning services at competitive prices
We are specialists in smell and stain removal services
We make use of the latest steam cleaning equipment on the market
Our cleaning solutions are eco friendly and harmless to people, babies and pets
We successfully remove allergens (dust, pet hair) from your carpets and rugs
We work every single day, with no extra fees on weekends or Bank Holidays
ProLux also provides with professional mattress and upholstery cleaning services in Bow and the surrounding areas. By booking in a combined cleaning service, we'd be more than happy to grant you with special discount. Our friendly customer service team is always available to take your call and assist with your steam cleaning request!
Connect with Our Certified Local Specialists in Bow
Number of cleans: 3789
Working with us for: 4 years
Expert in:
Stain Removal
Upholstery Cleaning
Carpet Cleaning
Rug Cleaning
Recent customer feedback
"Tisho is a true professional! He swiftly removed paint from my living room carpet, even on short notice. Impressive service."
Ava - Bow
Number of cleans: 4682
Working with us for: 7 years
Expert in:
Stain Removal
Upholstery Cleaning
Carpet Cleaning
Rug Cleaning
Recent customer feedback
"Petko from Prolux Cleaning is incredible! He skillfully removed juice stains, even those I tried to treat myself with Vanish. Remarkable results!"
Benjamin -
Number of cleans: 2840
Working with us for: 4 years
Expert in:
Stain Removal
Upholstery Cleaning
Carpet Cleaning
Rug Cleaning
Recent customer feedback
"Nicola from Prolux Cleaning is a miracle worker! The communal staircase's heavy traffic areas, untouched for 12 years, now look unbelievably clean. Impressed the neighbors!"
Billy -
Professional Cleaning Services in Bow
Tenancy Cleaning Bow E3
Office Cleaning Bow E3
Upholstery Cleaning Bow E3
Rug Cleaning Bow E3
Contact Us on the Number Below for a Free Quotation: