✓ Specialized equipment for thorough cleaning
✓ Fast and efficient cleaning process
✓ Experienced and reliable cleaning professionals
✓ 100% customer satisfaction guaranteed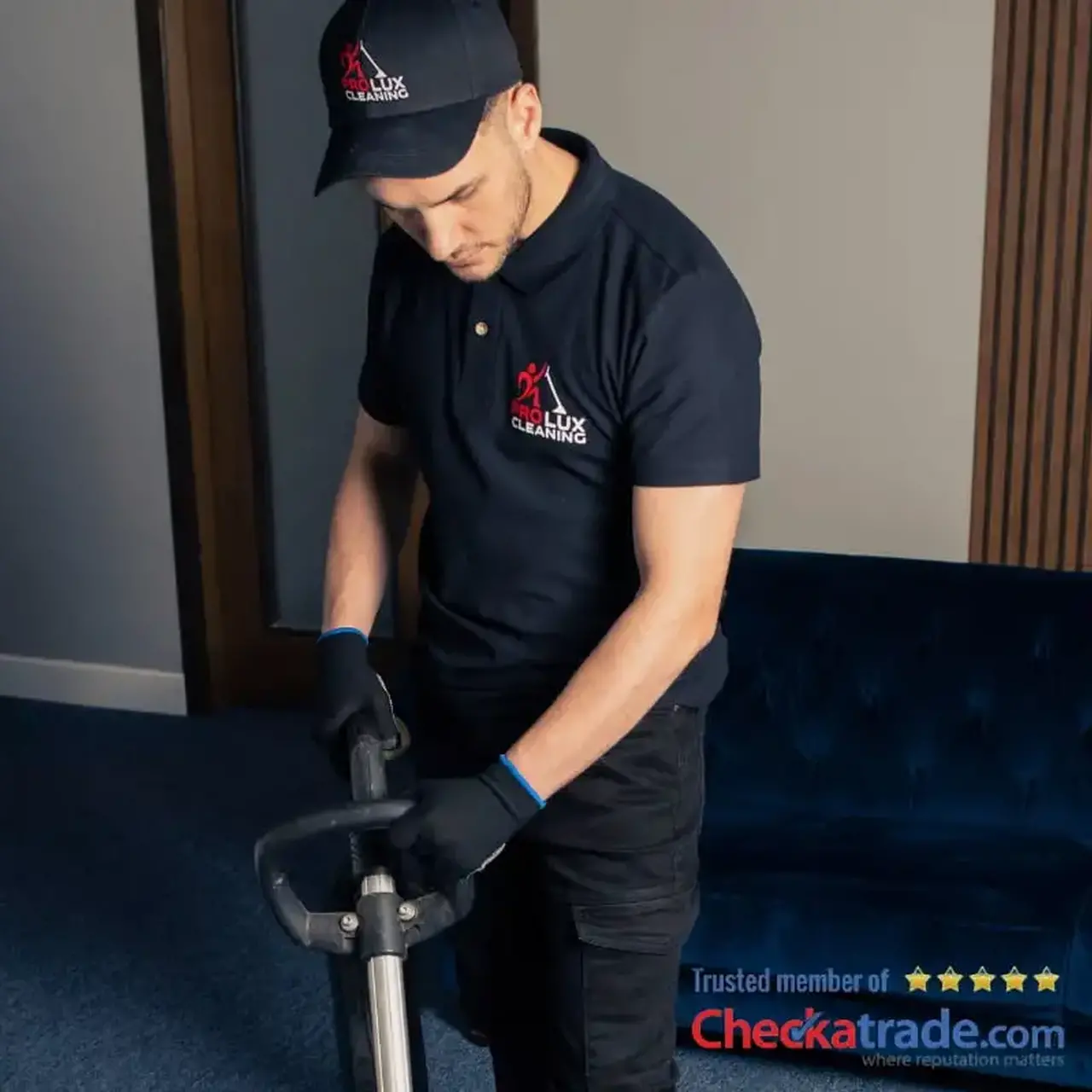 Looking for professional carpet cleaners in Streatham?
Professional carpet cleaning Streatham services is what carpet cleaning company ProLux has been offering since 2004. We will perform a steam extraction cleaning service - and the result will exceed your expectations. In our work, we use professional steam machines and eco-friendly, harmless cleaning products. Our clients always find in us a solution to any of their problems associated with deep carpet cleaning.
Here are six arguments to choose professional carpet cleaning:
All our professional employees have certificates, insurance, special training and regularly attend new courses
Our carpet cleaning specialists have more than 15 years of experience in the cleaning industry
All products used are eco-friendly and harmless to people and pets
High pressure industrial steam carpet cleaning machines
Hot water extraction cleaning is the number 1 carpet stain removal method
Possibility to include stain protection spray for the carpet
Steam carpet cleaning Streatham
The steam extraction method is the most preferred deep cleaning technique for carpets and rugs. With the proper training of our expert carpet cleaners, the machines are effectively used for mattress and upholstery cleaning. ProLux technicians have attended many specialized courses in order to deliver this method to the very highest cleaning industry standards.
Our professional steam extraction machines spray heated water deeply inside the carpet fibres. Afterwards, the extraction property removes up to 90% of the total amount of water used. This has the added benefit of removing stain and chemical residues. The final result is the clean carpets getting their original look after drying (which takes only a couple of hours).
Keep in mind that ProLux professional carpet cleaners work only with eco-friendly cleaning products. Our cleaning solutions are made by Prochem, and are certified harmless for people's health and for the environment. All of our chemicals are safe for use in the presence of children, pets and allergic people.
Here is a brief explanation of our steam extraction carpet cleaning method:
1. Inspection
Our professional carpet cleaning technician attends the property and performs an inspection of the carpeted areas. He will assess the situation before choosing the most suitable way to clean them.
2. Pre-hoovering
Before any treatment, the carpet is hoovered with a powerful vacuum cleaner by our technician. It is a vital step of the cleaning process, as it enables use of the steam cleaning machine.
3. Pre-treatment
The next step is the application of a special stain solvent pre-treatment product. Special attention is given to high traffic areas of your carpet (e.g. hallways/stairs).
4. Steam Cleaning
The machine is set to the most suitable settings of water pressure and temperature, and starts heating up the water.The steam extraction machine begins inserting the heated water into the fibres, separating dirt from the carpet pile in-depth.
5. Stain Removal
To achieve the best possible condition, extra attention is given to persistent stains.
6. Scotchgard
If included by the customer, after-care stain protection spray is applied to the carpet by our cleaner. The stain protector forms an invisible layer on the surface, which helps professionals achieve better results from the next cleaning service. Its other role is strengthening the fibres against future stains and deformities from sunlight.
7. Drying process
Excess moisture is extracted along with the stain remnants and other dirt. The carpets have a short drying time, which can be shortened further with airing and heating.
8. Checkout
Upon completion of the task, our clients are granted the right to review the results and acknowledge them by signing a receipt.
Professional steam extraction cleaning by a family run company
As a cleaning company, we started out years ago as specialists in carpet and rug cleaning services in Streatham SW16. But over the years, our experienced carpet cleaners have been further trained to expand their skill set. Today, our clients can take advantage of top quality carpet, sofa, mattress and car upholstery services at prices fit for any budget!
If you have any questions, or wish to schedule an appointment, don't hesitate to get in touch. Our polite and friendly customer service team would be happy to explain more about the variety of cleaning services we provide. Call us today or any time convenient for you, we are always open and ready to assist.
Get a special price: Book a combined service for mattresses, curtains, and upholstery
Among others, we perform professional deep cleaning of mattresses, curtains, upholstery and car upholstery. All of these are available any day of the week, even on bank holidays, with no added fees. It is advisory to book a combined service, as it will net you a special price.
The services we offer are always done with an industrial steam extraction machine and eco-friendly products. Our company's professional cleaners are capable of restoring the original look of your favourite sofas and disinfecting your mattresses. Deep steam extraction cleaning is also the best method of cleaning your car's upholstery. Our car upholstery and other services are mobile, call us today and let us give your vehicle interior a showroom look.
Dry carpet cleaning
Professional cleaning companies and expert carpet manufacturers recommend dry cleaning for owners of sisal carpet. The simple reason is that this type of carpet fibres are not suited for wet cleaning.
Carpet cleaning near Streatham
ProLux is a carpet cleaning company local to Streatham SW16, providing rug cleaning and carpet cleaning services 24/7. We also cover the rest of South London, including areas such as Croydon, Brixton, Clapham, Wandsworth, Wimbledon and more. You can always contact our customer service centres to receive a free quote for carpet cleaning in London.
Contact Us on the Number Below for a Free Quotation:
Frequently Asked Questions
Our technicians have many years of experience in removing stains of any kind. They also have the latest generation of equipment and top quality cleaning solutions at their disposal. Our team is ready to handle even the toughest stains such as red wine, ink, bodily fluids, paint, and greasy food.
Yes, we can use Stain Protection, a special spray, on your carpet after it's cleaned. This spray makes an invisible layer on the fibers, helping them resist new spills. If any spills do happen, they'll be easier for you or our professionals to remove. The spray reacts to spills, making them stay on the surface longer and not soak in as deeply.
If you want a free quote for Stain Protection, just call us or mention it online when you send an inquiry.