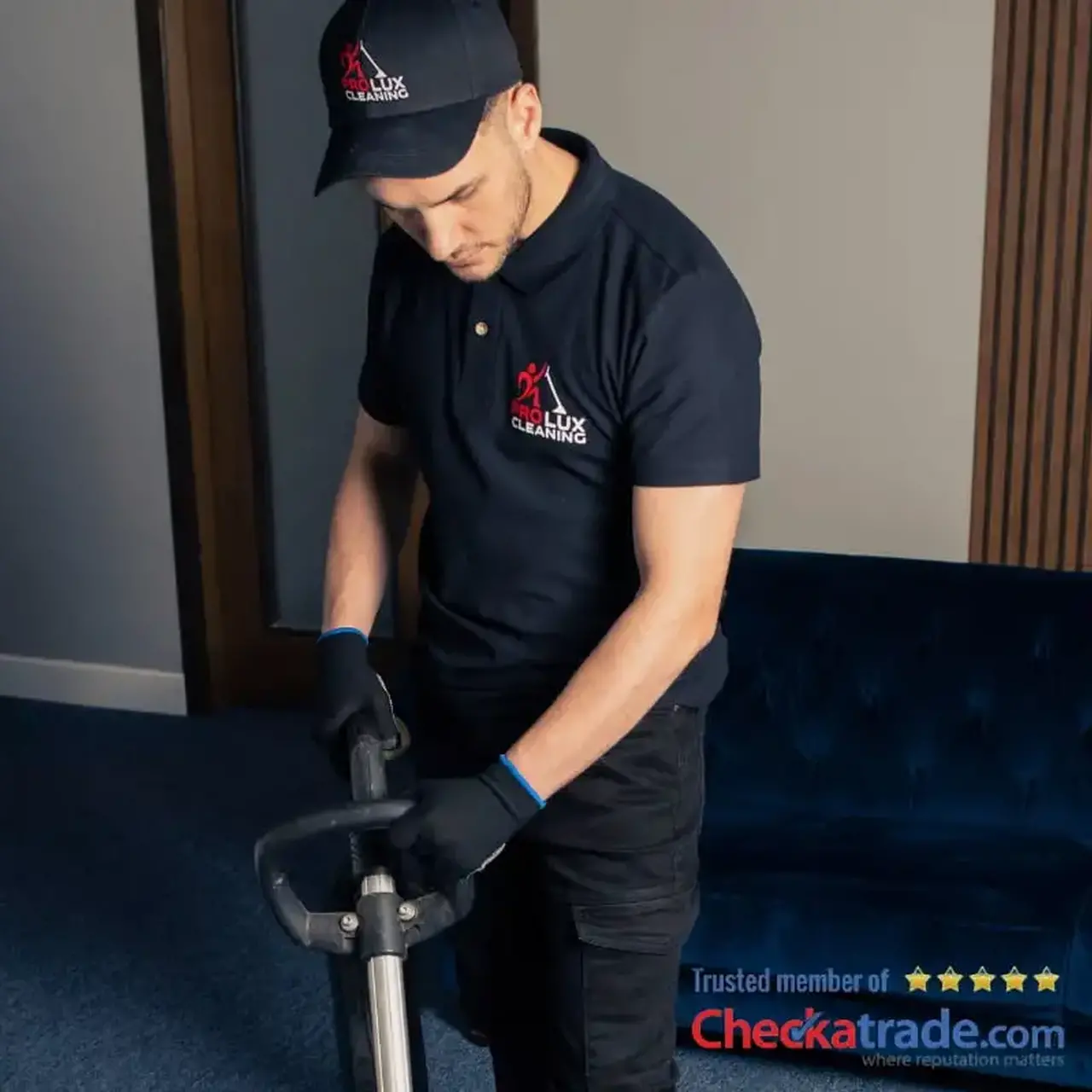 Looking for professional carpet cleaners?
ProLux is an experienced professional carpet cleaning company based in Mitcham CR4. Our main method of cleaning carpets and rugs is hot water extraction. It's performed using industrial grade carpet cleaning equipment and high quality eco-friendly cleaning products. Dirty carpets and stubborn stains are no problem for our experienced carpet cleaning technicians!
Why choose ProLux?
The most experienced carpet cleaners in the Mitcham area
Use of modern steam cleaning equipment
100% eco-friendly services
Highly competitive prices
5-star customer service team
Trusted Carpet and Upholstery Cleaning Experts in Mitcham and Beyond
Over the years, we have partnered up with many local business owners, and have been to numerous residential properties. Our cleaners have dealt with stains of all ages and origins (milk, tea, coffee and even red wine). We are the carpet and upholstery cleaning experts you have been looking for!
ProLux has great coverage of other areas as well: Wimbledon, Earlsfield, Balham, Clapham, Sutton, Dulwich, Crystal Palace, Streatham, Colliers Wood, Crystal Palace and more. Regardless of where in South London you are situated, there's always a professional cleaner nearby.
To receive a quote is very easy and quick - our customer service team is available 24/7 and is trained to answer any of your questions. Furthermore, we provide with special prices for those willing to book a combined service, for example: carpet and upholstery cleaning. Get in touch with us today, and book your first deep steam cleaning service in Mitcham.
How is steam cleaning in Mitcham performed?
Inspection and hoovering
Our representative will firstly examine the condition of your carpet and locate the stains and marks. He will assess the carpet type, and select the most suitable water temperature and pressure settings.
The surface dirt and debris will be removed with an industrial hoover. If any crumbs and dust do remain, they will later be dissolved and extracted by our steam machine.
Pre-treatment and hot water extraction
Next is the application of an eco-friendly spray onto the carpet, which enables optimal stain removal results. It usually takes around 5-10 minutes for it to take its full effect. During this time, the carpet cleaning machine will be loaded with water.
As soon as the water reaches suitable for the respective carpet temperature, it will be sprayed deeply inside under high pressure. As this is happening, powerful extractors are removing most of the moisture into the machine's dirty tank.
Stain Protection and carpet drying
Assuming it's requested, our carpet cleaner will now apply Stain Protection spray onto the carpet's surface. This eco-friendly layer of coating is an excellent way to preserve the pristine condition of your
On average, carpets need about 2-4 hours to completely dry out. Ventilate well or turn on the heating for the time being, in order to speed things up.
It's recommended to have your carpets deeply cleaned every once in a while. The suggested frequency is about 2 times a year, or 3-4 if you have pets or children at home. Steam cleaning keeps your carpet colours fresh and stain-free, and gets rid of allergens (dust, mould, etc.).
Dry carpet cleaning
Dry cleaning is an alternative carpet cleaning method to hot water extraction cleaning. It's most suitable for some natural fibre floor coverings, for example sisal. The major advantage to this cleaning method is the ability to use the carpet straight after the cleaning process
Frequently Asked Questions
As a cleaning company with more than 10 years of experience, we have tackled all kinds of stains and issues on various kinds of fabric materials. Still, some stains are very stubborn, and a guarantee of removal would be unprofessional to give. However, the likelihood of us removing the stains is the highest possible one. Assuming the stain hasn't already permanently settled, using our services would be your best shot at removing it!
In most cases, we are able to react and send a fully trained and insured technician to you. Since accidents don't happen just on Monday to Friday, we also work on weekends and bank holidays with no added fees. Get in touch with us as soon as you have an emergency (e.g. bodily fluid or paint stain, pipe leak) and we will handle it as soon as humanly possible!
Contact Us on the Number Below for a Free Quotation: