Carpet Cleaning Teddington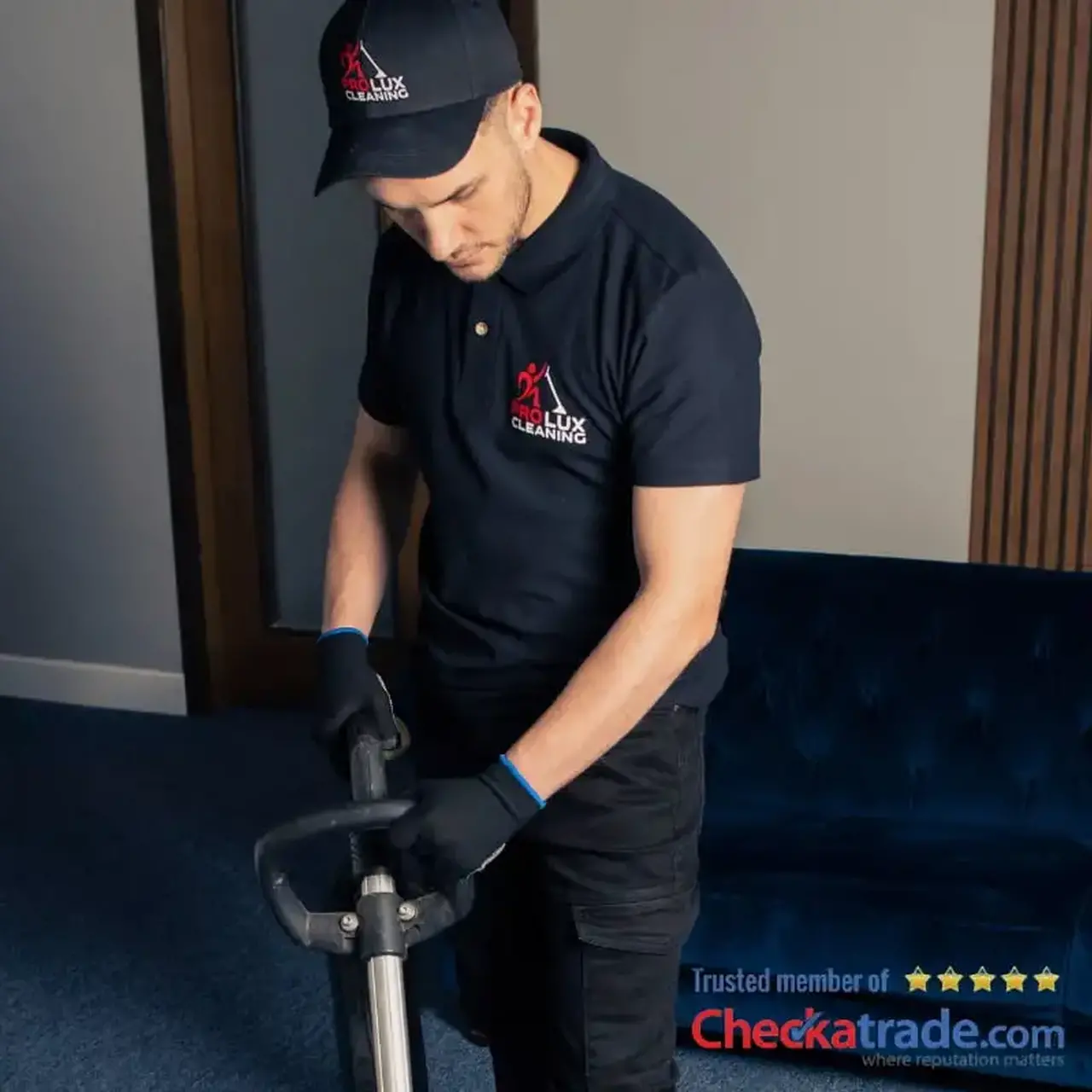 Looking for expert carpet cleaners?
ProLux is a Teddington TW11 based professional carpet cleaning company founded in 2006. Our main method of cleaning carpets and rugs is hot water extraction. It's performed using industrial grade cleaning equipment and safe eco-friendly cleaning products. Through these tools, we consistently achieve the expectations of even the most demanding customers.
All ProLux carpet cleaning technicians have a good understanding of types of carpets, and a sharp skill set. On a daily basis, we successfully deal with numerous issues over carpets: stubborn stains, traffic areas, dirt and grime. Our smell and stain removal products, combined with our steam machines, can restore your carpets' original look.
Why choose professional carpet cleaning services?
The highest chances of stain removal
We get rid of all traces of germs and bacteria
Available for same-day emergency cleaning
5-star customer service team
All our carpet cleaners in Teddington are fully insured and certified
Children-friendly and pet-friendly cleaning solutions
Reputable Company
Exceeding Expectations, Building Trust
Quick and Easy Booking
Swift and Simple Reservations, Every Time
Customer Satisfaction Oriented
Your Satisfaction, Our Mission
99% Stain Removal
Embrace the Power of Steam
The top benefits of our steam cleaning services
Everyone can agree, deep cleaning your carpets significantly improves the overall look of your home. It also allows for toddlers and pets to have a safe place to play on. As it's widely known, carpets and rugs are also the biggest dust collectors in our homes. By steam cleaning them, you also better the air quality and lessen the risk of dust allergies.
If you're at the point where you don't even recognize your carpet from the built-up dirt and stains, it's time to consider calling in professionals. ProLux carpet cleaning services in Teddington can revive the long-gone look of your carpeted flooring at an affordable cost. Professional steam carpet cleaning is also time efficient, generally lasting 1 to 2 hours, depending on the property. Moreover, we extract most of the water sprayed in, allowing for a quick drying process of just a couple of hours.
Steam carpet cleaning Teddington
Professional carpet and rug cleaning should be done twice a year, and even more often if you have pets or children. Not only will your carpet look better after it's cleaned, but its service life will also be prolonged. Take advantage of expert carpet care in Teddington by contacting ProLux today.
For your convenience, we also cover the rest of South London, and work 7 days a week. You can always call us if you need carpet cleaning in Kingston upon Thames, Twickenham, Sutton, Surbiton, Chessington, Hampton, Esher, New Malden, Isleworth and more.
How does the hot water extraction cleaning method work?
1. Inspection
We firstly inspect the carpet, we determine its type and we locate the issues over it. Based on what we find out, the most suitable water pressure and temperature settings are selected.
2. Pre-hoovering
The carpet is then hoovered and the layer of dirt and dust is extracted.
3. Pre-treatment
We will then apply an eco-friendly pre-treatment spray, focusing mostly on the stains and marks. Once the spray fully reacts with the carpet's surface, the steam cleaning process begins.
4. Steam Cleaning
Hot water, under high pressure, is sprayed deeply inside, dissolving the grease stuck in between the carpet fibres. Simultaneously, the machine also extracts about 90% of the moisture into its dirty tank (our equipment has a dual tank system).
5. Stain Removal
Any remaining stains and dirt marks are further treated, with additional special cleaning products.
6. Scotchgard
Stain Protection, assuming it's requested, is now applied to the carpet surface. The invisible layer of spray helps the customer to easily maintain the good condition of the freshly cleaned carpet.
7. Drying process
With good ventilation, drying takes no more than 1 to 3 hours. It depends on the initial carpet condition and the humidity percentage in the air. During colder seasons, feel free to turn on the heating to speed things up.
8. Checkout
Upon completion, a receipt is signed by our clients following their inspection of the results.
Frequently Asked Questions
Our technicians live throughout the city and its outskirts, and are fully mobile, meaning we are local to everyone in London. Rest assured that there is always a technician near you, ready to clean your carpets, sofas or mattresses at a moment's notice.
Contact Us on the Number Below for a Free Quotation:
Our Reviews in Teddington