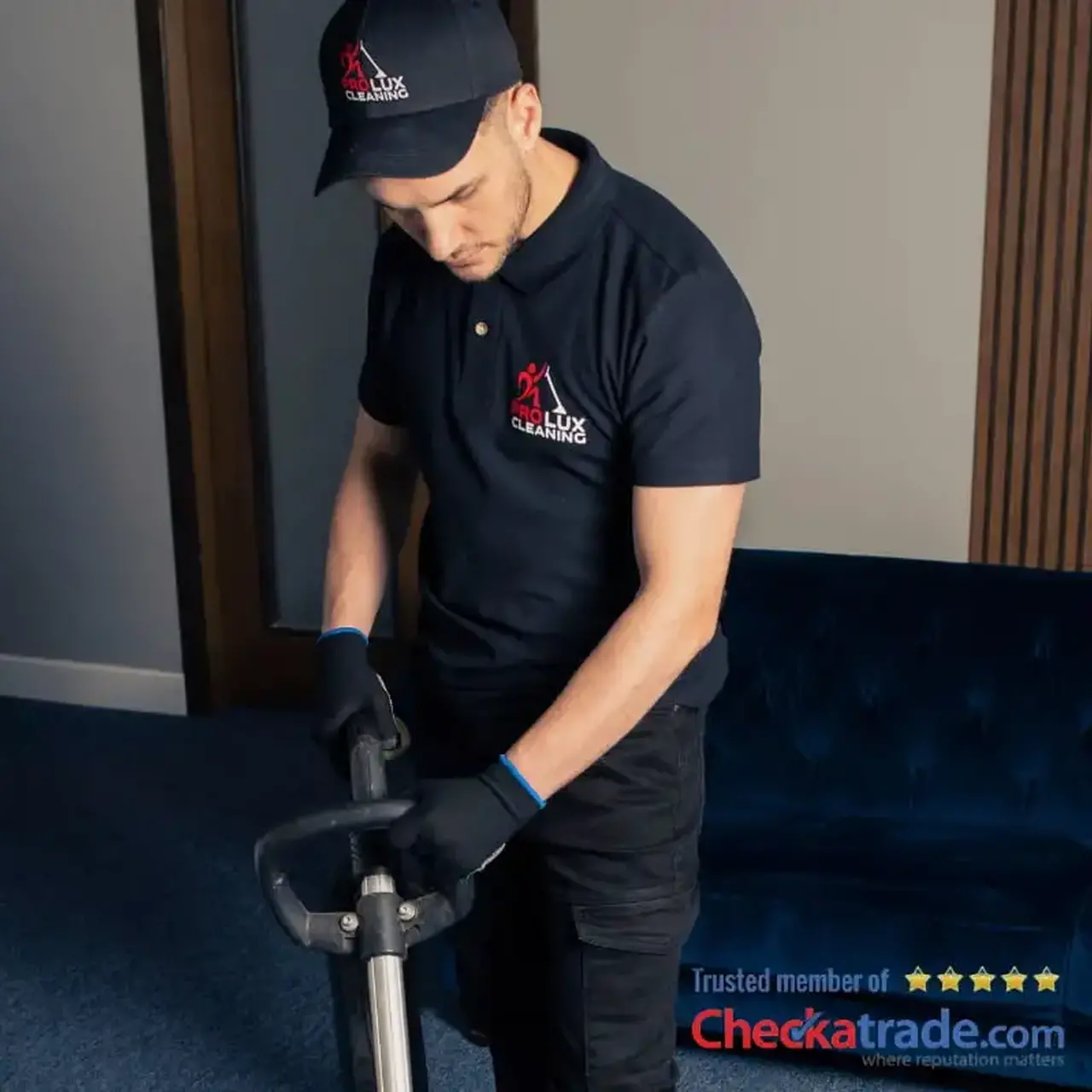 Searching for expert carpet cleaners in Bayswater?
Choosing the right carpet cleaning Bayswater W2 company is very important to preserve your carpeted flooring. ProLux fully trained professional carpet technicians will inspect the matter and condition of your carpet before cleaning it. Steam cleaning of carpets and rugs is done with a professional hot water extraction machine that removes stubborn stains in-depth. Our machines are equipped with a special vacuum and nozzle, spraying water and cleaning solutions that dissolve dirt.
Restore your carpet's beauty with our steam cleaning technique
With this method, we are able to remove stains, dust, germs, and all other carpet dirt. Our way of cleaning is to pre-treat the fabric with a special detergent to relieve the dust build-up. After steam cleaning, the carpet remains slightly damp and dries within 2 to 4 hours under normal conditions. The end result of our deep cleaning is that the carpet's original colours are revived.
Expertise and experience: Why book professional carpet cleaners?
Fully certified, insured and experienced carpet cleaners
Eco-friendly and harmless cleaning products, safe for children and pets
The highest calibre hot water extraction carpet cleaning machines
Number 1 stain removal method
Available 7 days a week, including bank holidays
Certified stain removal experts
There are many factors, which come into play when speaking about stain removal. As a regular homeowner or a business person, however, you simply can't be aware of all of them, and you don't really need to be. ProLux technicians apply modern stain removal techniques using harmless eco-friendly cleaning products of the highest quality. We are highly experienced, having cleaned thousands of residential and commercial carpets over the past decade and counting.
Some of the stains which we deal with on a daily basis are: tea, coffee, red wine, juice spillages and food marks. No job is too complicated or too small for us. If you also want to witness expert stain removal first hand, contact our 5-star customer service team today!
From food to makeup spills: Our professional carpet cleaning service can handle it all
For over 12 years, our professional carpet cleaners have been expanding their skills and attending courses to improve their cleaning abilities. Their experience with the powerful steam extraction cleaning method allows them to remove stains of any origin from carpets and upholstery. The food, drinks and makeup spillages on your carpet cannot stand against our professional carpet cleaning service!
We use only environmentally friendly, non-toxic professional cleaning products that are 100% safe. Experts recommend using professional cleaning at least once every 6 months, with higher frequency if you have pets. Regular deep cleaning is required in order to maintain the appearance and hygiene of your carpet.
London's trusted hot water extraction carpet cleaning company
Our company performs hot water extraction cleaning services in London for domestic and commercial customers. All types of carpet, whether artificial or natural, can be cleaned by our experts. Take advantage of our years of professional expertise by contacting us on 020 3318 6387.
Check out our impressive spot removal results!
Why is steam carpet cleaning necessary?
With steam extraction carpet cleaning, the machine heats up the water to the suitable temperature. Afterwards, our professional cleaning technician starts spraying it directly into the carpet and then extracts it back. At the same time, the steam helps the stubborn dirt separate itself from the fibres.
Additionally, germs, dust mites, and mould spores do not survive the steam extraction cleaning process, and the carpet becomes spotless. The steam cleaning method is the only effective way to remove stains and heavy dirt from your carpet fibres. Therefore, it makes sense to order high-quality carpet and upholstery cleaning frequently. ProLux cleaning company in Bayswater W2 is always available to assist you in all your cleaning needs.
What follows is a brief explanation of our steam extraction carpet cleaning service:
One of our carpet cleaning professionals attends your residential or commercial property in the given date and time. His first cleaning task is to inspect the carpet and determine its composition, and the most suitable way to clean it.
Next, the fabric flooring is hoovered by our representative with a powerful vacuum cleaner. The goal is to enable use of the steam machine by removing dust and surface debris.
Afterwards, the carpet is pre-sprayed with a special stain solvent, which is left to sit for a few minutes. It thins and dissolves the stains, and thus enables easier stain removal during the steam cleaning session.
The steam extraction cleaning machine sprays the hot water and eco-friendly stain remover products into the fibres. This reaches the sources of unpleasant odours and the deepest level of dirt, making them easier to remove.
Bacteria treatments are also applied to fully sanitise the carpet and remove any allergens present.
Around 90% of the water is extracted by the steam machine, taking any dirt and stain residues with it. This greatly shortens the drying time after the cleaning, which can be handled via ventilation and heating.
If chosen by the customer, the carpet is sprayed with an after-care stain protection layer. This product has the effect of making new stains easier to remove by the client and by professionals alike. It also prevents deformities from sunlight, and lasts for around a year, depending on carpet usage.
Carpet cleaning near Bayswater
ProLux is a local carpet cleaning company in Bayswater W2, available 7 days a week. Our carpet specialists perform carpet and rug cleaning services in the area 24/7. However, we have highly mobile cleaning teams, which enables us to perfectly cover West London. You can order our professional deep carpet cleaning in areas like Kensington, Paddington, Maida Vale, Belgravia, Mayfair and more.
Dry carpet cleaning
Another one of the carpet cleaning methods available on the market is dry cleaning. Deep rubbing of a cleaning solution into the fibres is a major part of the dry carpet cleaning process. Dry cleaning is highly recommended for owners of sisal carpets, as they cannot be cleaned with a water-based cleaning method.
Tenancy cleaning
If you are about to move in or out of a property, you need emergency carpet cleaning services. Some letting agencies or landlords require the carpets to be professionally cleaned upon departure as part of their contracts. Our cleaners in Bayswater W2 are here to assist you, as you can order same day carpet cleaning.
Our Top-Rated Local Specialists in Bayswater
Number of cleans: 3120
Working with us for: 3 years
Expert in:
Stain Removal
Upholstery Cleaning
Carpet Cleaning
Rug Cleaning
Recent customer feedback
"Ibrahim transformed my home's staircase, eliminating dust and revitalizing the high-traffic areas. Impressive work! Already referred to a friend."
William - Bayswater
Number of cleans: 3789
Working with us for: 4 years
Expert in:
Stain Removal
Upholstery Cleaning
Carpet Cleaning
Rug Cleaning
Recent customer feedback
"Tisho is a true professional! He swiftly removed paint from my living room carpet, even on short notice. Impressive service."
Ava -
Number of cleans: 4682
Working with us for: 7 years
Expert in:
Stain Removal
Upholstery Cleaning
Carpet Cleaning
Rug Cleaning
Recent customer feedback
"Petko from Prolux Cleaning is incredible! He skillfully removed juice stains, even those I tried to treat myself with Vanish. Remarkable results!"
Benjamin -
Contact Us on the Number Below for a Free Quotation: