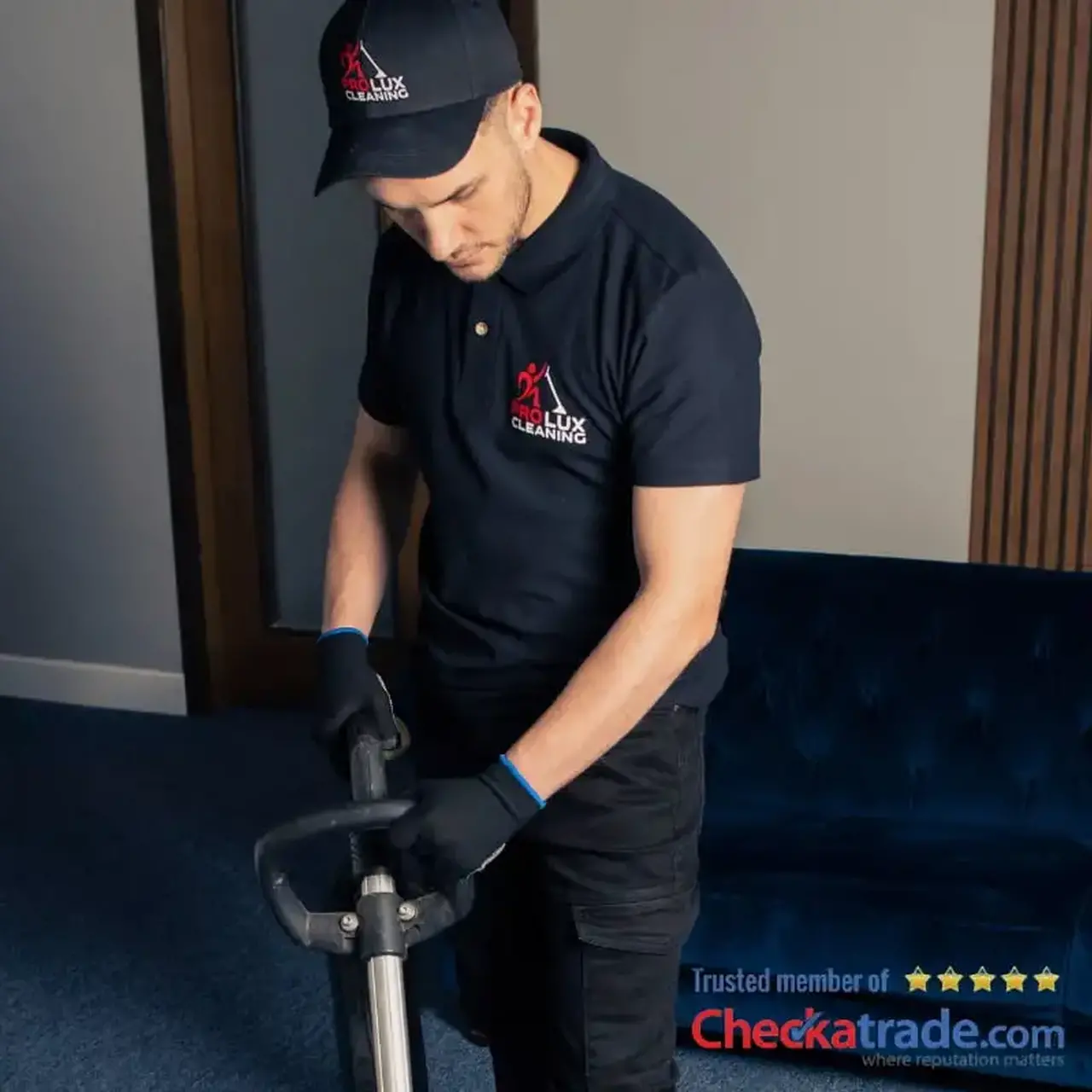 Are your carpets in need of some professional care?
ProLux is a carpet cleaning Kingston upon Thames company, with many years of experience in the cleaning industry. We offer hot water extraction cleaning services suitable for all types of carpets and soft furnishing. ProLux is guarantee for 100% customer satisfaction, and the answer to all of your carpet cleaning needs!
Our cleaning technicians are well trained, fully insured and certified professionals. They have a minimum of four years of experience cleaning professionally carpets and rugs. No stains, smells or marks stand a chance against our domestic and commercial cleaning services.
We make use of ProChem brand eco-friendly cleaning products. They're completely harmless to adults, babies and pets, and the environment. These cleaning solutions are certified to be 100% safe for use in all carpet cleaning services.
Why choose a professional carpet cleaning company:
Top Quality
Certified, insured and expertly trained veterans of the industry
Guaranteed to achieve the best possible cleaning results
Eco-Friendly Cleaning
100% guarantee of stain removal for all physically removable stains
Eco-friendly deep steam cleaning for all types of carpets and rugs
Open 24/7
Flexible working hours - we are open 24/7 every day of the year
Professional carpet cleaning services in Kingston
ProLux is a Kingston based professional carpet cleaning company offering cleaning services in London. Our cleaners perform the best carpet cleaning method, known as deep steam cleaning. Our technicians are experts in the hot water extraction method, suitable for all types of carpets - natural and synthetic.
All ProLux cleaners are certified and insured experts in steam cleaning services, capable of achieving optimal stain removal results. During the course of a year, they go through special training programs to improve their skill set. Before attending their first job, they accompany veteran ProLux cleaners to get a first-hand experience of the steam cleaning process.
How much will it cost to get my carpets cleaned?
Carpet Cleaning Prices in Kingston



Regular price

Up to 10% OFF

Double bedroom

from

£35

from

£30

Living room

from

£40

from

£35

Staircase

from

£40

from

£35

Hallway

from

£20

from

£15
Advanced hot water extraction equipment for deep carpet cleaning
We use the latest hot water extraction carpet cleaning equipment available on the market. These steam cleaning machines are suitable for both carpet and upholstery cleaning, as well as mattress and curtain cleaning. They have many power and pressure settings, and are able to clean all types of materials.
ProLux works with the most established manufacturer of professional cleaning products in the industry - ProChem. Their cleaning solutions are eco-friendly and harmless to adults, children and pets. They are even safe for people with allergic reactions, pregnant women and newborn babies.
Why you can trust our specialists?
You may think carpet cleaning is something you can do by hiring a machine, but that's not true. You need experience, training and knowledge, but life is too short to obtain them - so just call us instead. Our certified and insured experts know how to restore your carpets to brand-new condition in no time at all!
If you have problems with your carpet fibres, our technicians offer their solution at prices affordable to any budget. Should you have natural carpets, we will clean them delicately and leave them in their best possible condition. ProLux is a WoolSafe certified company, and your carpets were never in better hands than ours.
Steam carpet cleaning is highly recommended to be carried out at least twice per year. If you have pets and children, or work in a busy office, consider booking in deep cleaning services even more frequently. This is the advice of medical professionals and carpet manufacturers around the world.
The high pressure method will preserve the original carpet colours for longer, and will prolong their service life. Another key benefit of professional steam carpet cleaning is heightened air quality, as all allergens (e.g. dust and pet hairs) will be removed. It is also the number one stain removal method available in the entire cleaning industry.
What are the steps of this cleaning method?
Inspection of the carpet type and level of pollution by our cleaner in Kingston
Hoovering of the carpet with a powerful vacuum cleaner to remove the surface layer of dirt and dust
Application of pre-treatment in the form of an eco-friendly spray
Hot water extraction cleaning with an industrial steam cleaner
Further treatment of most soiled areas for best stain removal results
Extraction of the dirty water with the steam machine, about 90% of all water is removed this way
Use of disinfectants and deodorizers to give your carpets a pleasant aroma after the cleaning
The average drying time for carpets is two to four hours during the summer. In the colder seasons, make sure to heat up the rooms until you reach the complete drying.
Dry carpet cleaning services
Dry carpet cleaning is completely safe for carpets of natural fibres, because it uses little moisture and the surface remains dry. That is, it does not require a separate drying. This method will be especially useful for carpets made from sisal weave.
Carpet cleaning near Kingston
If you live near Kingston, and are unsure if we cover your area - rest assured that we do! We have perfect coverage of the entire South-West London area, including Hampton, Fulwell, Twickenham, Hanworth, Hounslow and many more.
ProLux friendly customer service team is always happy to answer any of your questions. We work even during weekends and Bank Holidays with no extra fees. Get in touch with us now to receive your free quote for deep steam cleaning services.
Contact Us on the Number Below for a Free Quotation:
Frequently Asked Questions
Our skilled carpet cleaners use safe, eco-friendly solutions that are non-toxic and child/pet-friendly. The products are safe for pregnant women and unlikely to cause an allergic reaction because they are hypoallergenic. If you're unsure about your health and safety, talk to our technician before we start. They'll try their best to clean the carpet while considering your health and safety needs.
Non-commercial carpet cleaning machines in the hands of the average individual rarely achieve the desired results. Cleaning the carpet yourself with a Rug Doctor, for example, may leave it sticky residue or over-wet it. This can reduce the carpet's lifespan, costing you money in the long term, as carpets are not inexpensive.