Carpet Cleaning Upminster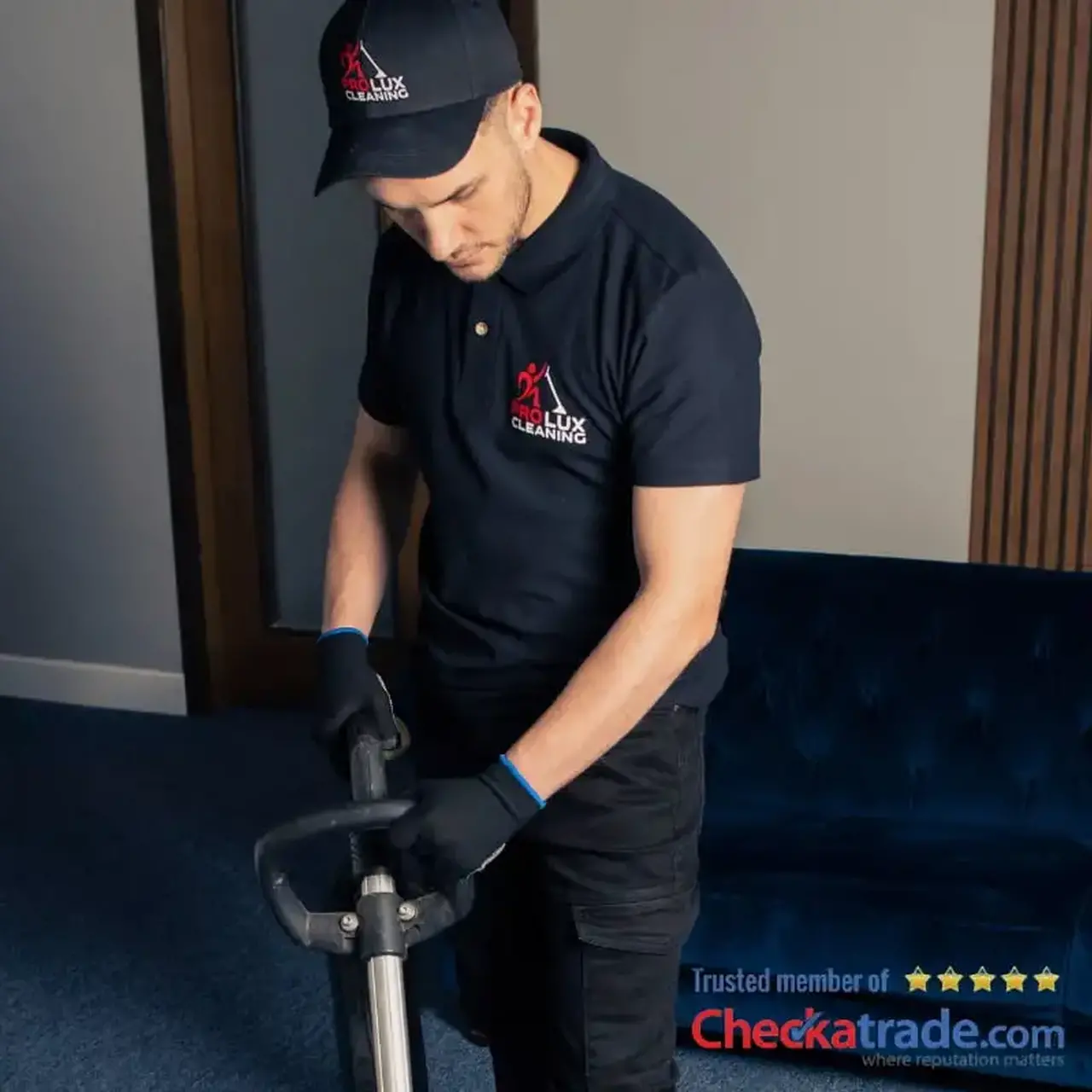 Quality carpet care for your home or business
Steam carpet cleaning services in Upminster and the surrounding areas is what ProLux provides. We are equipped with the latest carpet cleaning equipment and eco-friendly, harmless cleaning solutions. They allow us to consistently achieve the best possible results in each carpet cleaning procedure. After entrusting your carpets to our professional carpet cleaners in Upminster, you can be sure their original look will be restored.
Our machines are powerful, and have a variety of temperature and power settings. They can be used on all kinds of carpets and rugs, no matter natural or synthetic. Over time, we've successfully dealt with all kinds of problems over carpets - stains from food and drinks, smells, dirt and dust.
Why choose ProLux Cleaning company?
All ProLux professional cleaners are fully trained and certified veterans of the carpet cleaning industry. They have many years of experience providing professional carpet cleaning services in East London. Their stain removal techniques are unmatched, and are suitable for natural and synthetic carpets and rugs.
Our hot water extraction carpet cleaning method is the most efficient way to clean carpets and furniture. The cleaning can also take place with warm water or cold water if the carpet fibres require it. The flexible settings of our cleaning machines allow us to set the water temperature and pressure to what is necessary.
Our promises to you:
100% money-back guarantee
100% customer satisfaction guarantee
WoolSafe and NCCA certified technicians
Free no obligation quote and advice
Safe and effective: The benefits of using Prochem eco-friendly products
During the cleaning services of our company, eco-friendly cleaning agents are used. They are provided to us by the manufacturer Prochem, a powerhouse of the UK cleaning market. These products are 100% harmless to pets, children, and allergic people, and so is our cleaning method.
24/7 Professional cleaning services with special discounts for combined services
We work every day of the year, with no extra fees over weekends and Bank Holidays. For customers booking in combined services, such as carpet and upholstery cleaning, special discounts are offered. Simply call our friendly customer service team now to receive your free quote today for your first deep cleaning appointment.
Fully insured and highly experienced technicians
If you are to book a carpet cleaning, you want to be sure of the cleaner's ability to clean the carpet in the best possible way. You require a person who has extensive training and the necessary certificates. That person is your local ProLux technician.
We possess the needed knowledge to deal with any carpet issue. No matter if it's tea, coffee, red wine or oily foods - we will come prepared and provide you with the treatment your carpet deserves.
Deep carpet cleaning Upminster
1. Inspection of the carpeted areas by our professional carpet cleaner
This step of the cleaning process is very important, as the appropriate cleaning products and machine settings need to be selected.
2. Hoovering the carpet before the application of a pre-spray cleaning product
In order to achieve optimal stain removal results, the surface layer of debris must be removed. Then, the eco-friendly pre-treatment spray is carefully applied, all over the carpet surface.
3. Deep cleaning of the carpet with a hot water extraction carpet cleaning machine that removes stains and marks stuck deeply inside
Under very high pressure, hot water is sprayed in between the carpet fibres.
4. Dirt residue removal and extraction of allergens (pet hair, dust, etc.)
Due to the sheer power of our steam extraction machine, all dirt and dust particles are successfully removed.
5. Application of deodorizer products
Based on our client's preference, a special smell treatment spray is used.
6. If included by the customer - application of Stain Protection spray
We always recommend the addition of Stain Protection, as it has many benefits. It prolongs the carpet's service life, and most importantly helps prevent the appearance of future stains and marks.
7. Drying process takes no more than a couple of hours
During the summer, you'll often be able to use the carpets almost immediately after the cleaning. During the rest of the year, however, you'd need to wait for a bit before being able to use the carpets. Simply ventilate or turn on the heating to speed this process up.
Steam carpet cleaning Upminster
One of the most widely used methods our customers from Upminster benefit from is steam cleaning. This method became popular as hot water extraction and is highly recommended by carpet manufacturers. This technique cleans the toughest stains and dirt and simultaneously the carpet is disinfected.
For eco-cleaning of carpets and upholstery using steam, no harmful chemicals are used. The pre-heated water, sprayed inside the carpet fibres, washes away the dust, dissolves bigger dirt particles and removes stains. Our carpet cleaning company technicians know how to use the method to full effect on all types of carpets.
Steam cleaning is the preferred cleaning method when it comes to deep carpet cleaning. It removes all living germs and bacteria on the carpet and refreshes it perfectly. Hot water extraction method revives the carpet's colours without the use of harsh chemicals - only eco-friendly products are used.
Discover the benefits of hot water extraction cleaning for your home or business
Hot water extraction cleaning is recommended either for stain removal and disinfection or peace of mind. It keeps carpet colours fresh, removes dirt and dust, and leaves a pleasant aroma. It's suitable for commercial and domestic cleaning alike. Furthermore, it is also the most suitable cleaning method for homes with babies and pets, as well as allergic people.
The machines are effective, and do not require our vans to be parked right outside, as they are not truck mounted. Despite being heavy, they are relatively easy to move safely, as they are on rubber wheels. The top standard Prochem cleaning products perfectly complement the equipment.
Dry carpet cleaning
Dry cleaning, an alternative to steam cleaning, makes use of powder chemicals and a minimal amount of water. The key advantage to this cleaning method is the ability to use the carpet straight after the cleaning takes place.
During dry carpet cleaning, the moisture level of the carpet being cleaned does not exceed 10%. The first step is to hoover the carpet, then pour the powder products into the fibres. The powders are actually thousands of mini jaws that eat the dirt on a molecular level. After they have done their work, they are hoovered out of your carpet and it is ready to be used.
Professional carpet cleaning in Upminster and beyond
Aside from being local to Upminster, we also have perfect coverage of the whole East London area. Since the foundation of ProLux, we've assisted numerous customers all over Romford, Hornchurch, Barking, Dagenham, Rainham, South Ockendon and many more. You can always contact us when you are in need of carpet cleaning, upholstery cleaning and tenancy cleaning.
Carpet Cleaning Services in Upminster
Residential Carpet Cleaning
Commercial Carpet Cleaning
Upholstery Cleaning
Rug Cleaning